Check out the other Varieties
Frequently asked questions
How long is the warranty of refurbished iPhone 7?
All our iPhone 7 come with 1-year warranty from date of purchase. The warranty includes all manufacturing defects and excludes the following; accidental damage, water damage and / or third party repairs without prior approval by us.
What if I change my mind after purchase?
You have 30-Day Money Back Guarantee to return any iPhone 7 purchased from our site. No questions asked, providing the product is in the same condition and in its original packaging.
How long will my delivery take?

Our standard free delivery is next working day however certain items may take longer and this would be shown at time of checkout. Regular updates regarding your delivery will be provided and our team is here for when you need them.

Does the refurbished iPhone 7 come with a new battery?
We use industry leading software to test all our devices for optimal battery health. Each battery will have minimum of 80% capacity relative to new (in non-technical terms the battery is in great condition).
For further piece of mind your 1-year warranty covers battery replacements for free in the rare instance you feel the battery is not performing as it should be.

What's in the box?
Charging adaptor
USB charging cable
Headphones
SIM ejector pin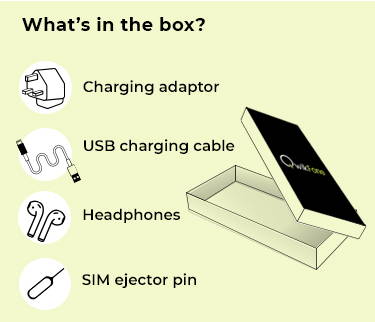 iPhone 7 Refurbished Unlocked | Pristine iPhone 7

Get the pristine refurbished iPhone 7 in the UK in a like new condition with new accessories and free shipping. Each handset is refurbished using the latest repair software and top quality spare parts to return to a pristine state. In addition to the
refurbished iPhone
, we include a brand-new charging adapter, a lightning cable, earphones, and a SIM ejector. All of the phone box contents are protected with 12-month warranty. Our return policy guarantee a full refund within 30 days to ensure 100% satisfaction.
Is the refurbished iPhone 7 in the UK good to buy?
Yes, since our refurbished iPhone 7 is affordable, pristine, has a warranty, full refund guarantee, and comes with a set of new accessories, this is the best iPhone 7 deal in all of the EU!
Is the reconditioned iPhone 7's iOS upgradeable?
Yes, the reconditioned iPhone 7 has all the upgrades released by Apple available.
Does the refurbished iPhone 7 have a warranty?
Yes, QwikFone offers a 12-month repair warranty for each reconditioned mobile phone UK, and a replace warranty for accessories.
Can I pay monthly instalments for the iPhone 7 refurbished unlocked?
Yes, you can use 2 payment methods for monthly instalments:
1- Klarna
2- PayPal Credit
How long will it take to deliver my iPhone 7?
- Place your refurbished phone order during QwikFone business hours to get it processed within 24 hours
- Use our late delivery option for an affordable fee
- If you place your order on an official holiday, the order will be processed on the next work day.
What are the return terms of the refurbished iPhone 7?
The only condition for the return to be valid is for the iPhone 7 and accessories to remain in the original condition.

To ensure our customers a pristine iPhone 7 with flawless quality, QwikFone's team of iPhone experts follow a strict 40-point testing process covering all performance and functionality aspects of the iPhone.
Once the iPhone 7 handset arrives at QwikFone, the outer state of the iPhone is assessed to determine whether it meets our pristine standards or not. The next step includes testing the screen of the iPhone to make sure that it has no scratches or functionality flaws in terms of touch sensitivity, display brightness, and display quality.

If the screen fails this test, the panel is changed with a brand-new Grade-A or a refurbished OEM display panel. The same test and refurbishment steps are taken for the battery and other functionality aspects of the iPhone 7 device. This way, by the end of our refurbishment process, the iPhone 7 is restored to its new condition and is ready to be used once more as good as new.
With each iPhone 7 refurbished, QwikFone includes a new charger as well as other essential accessories in the phone box. All of our accessories are brand-new and carefully designed and manufactured following high-quality standards to ensure the same performance level as the original Apple accessories.
With this full package, QwikFone promises the perfect iPhone 7 experience at the lowest price in the UK and all of the EU!