Best Portable Phone Chargers and Power Banks in the UK

Detailed Guide to the Best Portable Phone Chargers in the UK

by Ishaan Seth December 6, 2019

In this age, it is safe to say that smartphones have changed the lifestyle of the majority of people in the world. Using smartphones in everyday life for various tasks that range from light and fun such as games and watching videos to important such as reporting the news and saving lives!
This heavy usage of smartphones daily had to come with a great cost in terms of power and battery life. Using the diverse functionality of a smartphone requires huge battery power. While smartphone manufacturers keep making devices larger to contain bigger batteries, the functionality keeps also evolving and consuming more and more power.
Eventually, both users and manufacturers have come to the realization that the solution is not making larger batteries, but to have an outer source to recharge the batteries on the go so that users are not worrying about their phones dying during an important event or on a long trip.
In this post,
QwikFone
experts are giving you the ultimate guide on portable phone chargers. When you need them, how to use them, and how to choose them. Finally, we will go over the best portable phone chargers you can get in the UK. So.. Keep on reading!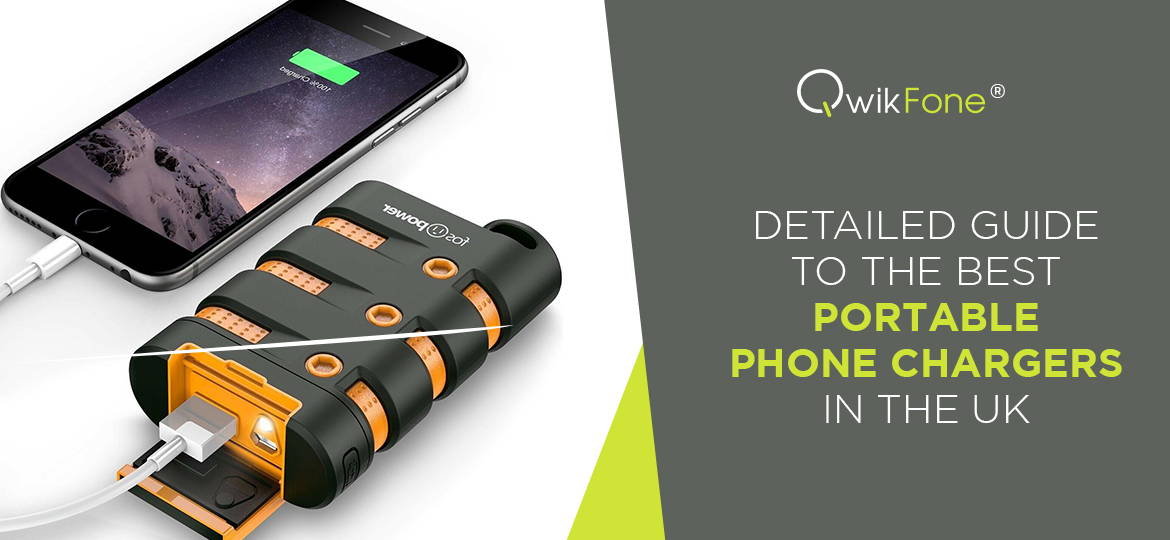 The best portable phone chargers available in the UK

Since the prices of power banks and portable phone chargers can greatly vary, we picked the most affordable portable chargers that offer the best performance with the biggest capacity.

The examples are --, however, we will follow two main categories of indoors and outdoors users of portable chargers to keep our criteria specific and clear.

LDNIO A6802- The affordable family charger!

Starting off, the LDNIO A6802 portable charger is a desktop charger. So, it won't be suitable for you to carry in your pocket while gaming for example, however, it has 6 USB ports that qualify it for mass charging, if you will, enabling you to use it to charge 6 different devices at the same time. So, if you have a big family and often face the dilemma of the lack of multiple chargers that are needed at the same time, this is the best solution for your family's needs.
USB ports:
6
Dimensions:
20 x 17 x 5 cm
Capacity:
2600mAh
Detailed Guide to the Best Portable Phone Chargers in the UK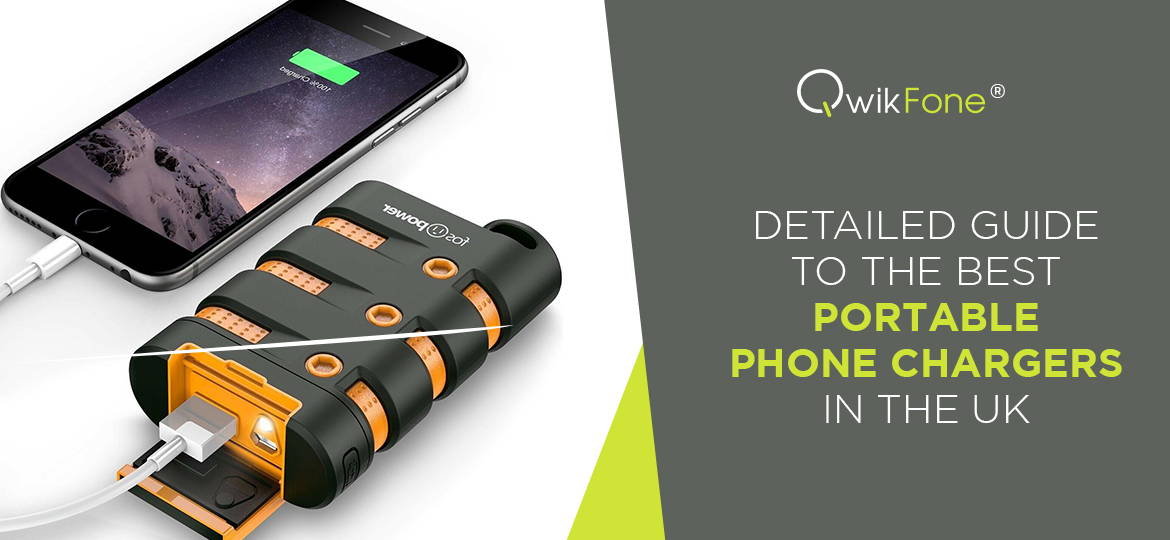 Vidvie PB726 Power bank- The affordable iPhone power bank

This second option is more suitable for outdoor use as it comes in a larger capacity with 5000mAh and a sleek design that does not represent a problem for you to put in your pocket or a small bag. The Vidvie PB726 accepts inputs of the type: Micro USB, iPhone lightning ports, and USB Type C. So, you can use it with any type of smartphone, tablet, or even bluetooth headphones and speakers. You can also use the same charging cable that belongs to your smartphone to charge the power bank itself.
USB ports: 2
Dimensions: 5 x 5 x 10 cm
Capacity: 5000mAh
Vidvie PB720 Power Bank- Monster charging capacity!

With the huge capacity of 10000 mAh power, a clean elegant design, and a relatively small size, this is an ultimate portable charger that will support your heavy usage whether it is indoors or outdoors. The Vidvie PB720 is compatible with different types of smartphones with very minimal limitations. This power bank includes a temperature protection feature as well as short circuit protection and over voltage protection.
The cherry on top of this portable phone charger is its fast charging capabilities. Super affordable price for its features, too. This deal is a win all around!
USB ports: 2
Dimensions: 73 x 142 x 15.5 mm
Capacity: 10000 mAh

Anker PowerCore+ mini- A tiny power bank with powerful capabilities

The first thing that will catch your eyes about the Anker PowerCore+ mini is its size. However, you shouldn't let that tiny size fool you as it offers amazing features such as the 3350 mAh capacity which is bigger than the capacity offered by some power banks that are larger in size only. This portable charger is pocket friendly and comes in a variety of attractive colors with metallic finishes.
If you are considering the Anker PowerCore+ mini, you must be aware that it is slow at delivering power. So, while you can take it anywhere without feeling its size or weight, you will have to wait longer than usual for your phone to charge.
USB ports: 1
Dimensions: 9.4 x 2.3 x 2.3 cm
Capacity: 3350mAh

Anker PowerCore 10000- portable size with great capacity

One of the best portable chargers that combines the compact portable design and size with a great 10,000 mAh capacity. While it has only 1 USB port which allows it to charge one device at a time, its huge capacity allows it to charge a single device more than once without needing to be refilled which is a definite plus. Another advantage with the Anker PowerCore 10000 is that it charges smartphones with large battery capacities such as the Galaxy S8 super fast. This means that while you would have to wait to charge the next device, you won't be waiting for long.
USB ports: 1
Dimensions: 9 x 6 x 2.3 cm
Capacity: 10,000 mAh

Anker PowerCore 20100- High end design & premium performance

Although it is quite pricey compared to other portable chargers from other brands and other power banks from Anker itself, you truly get what you pay for with the PowerCore 20100. When you set the price point aside and look at the specs and level of functionality this power bank will provide you, you'll see that it is almost flawless. You get 2 USB ports. So, you can charger 2 devices simultaneously. Then, there is the capacity of the charger which is over 20,000 mAh. This means that the PowerCore will enable you to get several charges out of it before you need to charge the power bank itself.
USB ports: 2
Dimensions: 16.7 x 6 x 2.3 cm
Capacity: 20100 mAh

Aibocn Power Bank- A portable charger with dual functionality!

The first thing that will catch your eyes about the Aibocn power bank is the super affordable price. When you move on to the specs, you will be blown away with the huge 10,000 mAh capacity and the fact that it allows charging 2 phones at the same time thanks to its dual USB ports as well as having a flash light! So, where is the catch? The cheap price has to come with some shortcomings, right?
Well, not exactly. The only downside to this power bank is its design. Compared to what you get for the price, this is not a flaw at all!
USB ports: 2
Dimensions: 13.7 x 5.08 x 2 cm
Capacity: 10,000 mAh
MAXOAK Power Bank- The best capacity ever for a power bank!

The MAXOAK 50,000 mAh power bank has a huge capacity that can be rarely found in this category. With this power capacity and 6 ports, you can see that it's worth its price. However, the question remains, what such a big and heavy power bank can be useful for?
Well, in addition to a variety of mobile phones and tablets from multiple popular brands, the MAXOAK power bank can also charge laptops from brands such as Toshiba, Dell, Acer and many others thanks to its capacity and performance. While it charges iPhone, it cannot charge MacBooks.
USB ports: 6
Dimensions: 20.6 x 13.5 x 3.3 cm
Capacity: 50,000 mAh

RavPower portable charger- Perfect for short term charging

With a super affordable price such as that of the RavPower portable charger, it is worth noting that the 10,000 mAh comes at another price of the slow performance. This is not to say that it's a bad power bank, per se, it's just that with lower prices, there is always corners that the manufacturer has to cut. Also, slow performance is not equal to a bad performance, it just means that you must be aware that you'd have to wait longer that usual for your mobile phone to be charged with this portable charger.
USB ports: 2
Dimensions: 10.16 x 6.6 x 2.54 cm
Capacity: 10,000 mAh
RavPower Luster portable charger- The best portable charger for limited budget

Another portable charger that was able to amaze its users with its powerful capabilities at a super cheap price. The RavPower Luster charger is perfect for personal uses as it is light-weight with a small size that enables you to carry it around in your pocket without much inconvenience. The 6,700 mAh capacity may not seem much compared to other power banks with a 10,000 mAh capacity, but it is more than enough for your smartphone.The Luster portable charger also comes in attractive vibrant colors. So, if the looks of your tech gadgets matter for you, this is a great power bank for both your style and your wallet!
USB ports: 1
Dimensions: 8.9 x 4.2 x 2.2 cm
Capacity: 6,700 mAh

Poweradd Slim 2- The best performance in small chargers

Tiny-sized power banks are often suspicious to users who can't trust that the manufacturer can pack this small space with good specs that is worthy of the price. However, the Poweradd Slim 2 is a perfect example of a small portable charger with great specs and reliable performance. This charger holds more power than others in the same size range by 33%.
The 5000 mAh capacity is enough for smartphones with smaller batteries, as for those that have larger batteries, you may have to go without the full battery charged.
USB ports: 1
Dimensions: 9.9 x 3.3 x 3 cm
Capacity: 5000 mAh

Jackery Bolt- The best portable charger for iPhones

The Jackery Bolt deserves its name as it is one of the fastest portable chargers in the market. This was the first charger in our test to fill between 60% & 80% of both iPhones and Samsung Galaxy in less than an hour. While the price of the Jackery Bolt is relatively expensive compared to other portable chargers of the same capacity range the performance, speed, and the integrated port add enough value to justify the price and make it worth it. Finally, the sleek design and shiny look of the Bolt makes it perfect for your style.
USB ports: 1
Dimensions: 14 x 3.39 x 3 cm
Capacity: 6000 mAh

iMuto power bank- The cheapest power bank with large capacity

Another power bank with a large capacity that is super affordable and can work with a variety of devices from MacBooks to iPhones and from laptops of several brands to a multitude of Android phone brands. The 20,000 mAh capacity means that if you are going to use this power bank for your phone only, you'll be able to charge it at least 4 times before the power bank needs to be recharged. If you spend a lot of your time on the road for one reason or the other, this is the perfect power bank for your portable devices.
USB ports: 2
Dimensions: 17.2 x 2.3 x 8.2 cm
Capacity: 20,000 mAh

AUKEY Power Bank- Good looks, great performance!

With the AUKEY power bank, you get everything you need from the larger capacity at 20,000 mAh to having more than one port. Of course, 2 ports may not be enough depending on the number of devices and charging needs, but having 2 ports in such a compact and relatively small device is an advantage for sure. The biggest advantage of the AUKEY power bank is the warranty period. While other tech devices and gadgets usually come with a 6 or 12 months warranty, this amazing power bank has a 24-month warranty period.
USB ports: 2
Dimensions: 150 x 83 x 21 mm
Capacity: 20,000 mAh


Mophie Powerstation Plus XL- A great power bank for iPhones

The Mophie Powerstation Plus XL has many advantages such as its 12,000 mAh capacity and having an adapter for lightning ports to be suitable for iPhones and iPads. If you are not an Apple fan, you can just remove the lightning adapter and have your micro USB cable charge your Android or Windows device with no difficulty. The considerable capacity of the Mophie Powerstation Plus XL allows you to have 3-4 charges out of it for your smartphone before you absolutely have to recharge the power bank itself. So, you'll get great performance that deserves the price after all!
USB ports: 2
Dimensions: 8 x 1.7 x 15.5 cm
Capacity: 12,000 mAh

How to determine the best portable phone charger for you

It goes without saying that all portable chargers are not the same; they differ based on many factors that include, but not limited to, price, quality, capacity, and durability.
Based on your needs, you will be able to make the perfect balance between all of these factors and choose the portable phone charger that provides you with the best value.
For example, if you travel a lot or if your lifestyle makes you spend more time outdoors where there is no reachable power source, the most important thing to look for in a power bank or a mobile phone portable charger is a big capacity and high durability levels.
Gamers, on the other hand, are usually inside where they can get the best display lights and audio quality for their gaming time. Although being near an outlet, today's smartphone chargers come with a ridiculously short cord which makes it annoying to sit pinned to a wall when you need your phone recharged without leaving the level you're about to beat! For those cases, a power bank with a smaller size is better for the gamer to carry it in his or her pocket while holding the
smartphone to play games
.