Best Free VPNs Apps for Android and iOS

Best Free VPN for Android and iPhone Users
by Ishaan Seth May 22, 2020

Many tech concepts that used to be far from the mainstream are now becoming a life priority. Ordinary people, who are not into technology for other than upgrading their smartphone and used to think that terms like VPN only in the world of hackers and tech experts, are now coming to terms with the fact that using the internet safely and without limitations requires VPN for phones. No matter what smartphone you are using, there is a perfect free VPN available for you. So, whether you are looking for free VPN for Android phones or even for iPhones, it is out there!

VPN apps are necessary now more than any time before due to many reasons. First, there is the scenario where you need to access a certain content but it is on a restricted website in your region. Then, there is the high risk of your internet browsing traffic being pried on by unwanted parties. VPN apps provide the needed protection against such unwanted prying eyes as well as enabling you to access any content on any website on the internet even if it is blocked in your country or region. In this post, you will find the best free VPN apps for Android as well as iOS.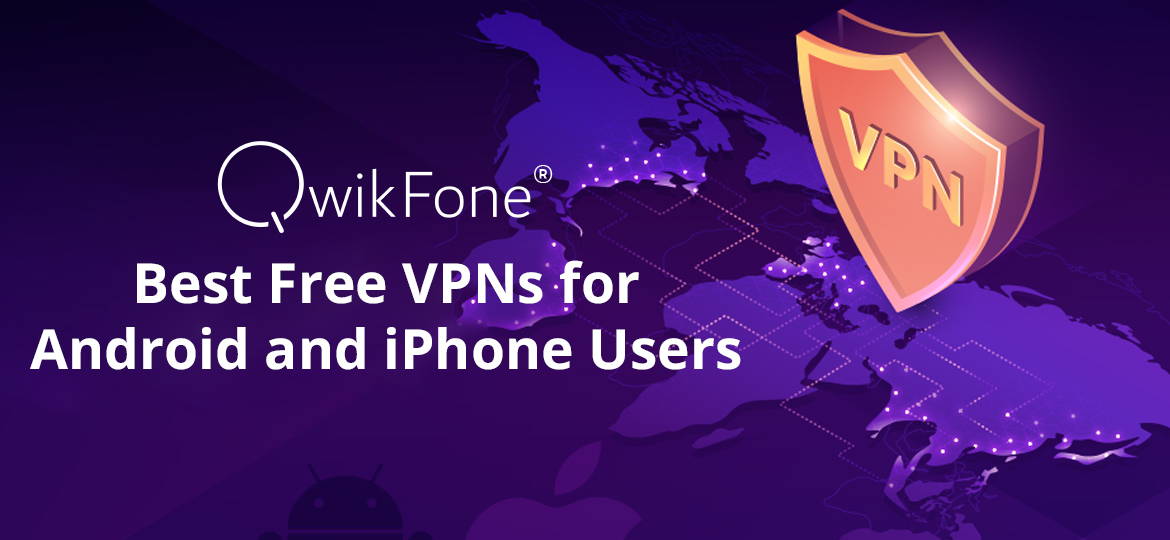 What is VPN & How it works

Think of browsing the internet like ordering food. You make the call, give your address, then the food is delivered to your address.

With the internet, pages are delivered to your IP address. But, what if the restaurant you are ordering from does not deliver to your area? You must get the order delivered to an address within this restaurant reach.

This is the closest analogy to what happens when you use VPN to access a web page. You connect to a server which has a different IP that can access the page which is then redirected to your device.

Best Free VPN for Android and iPhone Users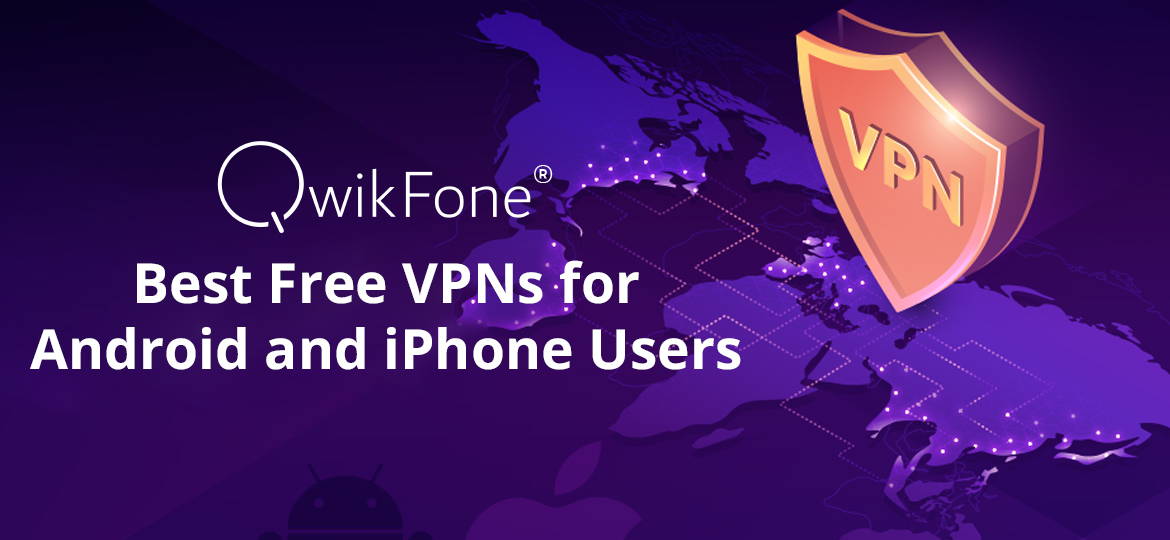 Overcome online restrictions based on your geographic location.
Watch localized content on streaming services such as Netflix.
Protect your connection from prying eyes.
Access your online destinations from another location as anonymous.
Protection while torrenting.
In the next section, we are going to explore the different options for the best VPN for mobiles. Whether you are using an iPhone or an Android phone, your perfect VPN app is waiting to be revealed below!

Best Free VPNs for iPhone

Finding the best VPN for iPhone does not necessarily include adding cost to your monthly expenses. There are multiple free VPNs for iPhones that you can choose from and start surfing the web in complete safety.
QwikFone
's team is bringing you the best free VPN apps for iPhone that you can install right away. Check them out, weigh the pros and cons according to your preference, and, once you find the right VPN app for your needs, click the download link!
Our first choice on the best free VPN for iPhone is TunnelBear. This choice is because this app offers one of the best experiences when it comes to VPNs.

TunnelBear, the free VPN for iPhone, works perfectly with all iOS devices and it is free just like any other VPN on this list. However, it has an important quality which is rarely seen with VPN servers. That quality is the user-friendly super cute interface and design. TunnelBear works for both mobiles and desktops, but you must note that it has a limited data allowance of 500MB only per month. So, you should use this app's data sparingly.

Provides the necessary protection online
User-friendly interface
User's data is encrypted (AES-256 bit encryption)
Limited data per month (only 500MB)
Has servers in only 22 countries
Many users love and appreciate VPN by SurfEasy and it is showing from all the positive reviews it is getting on the App Store, which makes it one of the best VPN for iOS. The biggest advantage of this iPhone VPN app is that it automatically chooses the best server available in the area in which the user wants to access the content. This means that VPN by SurfEasy directs the user's traffic through the most premium route possible.

This is not the only option as the user has the freedom of setting his or her VPN location to a country of their choice. An additional feature is that this VPN app provides is the algorithm that blocks trackers which means limited-to-no cookies! In any ranking, this app will be in the best free VPNs for iOS.

Bank-grade security level
Protection when using Wifi hotspot
Guaranteed no-log traffic
Fast & premium connection
Can disconnect automatically
Not as responsive as other apps
Hotspot Shield is a free VPN app for iPhone. Although this VPN app will ask the user to log in upon first using it, the user can skip this step and start using Hotspot Shield right away. Once you start using this VPN on your iPhone, you will know for sure that has some of the fastest VPN servers from all the apps available for iPhones. Besides the speed, Hotspot Shield offers many servers in more than 70 different locations.

Last but not least, security. Hotspot Shield offers military-grade security thanks to its encrypted traffic that protects and covers all of your online activities. The VPN app also integrates with 1Password which provides an extra layer of protection for your passwords.

Military-grade protection for online traffic
1Passowrd integration
Fast VPN servers
Requires time to understand and use
Interface needs improvement
Although VPN in Touch does not have a lot of additional features to look forward to, it has one feature that is so significant that qualified this app to make it to the list as the best free VPN for iPhone, which is the ad blocker. Moreover, VPN in Touch is a perfect VPN app that provides the needed protection for your iPhone data traffic online.

VPN in Touch has one of the best data compression algorithms which puts it in a favorable position when compared to other free VPN apps for iPhones and iOS in general.

Secure web traffic
A good algorithm for data compression
Blocks ads
Old-looking interface
No personalized user experience
If you are looking for a free VPN for iPhone that provides the needed protection with a cool-looking and attractive interface that makes the app easy to use, VPN Proxy Master is the one for you!

This app is set to connect to the fastest available server by default. In addition to speed, VPN Proxy Master has one of the most stable connections of all VPN apps for iPhone on the App Store. However, you must note that the free version of VPN Proxy Master allows servers in only a limited number of locations. However, it definitely is one of our favorite free VPNs for iPhone.

User-friendly interface
Ability to change locations
Prevents tracking
Blocks ads
The free version of the app contains ads

Best free VPNs for Android

While some of the mentioned VPN apps for iPhone could work and have their own versions for Android, there are other apps that must be mentioned that works perfectly as free VPN apps for Android phones. So, whether you decide to use on of these apps or search for your own choice of VPN for Android, make sure to take a look at out list of the best free VPNs for Android!

If you are new to using VPNs, you are probably familiar with the fact that most VPNs, and free ones especially, allow a very limited amount of data per month. So, when you find a free VPN for Android such as ProtonVPN that allows unlimited data every month, be sure that it will take the top spot of the best free VPN for Android list!

There is a downside to this VPN that must be noticed which is the speed. If you are the only user on your network, you may not be able to notice the slow browsing speed. However, the speed problem is clear when there are many users active online.

Unlimited data
Easy to set up
No-logging
Windscribe VPN is one of the best free VPNs for Android. It allows 10GB of data every single month and it has an amazing privacy policy that qualifies it to be the second best option on this list of top free VPN for Android. It is worth mentioning, however, that the 10GB data monthly requires email registration with the Windscribe app. If you opt out of this step, you will only get a 2GB data limit per month.

Windscribe VPN has 20 servers in 10 locations which you can choose from manually. The app also allows the user to select which apps can override the VPN.

Good data limit
Great privacy policy
Manually selecting servers
Requires email registration for the larger data limit

Kaspersky Secure Connection

Kaspersky Secure Connection is the famous online security company's VPN app for Android. There is a certain relief knowing that the app comes from the same experience that the popular antivirus comes from. It is super easy to sign into the Kaspersky Secure Connection and start using the internet anonymously. However, there is a limitation on the data that you can download per day as long as you are on the free plan. With 200MB to 300MB allowance per day, we recommend that you use this VPN for the brief and important business or financial transactions only.
Easy to sign in
No-logging
Many servers in various locations
Limited data per day
Server selection is only automatic
Like many of the other free VPN for Android, the Avira Phantom VPN allows 500MB of data transfer per month. Before you skip the option of Avira Phantom being your mobile's VPN app, you should know that it offers that they have many servers in 40 different location which will provide you with a wide range of accessibility to the internet all over the world.

So, perhaps keep this VPN app for times when you need its vast reach and don't necessarily require a large data limit. It is also easy to sign up and start using this VPN app. So, it is definitely worth trying on your Android phone!

Many servers
Over 40 locations
Easy to use
This is a VPN that offers amazing data limit compared to others. 10GB per month can cover all of your browsing and even streaming needs considering that you should manage your consumption according to that limit. The Hide.me VPN has only 5 locations for its servers. However, these locations are chosen to cover various parts of the world. So, although this is an obvious down side, you won't actually feel as limited in access as it seems.

Hide.me guarantee no-logging. So, you can safely surf the web as much as you like not worrying about service providers selling your data to advertisers or other parties, which is one of the most essential reasons for using a VPN.

Huge data limit
Select servers manually
No-logging
How to choose the right VPN

For a service that provides protection and browsing freedom such as VPN, deciding to pay for your VPN or look for the best free VPN to use will depend on your needs for which you are going to use that VPN. For example, if you are going to use the VPN to read an article or watch Netflix as if you are in a different country, then it would be safe to use a free VPN for Android or iOS. If, however, you need VPN for business needs where you are going to be sending and receiving sensitive business information, then it is better to use a paid VPN service to guarantee more protection. This is not to say that the free VPN for phones is dangerous or risky in any way, but it goes without saying that business and sensitive information needs extra protection.

This post included our selected top apps that provide VPN for phones. We recommend that the user always does extensive research before choosing the app that will protect his or her business data. Stay safe online!