What Are the Best Photo Editing Apps for iPhone?

Best Photo Editing Apps for iPhone
by Ishaan Seth March 24, 2021

Have you ever wondered how photographers can shoot such amazing photos with perfect clarity and detail even though the device they're using is not a DSLR camera or any latest digital camera but an iPhone? How were they able to capture pictures with such high-quality tone and lighting?

While experience, a good eye for detail, timing, and perseverance take a chunk of it, a good portion of the result can be attributed to image editing. Optimizing your photos with an image editor can turn a decent snap into a masterpiece.

Fixing your photos is normally done using complex software using your desktop computer or laptop. However, nowadays using your smartphone can yield similar results.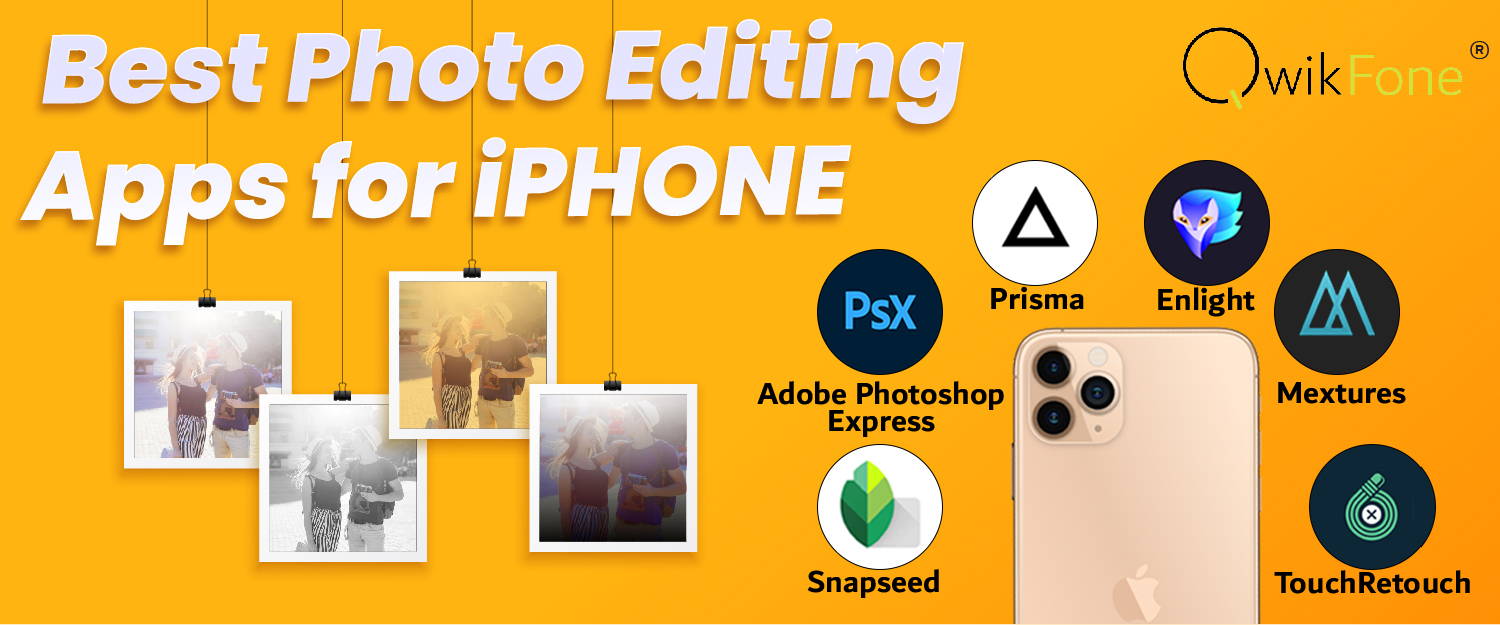 How to choose the best photo-editing app

How would you know which app to use in photo editing? Will free image-editing apps give you the same results as the paid-for apps that pros usually use?

Choose based on your needs. What kind of result do you need? What do you need the photos for? Do you need your photos to have a professional look that can help your business gain credibility with consumers? For that, you might need a photo editing app with more tools and features. Most of the apps that can achieve such an effect are those that you have to pay for.
Choose based on your wants. Are you using your photos for personal reasons, for example, for posting on social media? Do you need those photo-editing skills just to achieve the perfect photo to use as a profile picture for your social media account? You can attain the outcome you wanted using either a free or paid-for image-editing app.
Choose based on your capabilities. There are photo-editing apps that have more features and tools that you can utilize to accomplish a better photo. However, whether they are free or paid-for, such apps will be more difficult to learn and use. If you're still a beginner in the art of photo editing, you might need an app that is easy to use. But if you have the expertise and experience in image editing, you can utilize the apps with complex tools that can give you a higher level of creative control.
What photo-editing features you should look out for

Photo editing is an important step in the work of a photographer. It requires a lot of work, time, and skill. If you want to improve your digital photos, you should look out for these five types of adjustments that will help you achieve the effect that you want.

Enhancement. Detail enhancement controls involve dehazing, sharpening, and noise reduction. These will give you the capability to remove unwanted details, including blemishes on the face and passers-by and other things you don't want in the background. If you want to boost both contrast and sharpness, you can include a clarity control or "local contrast." This will help small details to stand out.
Color correction. Called the bread and butter of photo editing. Color correction includes adjusting the contrast and brightness, altering the tones of highlights and shadows, adding or removing color casts, among others.

Effects. This includes glow, texture, blur, film, and grain filters. These creative effects, if used carefully, can add atmosphere to a photo without distracting the viewer. You can also go all-out if you want your photo to have a more stylized appearance.
Preset filters. Preset filters combine all of the above-mentioned types of adjustments to accomplish a ready-made result. If you want something that can quickly apply a basic look to your photo, this will come in handy. Some apps will let you adjust the various parameters which will make the filter work in harmony with your photograph.

Graphic design tools. These tools include pens, brushes, text, frames, and shapes. Graphic design tools give you the capability to combine multiple images, resize and deform shapes as well as cut out subjects from their backgrounds. There are even some apps that can create composite images from multiple layers.

Looking into the above-mentioned features will also help you determine what is the best photo editing app that suits you.

Best Photo Editing Apps for iPhone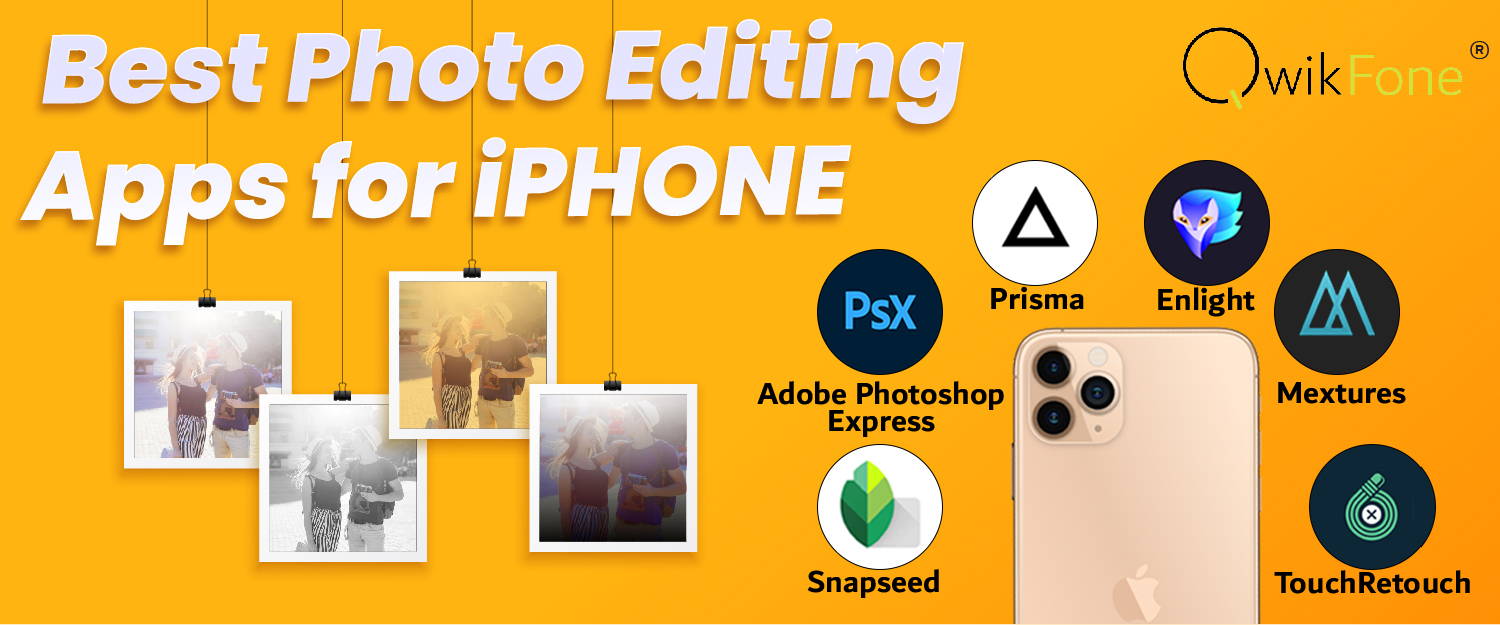 Best photo editing apps for iPhone (free)
What do you need a photo-editing app for? Is it to edit your pictures for posting on your personal social media account? Are you planning on using your photos to gain a strong social media presence for your business? For a competition? Or perhaps you wanted to start a career in photography?

Regardless of your motivation and purpose, here are some of the best free photo editor for iPhone you can download.
Snapseed. One of the most popular photo editing apps for iPhone users. Why? It's because it is easy to use despite having a powerful collection of editing tools. Apart from the ability to edit your images on the go, this photo-editing app offers a wide range of preset filters that you can customize.
This photo editor has an impressive set of color-adjustment tools. You can use the brush stroke or the radial filters to tackle problem areas or if you want to make the main subject of your photo stand out. It also has tools to remove small blemishes as well as various clarity-style effects to make details pop out.
Snapseed, which you can use to improve the exposure, sharpness, and color of your photo, is suitable for both beginners and experienced iPhone photographers. A good app for everyday photo editing.
Adobe Photoshop Express. One of the best photo-editing apps you can use for quick fixes. This mobile version of Photoshop offers standard editing and photo adjustment features such as cropping, auto-fixing, and brush tools. This app has blemish removal, red-eye reduction, and a collection of frames.
Photoshop Express also has tools to add text to images, allowing you to overlay text on your images so you can create issue announcements, include company information on your photos, and even make memes.
This photo-editing app also lets you edit photos in raw formats, resize and blend images, and save your formulas.
Prisma. Do you want to turn your photos into tiny works of art? Prisma is a good choice for you. While it doesn't deal with subtle filters or basic image corrections, Prisma has trippy filters that can transform your photos into bizarre artistic masterpieces.
Prisma has a vast library of filters ranging from classic paintings to comic book doodling. Using this app will allow your photos to have a painterly effect.
Afterlight. Despite its comprehensive set of editing tools, Afterlight is easy to use. This app is great for both new and advanced photo editors. Afterlight offers basic editing tools such as color, sharpness, exposure, and crop tools. However, the app also has advanced tools such as curves, selective color, gradients, and blend modes.
Afterlight has filters and overlays that are great for enhancing or changing the mood of your photos. It also has over 130 filters created by well-known mobile photographers.
If you want to add graphics to your images, this app has layers tool for adding text and artwork. Its double-exposure tool also lets you create remarkable combinations of blended images.
Adobe Lightroom. A great app for beginners and experienced photo editors. An industry standard for professional photographers, Adobe Lightroom gives you fine grain control over your image. The app has the same set of tools you will find in Lightroom on the desktop.
Adobe Lightroom has one-tap filter presets that will give you a way to quickly and easily enhance your images. It's simple adjustment sliders allow you to tweak color, exposure, and detail. It also has advanced editing tools, which include selective adjustments, that will give you control over your edits.
VSCO. One of the best image-editing app for iPhone users for creating beautiful edits with elegant filters. VSCO (pronounced as visco) has a wide selection of preset filters that will give you the ability to create the look of classic film in your photos.
VSCO filters, unlike those of other apps which can be overpowering, are subtle. You can adjust the strength of the filters to achieve the look you want. The app has more than 200 filters that will allow you to create different looks in your photos. It has editing tools used for tweaking exposure, color, and sharpness. The same set of editing tools and filters can also be used to edit videos on your iPhone.
Darkroom. The perfect app to use for editing multiple photos at once. Darkroom allows you to edit raw or live photos, manage hashtags related to your photos, and sync your entire photo album. The app offers a ton of filters you can choose from and if you feel a bit adventurous, you can even create your own filter. However, if you're feeling a bit lazy, you can use the app's one-tap filters.
Best photo editing apps for iPhone (paid-for)
Most free image-editing apps offer in-app purchases which mean you will have to pay for the app's additional features. Such features include the ability to combine multiple photos, warp shapes, and apply paint effects, all of which go beyond basic photo editing.

While there are several free photo-editing apps for iPhone available for download, there are also paid-for apps that will give you different and more satisfying results.

Here are some of the best photo editing app for iPhone you can purchase and use to edit your photos.
Enlight. This app has image parameters that can be adjusted by simply dragging left and right across the image. It has radial filters that allow you to make adjustments to specific areas of the frame.
Enlight has a color correction module that includes full curve-based editing for precise control over the tones in your image. The app's graduated filters - radial, linear, and mirror - have a Mask feature that limits the effect to certain areas of the frame.
This image-editing app has a Reshape tool that will give you the ability to push pixels around the frame. It also has a Mixer tool that you can use to overlay a second image, creating a photomontage. The app has options you can use to turn your photos into paintings, illustrations, or pencil sketches. You can also add geometric shapes or draw directly onto the canvas.
Mextures. A perfect photo-editing app for creative business owners. Mextures allow you to apply light leaks, gradients, and textures to your iPhone photos. It has the standard editing tools and a nondestructive workflow which will give you the ability to adjust and edit photos at any stage of the editing process. This way, you will not worry about your file's quality diminishing.
While this app is ideal for business owners who want to create engaging and heavily edited photos, Mextures can also be used to make unique edits by combining and blending different effects.
TouchRetouch. One of the best apps for retouching, as its name suggests. TouchRetouch offers you the tools you need to remove unwanted elements from your iPhone photos. Do you want to erase the shadows, people, buildings, wires, and spots obscuring your shot? You can do that by simply highlighting the area on your finger and tap Go. The app has brush and lasso tools for object selection. It automatically replaces the selected object with pixels from the surrounding area of your photo.
For your portrait photos, TouchRetouch also removes blemishes and smooth out wrinkles. Apart from removal, you can also duplicate objects using the app's clone tool.
Superimpose X. An app best for creating unique digital art by combining and blending images. Superimpose X has an array of masking tools you can use for selecting different kinds of subjects. This app can also give you the ability to replace the background of your photo and create stunning double-exposure and fantasy-style images.
Superimpose X has filters, blur, shadows, and other creative effects. You can also use this app to blend textures onto an image for an arty look.
Having issues with your camera?

You have the perfect photo-editing app on your phone but you
can't connect to the camera
? That issue isn't new for users of iPhones or refurbished iPhones in the UK. Here are some ways you can fix that.
Restart your device. If you are looking for a quick fix, restart your device. You probably need to turn your device off and on again until your iPhone camera starts working again.

Remove conflicting third-party apps. If you noticed that a third-party app is causing your camera to malfunction, you should uninstall apps that have access to your camera such as Snapchat, WhatsApp, among others. You should remove the apps one by one while testing the camera in between so you will be able to determine which app is causing the problem.

Install third-party camera applications. If your iPhone's camera app is truly not responding regardless of the aforementioned solutions, you should probably try installing third-party camera apps. If the third-party apps you installed are working, that means that the problem is on your iPhone's camera application.

With a functioning iPhone camera and the best photo-editing app at your disposal, you're on your way to becoming the photographer you're aiming to be.