Top 10 Tips on How to Get Fit for Beginners Using Your Mobile Phone

Top 10 Tips on How to Get Fit for Beginners Using Your Mobile Phone
by Ishaan Seth October 20, 2020

Staying healthy has never been this much talked about ever since smartphones are equipped with features that can help people keep fit at home. Both Android and iOS mobile devices are taking health seriously with a host of online fitness apps and trackers that are designed to make people be more conscious of their overall health. Earlier fitness apps supported heart rate monitor, GPS location, and even counting the number of steps you have taken for the day. Today, we are seeing a host of additional features that make staying fit a more enjoyable and engaging activity for everyone.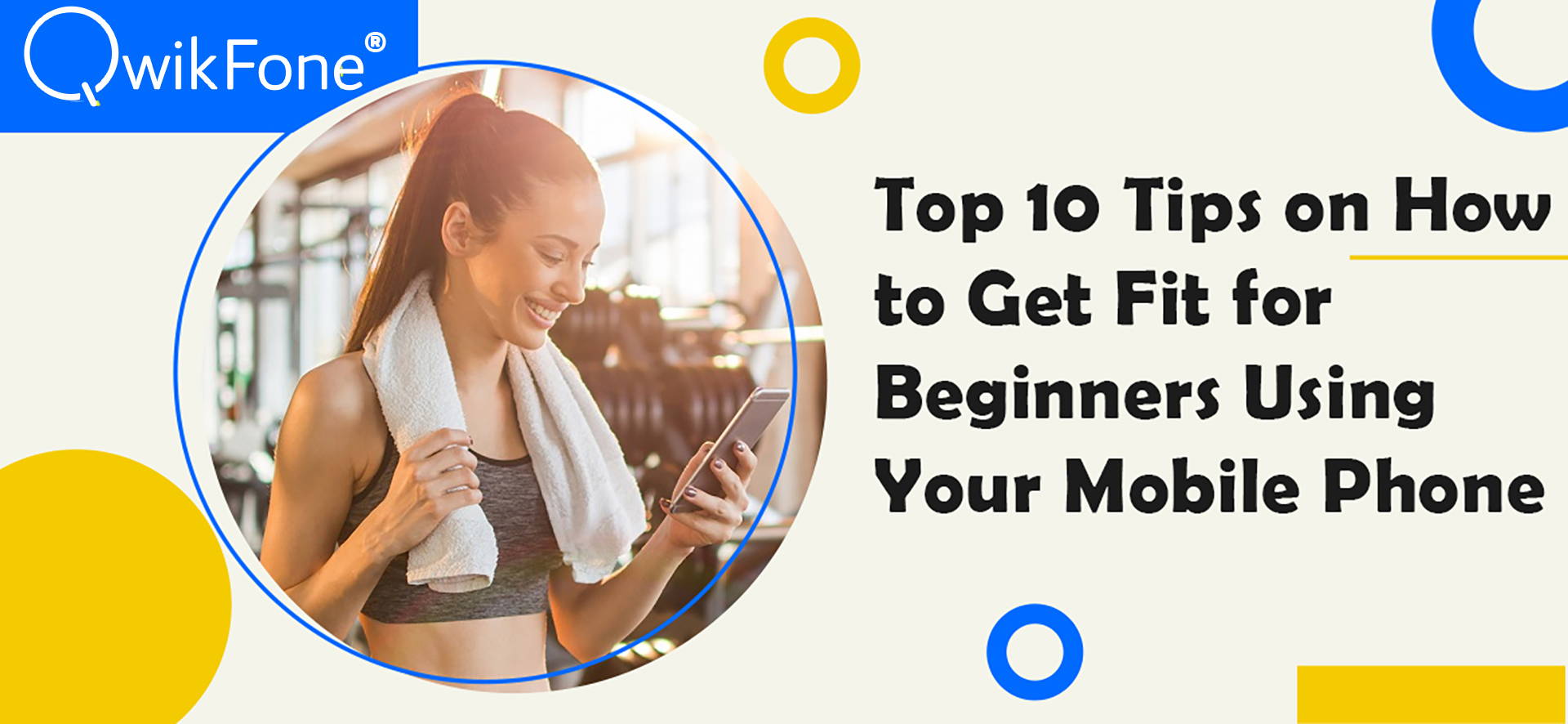 Tips on How to Get Fit for Beginners Using Your Smartphone

Smartphones are changing how people see fitness these days as this handy gadget brings the gym right into the palms of your hands. No time to visit or sign up for a gym membership? Watch snippets of exercises offered by gym instructors through your smartphone. Need some fitspiration? Your smartphone is a good place to find that extra boost you are looking for. If you fear any negative affects that smartphones might have on your well-being, check out these
ways to use smartphones without affecting health
. Here's how your mobile device can be used to stay fit.
Assessment
The beauty of using smartphones these days is that it helps you assess your current fitness level. Programs like MyFitnessPal is a good place to start to record your current weight, your level of activity, the diet that you are following, and even your workout program. The more you use this app, the better it will be to keep track of your progress so you can see how far you've come with your exercise regimen.
Clean Eating
If you are wondering how to keep fit at home using your smartphone, you can start by revamping your current diet into a healthier one. There are plenty of applications that you can download to your phone to view a variety of recipes that you can add to your clean eating ways. Keep in mind that exercise and diet go hand in hand if you want to see results, and having an app that will give you ideas for your next meal can help make things more interesting. You don't want to end up eating the same old thing, don't you?
Online Fitness Classes
Another way that you can utilize your handheld device to stay healthy is through online fitness videos or classes. There are plenty of fitness instructors out there that offer virtual classes that you can join even when you are just staying at home. There are online exercise classes for seniors too that you can check out if your parents want to stay fit and healthy for their age. Simply download these programs into their smartphones or tablets, and let them follow at their own pace. The same can be said with you. If you are just starting out in the fitness world and you want to workout at your own pace, then these online classes can help.
Staying Connected
Nobody wants to work out alone as it pays to have a fitness buddy with you who will keep you in check if you start to slack. Yes, we all have that tendency to slide back to our old habits. After all, why punish your muscles repeatedly when sitting in front of the TV is paradise already? Well, at some point that sedentary life we have been living can take a toll on our health which is why your smartphone is a good tool for you to reach out to other like-minded individuals in your area. You can swap diet programs, go train together in the gym, or do other activities that can keep you, your weight, and your overall health in check. The best part? You will make new friends in the process which is great!
Sync to Fitness Wearables
In what way can your smartphone help with your goal to keep fit at home? It can sync with your wearables so all data recorded with your FitBit or fitness wearable will be stored in your mobile device. You can keep an eye on the number of steps you have taken, the amount of sleep you are getting, how fast your heart rate is, and even the distance you have run for the day. Fortunately, fitness wearables have evolved over the years so you can actually leave your mobile device in your car while you go out for runs while still being able to receive messages through your wearable. Thank goodness that technology is making life more convenient these days. No wonder they are great investments.
Inspiration
Some people need more coaxing to actually start a fitness regimen. Fortunately, your smartphone can help you find sources of fitspiration that will get you moving. You can listen to podcasts, watch videos, or even save images from Pinterest on fit bodies that you can aim for. You can even make your own boards on Pinterest where you can put all the images that have inspired you to improve yourself. We all need that extra nudge when it comes to our health and it appears that our mobile devices have become a conduit for these programs.
Keeps You Moving
If you can't find the time to go to the gym, then make use of your smartphone to do 10-minute exercises throughout the day. This is perfect for those who can't commit a full thirty minutes to an hour of exercise daily. You can, however, break this down by doing 10 minutes of exercise spread throughout the day. There are fitness apps that you can install in your smartphone that you can use as a guide for your daily workout. They even have a full workout program that you can follow when you are ready. There is simply no reason for you to skip exercising any more.
Meditation Programs
Staying fit doesn't revolve around your physical body alone, but it also means your mental health as well. Yoga is great for both the mind and body, but you can also do meditation as well. Your smartphone can be your buddy during your meditation session by downloading programs that will guide you through each session. Some offer meditation music that help you feel calm and at peace which are needed to achieve that meditative state.
Make Healthy Appointments
It is not uncommon for us to miss a gym session, an appointment with a therapist, or a yoga class even when we are swamped with work. The best way to avoid this is to schedule everything in your smartphone to receive notifications when an appointment is approaching. Even when you are just at home, schedule your workout time to keep you on track. Once you miss an exercise day, it won't be long before you stop working out altogether since you are not reminded to do so. Fortunately, you can stop this by utilizing your smartphone.
Find a Personal Trainer
Are you wondering how to get fit for beginners? Exercising for the first time can be daunting since there are different types of exercises to consider. It can be overwhelming right from the start, but not when you have a personal trainer. Fortunately, it is possible for you to find a personal trainer who can guide you in your fitness goal through your smartphone. There are online sites where you can hire personal trainers, read feedback, and review their history to determine whether they are right for you. Some can visit you at home while others do online sessions which is helpful especially during these times. All you will need is your smartphone plus a stable internet connection and you and your personal trainer will be able to come up with a fitness plan that will work for you.
Top 10 Tips on How to Get Fit for Beginners Using Your Mobile Phone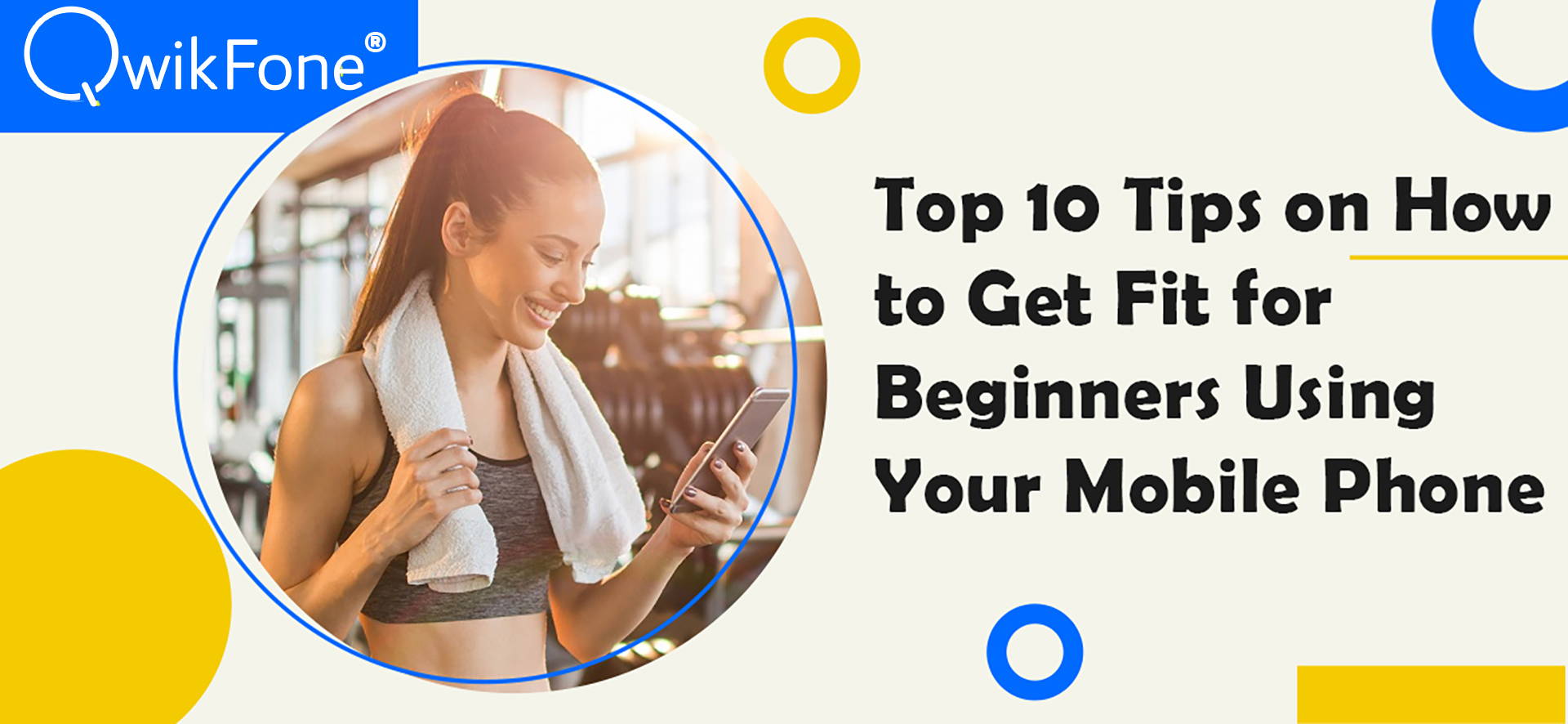 Some people are saying that smartphones are making people lazy as they simply want to spend their hours watching videos or playing games. But when used correctly, these handheld devices are actually useful when you want to stay fit and healthy. There are plenty of online fitness apps in both Android as well as Apple Store that you can download onto your phone to help you start working out even in the comforts of your home. You can start with 10 minute workouts then work your way to doing a full body exercise once you are more comfortable with your training. The best part? You don't have to go to the gym just to do that.
Your mobile phone doesn't even have to be brand new or powerful to help you stay fit and healthy. As long as it can connect to the internet, has a decent screen size, and good audio, you are all set. Even refurbished smartphones from
QwikFone
will suffice because they are all in pristine condition. You just need to choose what type of workout you prefer, keep an eye on your food intake, and consider hiring a personal trainer especially if you are just starting out. You can do all these and more with the help of your favorite smartphone.