5 Dos and Don'ts When Buying a Used Phone Online

5 Dos and Don'ts When Buying a Used Phone Online

by Ishaan Seth June 01, 2022

Buying a used phone online is becoming a more common practice with each passing day. With the number of people searching for pre-owned smartphones increasing, it's important to know exactly what to do when buying second hand smartphones, especially online.
When you buy a second-hand phone from a physical shop or even from its previous owner, you get a golden chance to examine that phone, see how it looks like in person, and even test its different parts and functionality aspects to see how well or bad the condition of the phone is. When you're shopping online, however, none of these examinations are available.
Thankfully, there are several tips to
buy a used phone online
that can benefit you when you're browsing the online used phone market for your next purchase. In this post, QwikFone's team is bringing you the top 5 dos and don'ts when you buy a used smartphone.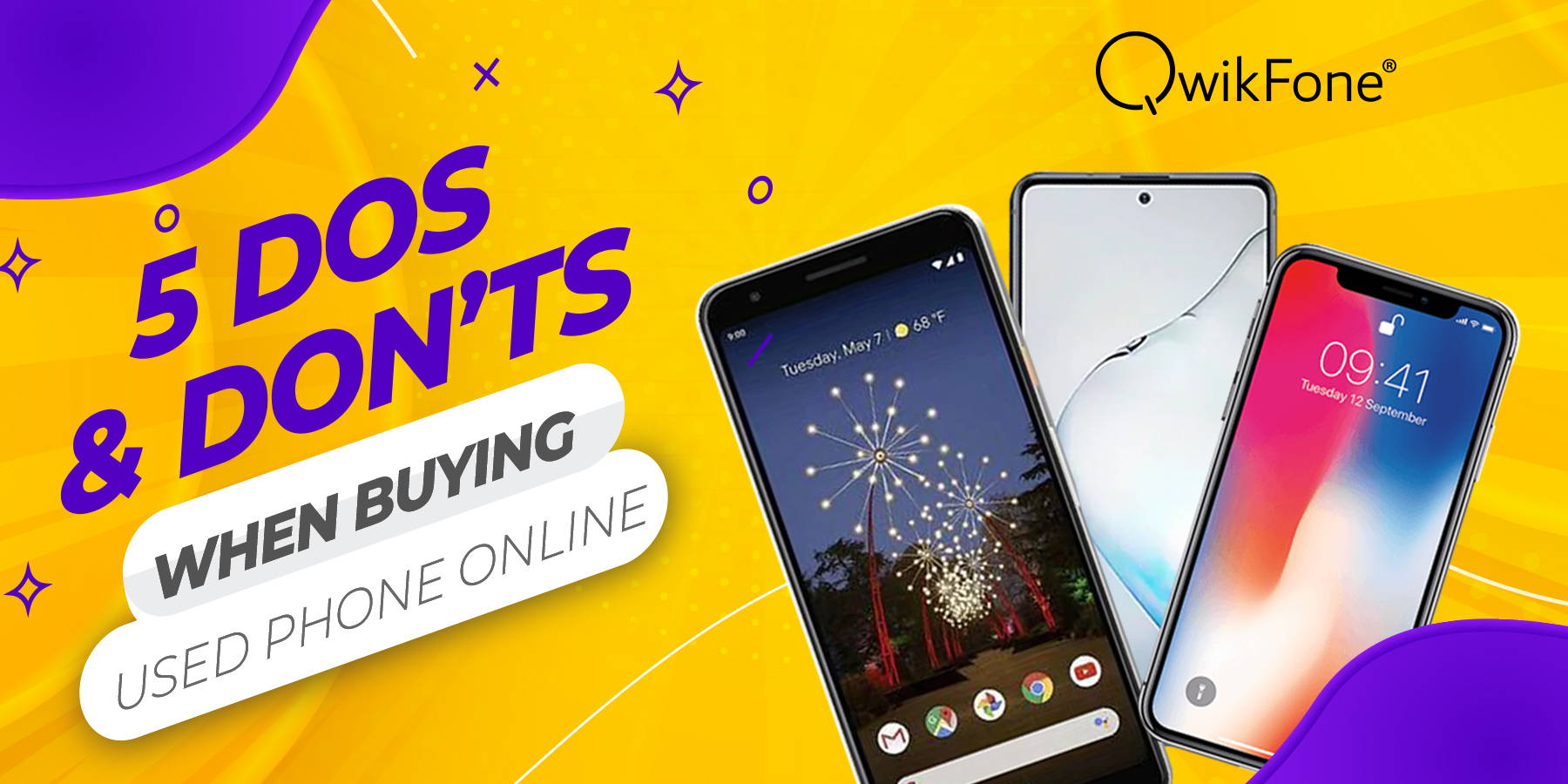 5 Dos When You Buy Used Mobile Phones Online
There are several super-important factors that you should take into consideration when you're buying a used smartphone online including learning about the different conditions and how to read the phone's specs and descriptions. Doing research is the first thing you should do when you're about to make a purchase.

Let's take a look at the top 5 things to do before buying a pre-owned smartphone.

1. Choose the Right Time to Buy

Most people are not aware that there are good and bad timing to buying a used phone. The timing is actually one of the most critical factors in this process, not only to get the phone in excellent condition, but to increase your chances of getting a more recent model for a lower price.

When it comes to buying the phone directly from its previous owner, the best time to buy the phone is right before the release of its newer model is the best time. However, we don't recommend that option for reasons detailed in the next point.

The best time to make your second-hand phone purchase from a retailer is when the retailer is offering discounts on different occasions like Black Friday, Cyber Monday, and Christmas discounts.

5 Dos and Don'ts When Buying a Used Phone Online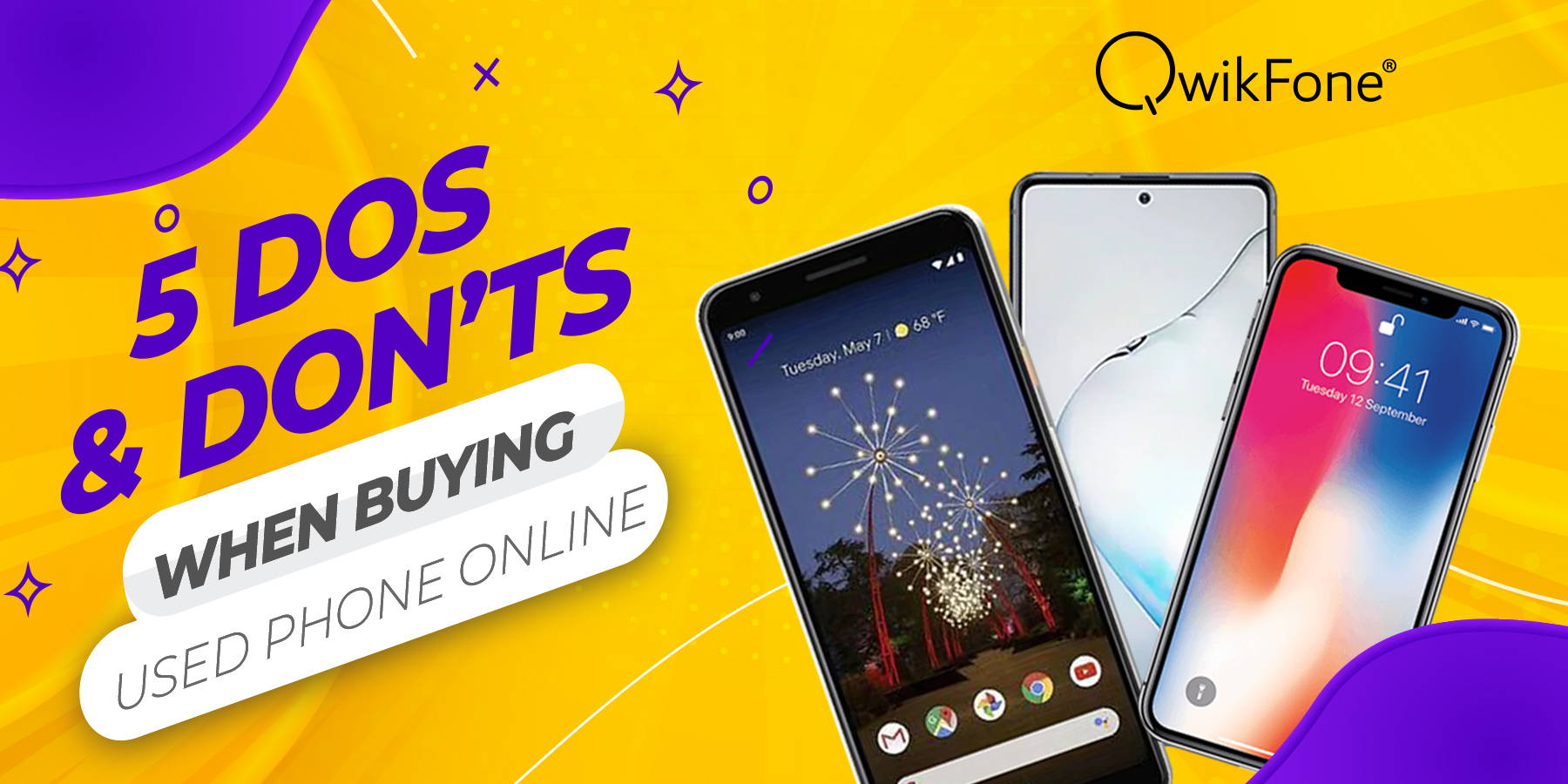 2. Buy from a specialized retailer

As mentioned in the previous point, buying a used phone directly from its owner is not the best way to go about your purchase. The reason for this is that you can't make sure that the condition of the phone is going to be trustworthy, especially when you're buying it online.

A professional retailer, on the other hand, will be able to confirm the condition of the device that they claim on their website. Professional used phone sellers will also be able to provide after-sales services in the form of a warranty and return policy with the possibility of getting your phone repaired for free in the future.

Even better, you can choose a professional refurbishment center to buy your phone. This way, you can ensure that your phone will be renewed and in pristine condition.

3. Know What the Seller is Offering

Once you settle on choosing a specialized
second-hand phone online
retailer to buy your phone from, you must start on your search journey to find the most suitable seller that matches your needs. First, that seller must offer the brand and model of the phone that you want to buy.
Next, of course, is the price comparison among different sellers' offerings. However, you must remember that lower prices are not always the best choice. Checking the phone's condition and the retailer's deal terms must be a part of these comparisons. Paying a little more for a seller who offers a decent warranty and return policy is the safest way to go.
Assuming that you chose a seller that offers a good return policy with a full refund guaranteed if and when you return the order, you should start testing the used handset when it arrives at your door. If the device is not to your liking or has any shortcomings in terms of performance, you should start the return process immediately.

5. Choose an unlocked phone

When it comes to used smartphone sellers, carrier contracts are heavily present in that market. While buying a handset from a carrier might seem a good choice for many reasons, there's one huge disadvantage to that option.
The problem that comes up when you
buy a second-hand iPhone smartphone
from a carrier or a network seller is that the phone is going to be locked to that network only. In some cases, the phone is going to be even locked on one specific SIM card which means that you won't be able to use your own SIM card if you have one as the SIM tray would be permanently shut.
The downside to that is that if you travel internationally or need to use a different carrier for any reason, you'd need a whole new handset to be able to connect to another network.
This is why you should choose an unlocked smartphone as it allows you not only to change SIM cards and carriers within your country, but also use the handset in other countries with only needing to change the SIM card with one from a local carrier from that country.
5 Don'ts for Buying Smartphones Online

Customers and users who are not familiar with buying used smartphones online can fall from serious scams or make grave mistakes that render their purchase just a waste of money. To avoid being in that position, here are the 5 top things that you should not do when you buy a used phone online:

1. Don't buy from the previous owner directly

As mentioned before in our main tips to buy a used phone, you should not buy from the owner directly. The reason for this is that the phone owner will have no means of testing, repairing, or renewing the phone to provide you with confirmation that the phone is pristine.

Another aspect of that is the fact that the old owner of the phone will either have no accessories or will give you the second-hand accessories that they've been using with the handset. In either case, you will have to look for another source and pay extra to get brand-new accessories for yourself. A second-hand phone retailer, on the other hand, will be able to provide you with a full set of brand-new accessories for the second-hand handset included in the phone's price.

2. Don't buy from a mysterious seller with no reviews

A crucial part of choosing a second-hand retailer is researching their reviews on different platforms and getting a clear idea of what their customers think of the products and the after-sales services that this retailer provides.

3. Don't choose the cheaper phone with cheaper quality

You shouldn't let the fact that you want to pay less to
buy a second-hand Samsung Phone
get in the way of getting the best quality and the best services you can get.
4. Don't buy a locked phone

A locked phone is going to be a major hindrance to your communications should you travel abroad. Also, why should you be locked to one network when you can have the option that gives you more freedom?

5. Don't buy a phone without a proper return policy

Ending with the absolute most crucial aspect of the second-hand deal that you are going to choose which is the protection and guarantees that the retailer is extending to ensure the quality and performance of the smartphone over time.

For this deal to be worthy of your trust, the retailer must offer a full refund guarantee in the event that you decide to return your order within a reasonable amount of time. Also, you must check if the device comes with a warranty, how long the warranty lasts, and what it covers.

Without these policies extending over a good amount of time, you should not accept second hand smartphone deals.

Bonus: Some Retailers Offer More!

While the choice of used smartphones may seem limited in terms of good deal terms, when you look carefully, you can find that certain retailers go above and beyond to make the second-hand deal as good as a brand-new phone deal in every way.
With
QwikFone
, for example, you can pay for your second-hand phone deal in monthly installments if you pay using Klarna or PayPal Credit. Both of those methods offer 3-month payments with no interest or additional costs of any kind!
With those tips on how to buy a used and renewed mobile phone, you can find the best of the best in terms of condition, deal terms, and payment methods! Go ahead and place your order today!