5 Reasons Refurbished Phones are Gaining More Popularity

5 Reasons Refurbished Phones are Gaining More Popularity

by Ishaan Seth June 24, 2022
A few years ago, not many people would consider buying a refurbished phone as most users preferred to have the new phone experience with unboxing and peeling the plastic off of the screen. Also, not many people have a good grasp on what refurbished phones are and how they differ from used phones. However, more and more people are becoming not only aware but also fond of refurbished phones.
The reason for this transformation in people's awareness of refurbished smartphones is because these devices can now give the same experience as a brand-new phone at a cheaper price. This, in addition to several other reasons, has caused the refurbished phone popularity to grow significantly in the past few years.
Whether you're looking to buy a
refurbished smartphone in the UK
or just getting familiar with this new booming sector of the market, this post is going to help you understand why refurbished mobile phones are gaining more popularity with each passing day.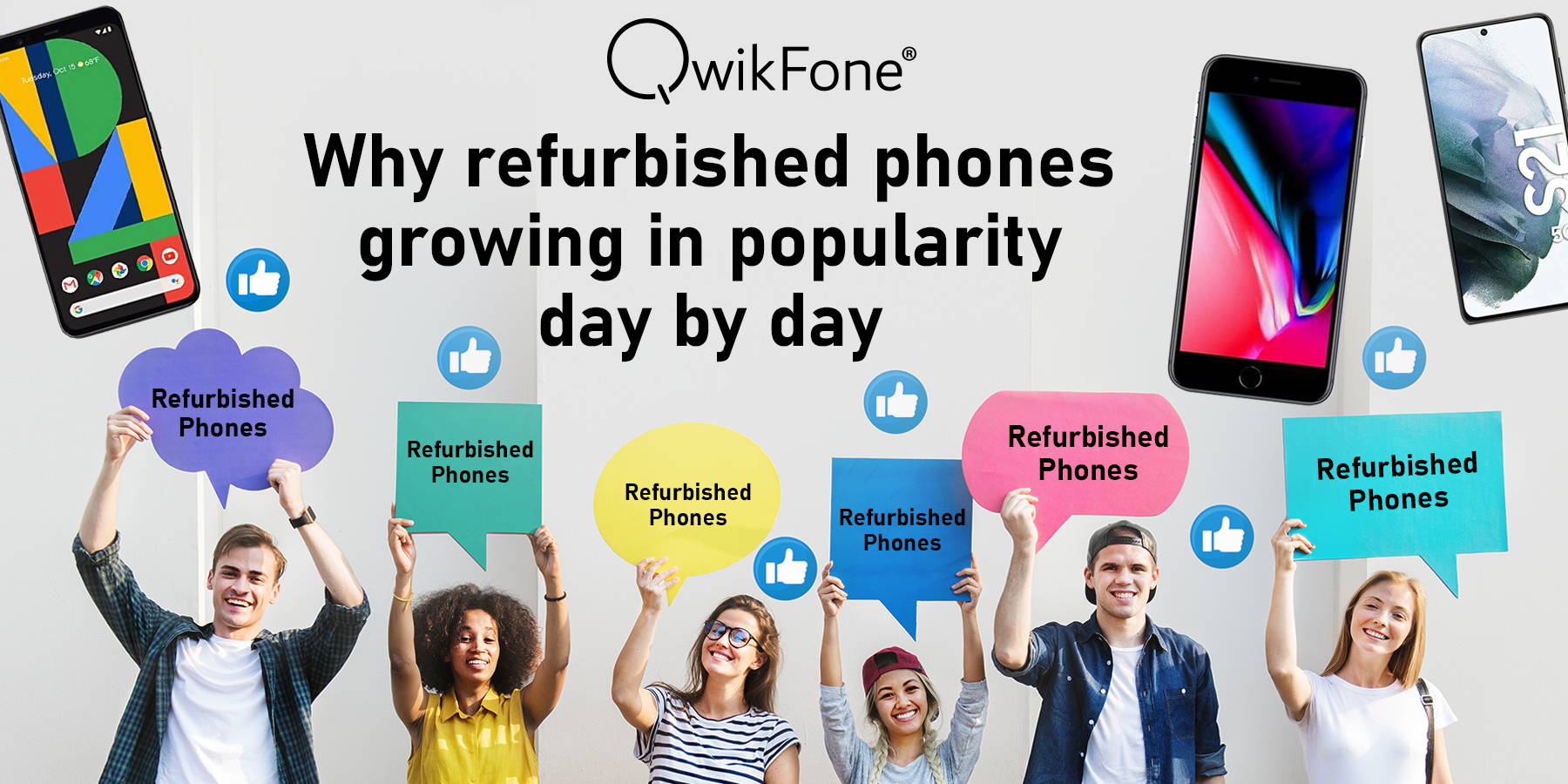 5 Reasons Why You Should Buy a Refurbished Phone

While the option of buying a refurbished phone comes to mind when the user is dealing with a limited budget, you can get many more advantages than just a medium-range smartphone at an affordable price with many refurbished deals.

When you think of what refurbished phones are, your mind might go directly to low budget models with limited specs and not-so-much impressive features. However, refurbishment experts are now able to provide you with the latest flagships from all the prominent brands at affordable prices with great benefits and deal terms.

If you wish to have the latest iPhone 13 or one of the latest Samsung Galaxy S22 series phones at a cheap price, now you can! The refurbished flagships come with a price reduction as well as the ability to pay in monthly instilments if you choose the right payment method!

So, as the first hidden benefit of buying a refurbished smartphone in the UK, you can upgrade the phone model you're planning on purchasing without having to pay much more money.

5 Reasons Refurbished Phones are Gaining More Popularity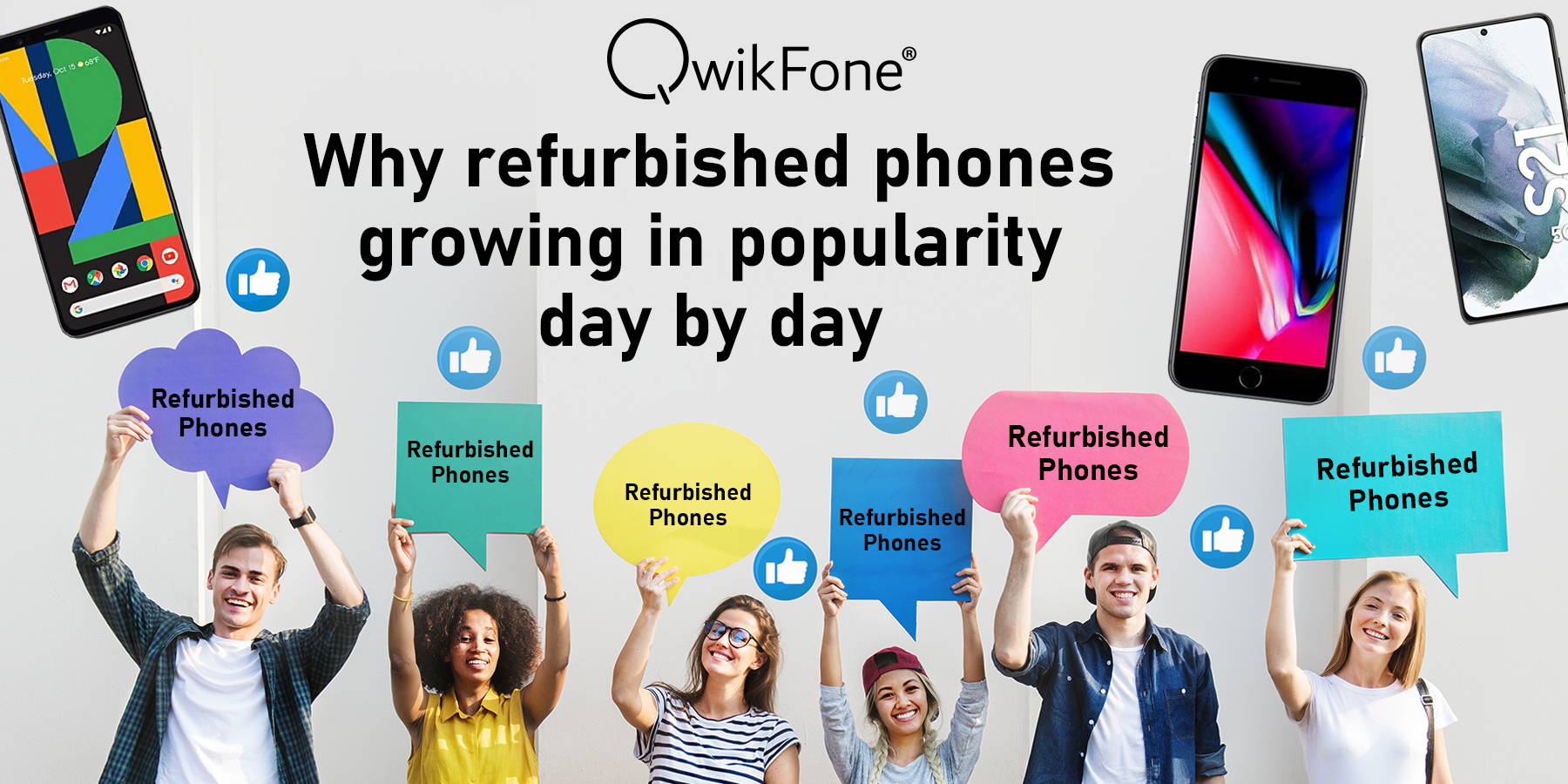 There are a lot of questions when it comes to refurbished handset condition. For many users, a refurbished smartphone can look good on the outside, but may have worn internal parts or a poor-quality battery that would crash after a short period of time.
However, if you
buy a pristine refurbished mobile
from a specialized seller that performs the refurbishment process in-house, you can guarantee that your phone is going to be as good as new inside and out. You can easily find pristine refurbished phones on many sellers' websites like Amazon and QwikFone.
If you're facing trouble recognizing pristine phones because different sellers have different descriptions of the smartphones' conditions, it would be easier if you choose an excellent condition grade-A refurbished phone. You can contact the refurbished phone retailer that you choose to confirm that the device is indeed grade-A or pristine.
Another perk to getting a pre-owned renewed smartphone from a professional refurbishment center is that the seller will provide you with new accessories. Generally, you'll find that most of the famous sellers of refurbished smartphones would only provide buyers with a charging cable. In this case, you'll have to keep shopping for the rest of the accessories such as the charging head and the earphones and pay for them separately.
Accessories are certainly an important part of your experience using the refurbished handset. This is why you need to choose a seller that will provide a full set of accessories, not just the charging cable. Also, if the refurbished device is a previously
used second hand phone
that was renewed, you must make sure that the accessories are going to be brand-new as you don't want to get used earphones that were in someone else's ears!
The last two bits to check in the seller's policies are whether the accessories are included in the price or sold separately as well as making sure that the accessories are covered by the warranty policy.
Safe Deal with Full Refund Guarantee

This is perhaps the most important detail that makes a refurbished phone every bit as good as a new phone. When sellers trust the quality of their refurbished phones, they provide good warranty and return policies to support that quality.

Good refurbished smartphones come with at least a 6-month warranty period and you'd be better off with a 12-month warranty period as it gives you a substantial amount of time to get technical support for the phone should you need it. Warranty policies customarily cover manufacturing issues, however, if you accidentally damage the phone, the seller should be able to provide you with paid repair services in order to not void the warranty. In other words, you should not get the phone repaired by a third party during the warranty period.

Return policy should include a refund clause. A good phone deal will come with more than a few days period for the return policy. In short, the return policy should last for a month and should guarantee that you can get your payment for the phone back in full if you want to return the phone during that period.

Environment-Friendly Phones

At this point in time, we can't afford to overlook the environmental effects that different tech industries have on the planet. The smartphone industry in particular harms the environment during manufacturing and after the phone is disposed of.
The refurbished phone option focuses on reducing the e-waste that is generated by millions of old smartphones being thrown away into landfills each year. By renewing
second-hand smartphones
and giving them a second life, the refurbished phone market is reducing e-waste by millions of tons and saving the planet from toxic air, water, and soil.