7 important Things to Know before Buying a Refurbished iPhone

7 important Things to Know before Buying a Refurbished iPhone

by Ishaan Seth May 17, 2022

Apple is known as a luxury brand. This means high prices are to be expected with Apple products such as iPhones. However, high-end iPhones remain desirable by many despite their expensive price tags. One of the most famous ways to
buy a cheap iPhone
is to get a refurbished one.
While buying a refurbished Apple iPhone is a better option financially, you need a few mobile phone buying tips to ensure that you're getting the best deal you can possibly find.
In this post, we'll discuss what refurbished products are, why you should choose a refurbished mobile phone and the 7 most important things you need to know before making your refurbished purchase.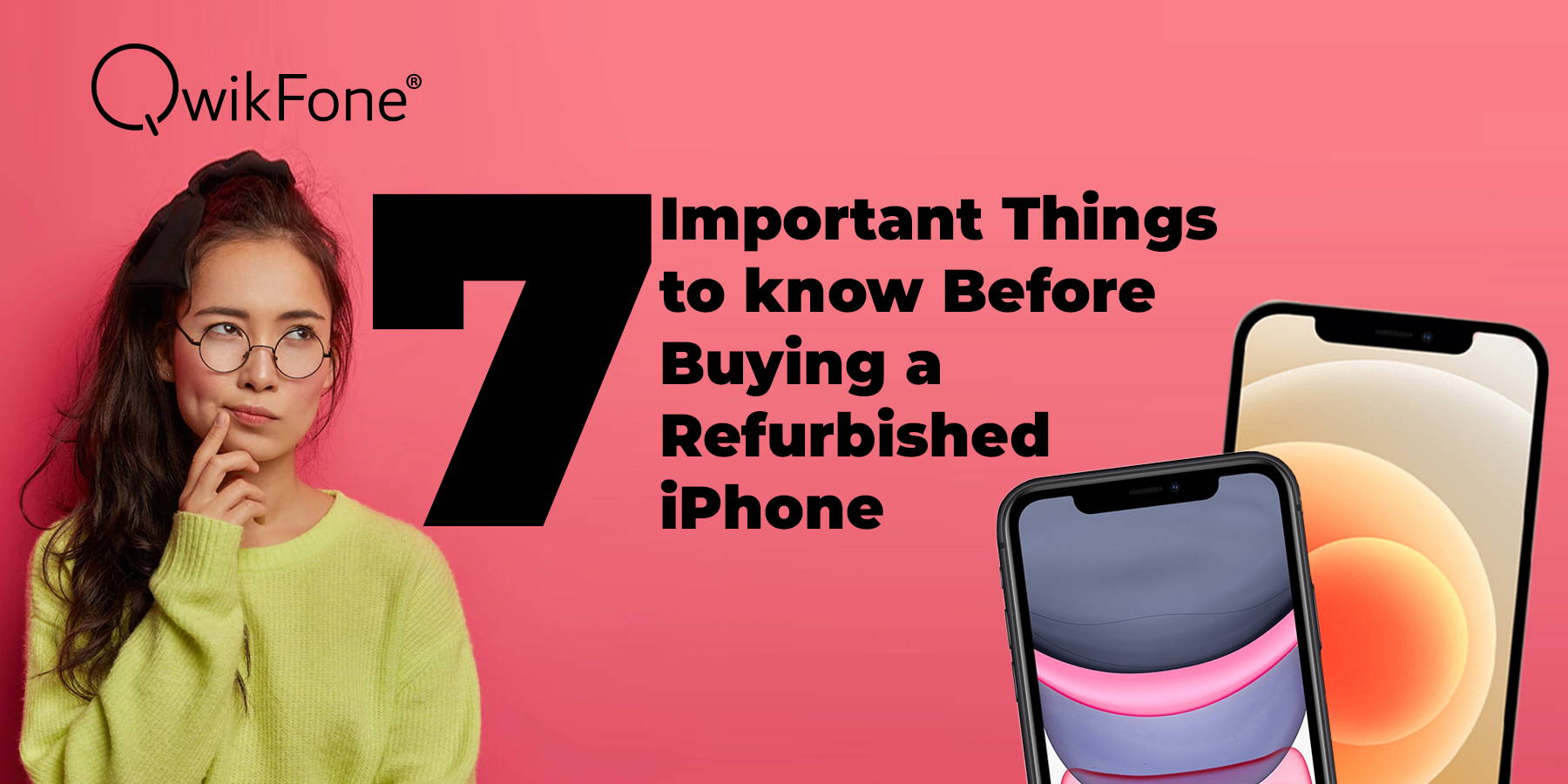 The Meaning of Refurbished Device
To avoid any misconceptions about refurbished phones, it's crucial for buyers to first know what exactly a refurbished smartphone is so that they're able to identify it.

Refurbished mobiles can be used or new unboxed devices that were returned by the initial buyer. In either case, once the mobile phone arrives at the refurbishment center, it is thoroughly tested to reveal any malfunctioning or deteriorating parts. Then, these parts are replaced with brand-new parts to restore the smartphone to a like-new state. So, while the device cannot be labeled as brand-new because it has already been unboxed, and may be used, by a previous buyer, the internal parts of the smartphone are either brand-new or as good as new.

Refurbished Smartphones Benefits
While many people might think that it is better to buy a brand-new smartphone to get a better experience, there are multiple benefits to buying a refurbished mobile phone, especially if it's an iPhone.

The first benefit that comes to mind when users and buyers think of refurbished electronics is saving money as these products come at a lower price. However, there are more benefits to refurbished electronic products than just the price reduction.
When chosen right, a refurbished mobile can be even better than a new one as you pay less money and get the same quality and the same experience.
Refurbished electronics are always better than brand-new ones in terms of the environmental effects as refurbishment is a form of recycling that reduces E-waste and significantly cuts back the tons of toxic waste that are slowly killing our planet.
With those benefits of
buying a refurbished smartphone
and many more, users should start considering buying refurbished instead of new ones. If you're planning on buying a refurbished iPhone, these are the 7 most important tips that you should pay attention to before and during the purchase.
7 important Things to Know before Buying a Refurbished iPhone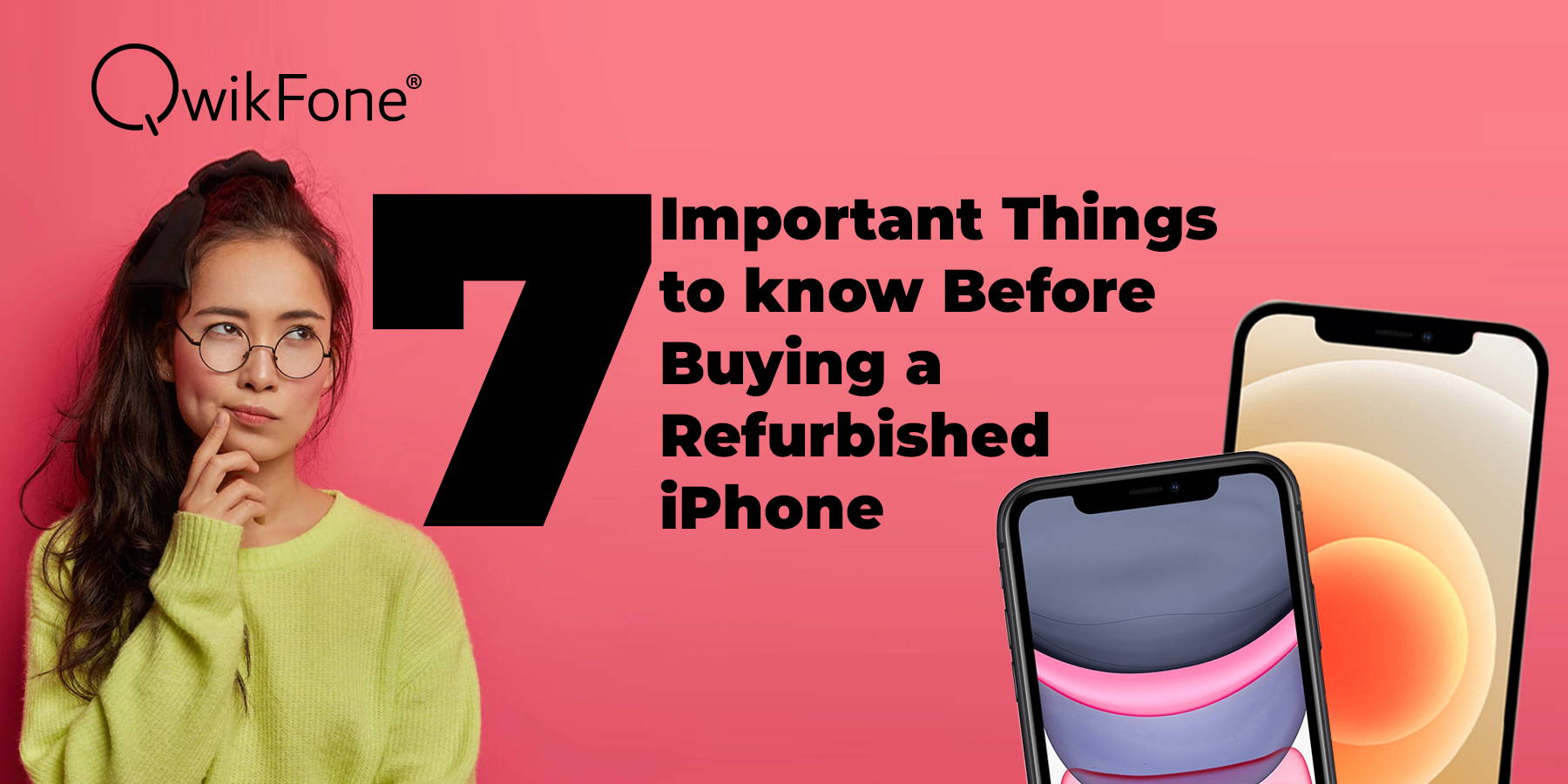 1. Identifying the iPhone Authenticity
Fake iPhones are all over the market. This is why the first and most important thing you need to check is the authenticity of the iPhone that you're about to buy refurbished. While this may seem like a difficult task, your iPhone provider should be able to do that on your behalf. All you need to do is ask for the proof of authenticity which can be in the form of a CheckMEND report that states that the iPhone is both original and was not stolen or sold in an illegitimate way. Other proof can also be provided depending on what the seller is willing to offer.

However, you should not make your purchase if no authenticity proof for that iPhone is offered by the seller.

2. Determining the Condition of the iPhone
As for the iPhone condition, you must get acquainted with how smartphone conditions are being defined in the market. If you don't want to get deep into the research of iPhones' conditions, then it would be enough to know that pristine or Grade-A iPhones are the best in the refurbished market.

Pristine iPhones are in a like-new condition and carry minimal-to-no scratches or marks on the phone's body. As for functionality, a pristine iPhone should be as good as a new iPhone in every aspect. So, when you buy a pristine iPhone, you can expect it to have almost no difference from a brand-new phone except for the packaging and the type of accessories included in the box.

3. How to Test the iPhone
Since the appearance of the iPhone is not enough to confirm its actual condition or indicate how it would function, it's important for you to test different functions and features of that iPhone to confirm that it is pristine.

Start by making a phone call to ensure that both the mic and the main speaker are working fine. Then, film a video to test the camera and mic recording quality. Play the video next to test all speakers, screen brightness and colour contrast, and strength.

Lastly, after using the iPhone for a while, check the battery to track and observe if it drains too much.

4. Accessories Included with the iPhone
With mobile phones in general and iPhones in particular, accessories are not a luxury, they're a necessity. This is why you must check what are the accessories that will come with the
affordable refurbished iPhone
. The most important accessories to look for are the charging brick, the charging lightning cable, and earphones. You also need a SIM ejector to insert your SIM card into the iPhone.
You should check if these accessories are included and, if so, will they come for free within the original deal price, or will you have to pay extra to get accessories?
5. Warranty Policy & Technical Support
The supplier or seller should offer technical support in the form of a warranty for at least 6 months after you buy the iPhone from the refurbishment source. This warranty policy must include free repair services to be sure that you have the proper support in case you discover something is wrong with the phone or one of its parts.
Some sellers, like
QwikFone
, offer a lengthy warranty period of 12 months and go the extra mile and offer a free replacement for the iPhone if it has a major issue that cannot be repaired.
6. Return Policy & Possible Refund
Buying a refurbished iPhone comes with a lot of risks pertaining to the iPhone's condition and its performance in the long run. To put your mind at ease regarding all of these risks and issues, you must choose a seller that offers a decent return policy.

Return policies that last only for one or two weeks are not a reliable policy to make your purchase. Choose a deal that includes a return policy of 30 days.

You should also investigate what kind of refund, if any, is provided when you return the iPhone order. Full refunds are the best way to go. So, our advice is to choose a deal that comes with a full money-back guarantee within a reasonable timeframe.

7. Seller Reputation & Reviews
Last but not least, make sure to look up your seller online and view their reviews and customer feedback on different platforms that allow reviews such as Trustpilot and Amazon store. Previous user experience with that seller will tell you a lot about the product's quality, the seller's after-sale services, and customer care quality.

Before buying a refurbished smartphone, particularly iPhones, there are crucial factors to check and look out for. In addition to the ones mentioned in this post, you can also look for an unlocked iPhone if you already have a SIM card or a favorite carrier in mind. This way, you'll have the freedom to use your iPhone with any carrier without limitations whether you're in your country or travelling overseas.