8K Camera on Smartphone | Best 8K Video Capture Phones

Are There Any 8K Camera Smartphones Available in the Market?
by Ishaan Seth February 26, 2021
According to research, video blogging became popular when YouTube was launched around 2005. Along with the popularity of this platform came the popularity of smartphones being used as cameras since they offer convenience, accessibility and perhaps affordability.

Smartphones then evolved from simple ones that can produce around 420p videos to the most high-tech ones at present that can produce up to 4K videos at 100Fps. After this, for sure is the question; "Are there any 8k camera smartphones available in the market?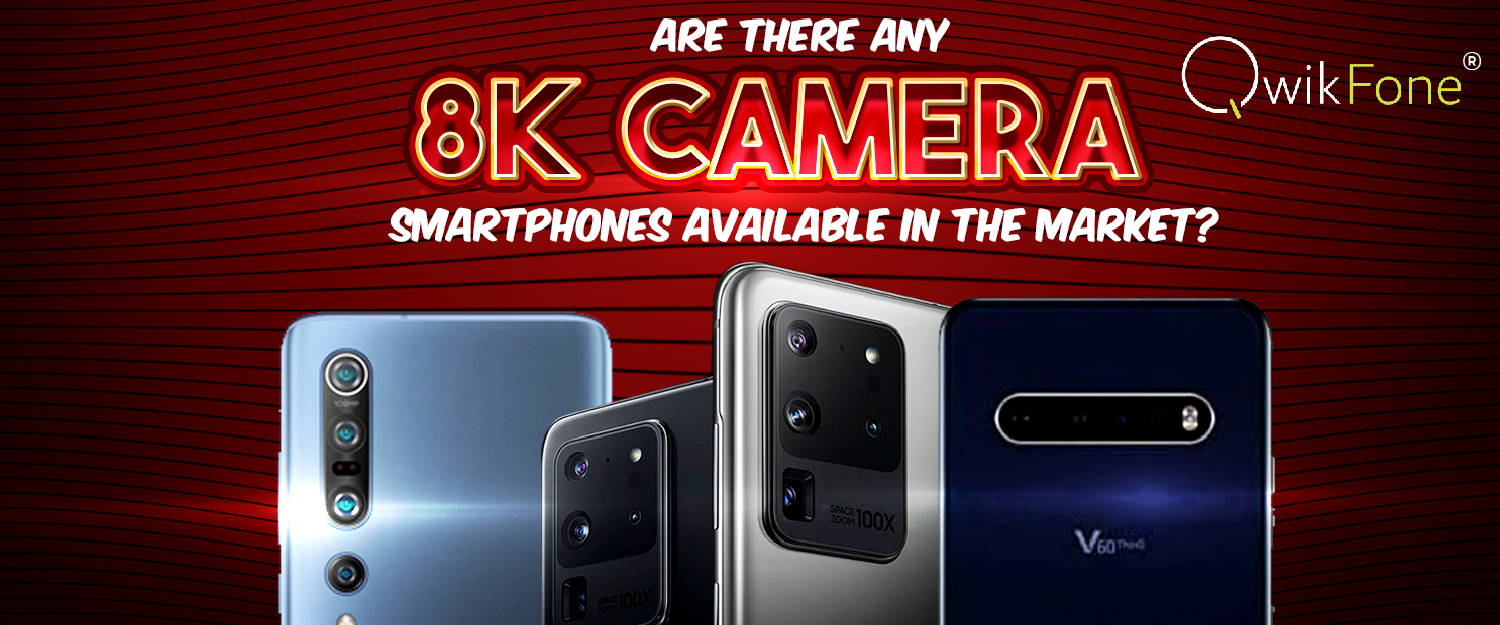 What Does It Mean to Have 8K Resolution and What Brands of Mobile Phones Have It?
What is an 8K resolution? 8K video comes with 4 times the resolution of 4K and 16 times the resolution of HD. It is currently used to watch videos larger than the size of a wall, mostly for films and nature footage. This video quality is the most desired attribute by creative professionals such as filmmakers and future broadcast project teams.

It has been a huge dream for some of the largest companies like Sony and Canon a few years back and now the 8k smartphone camera is finally available in the market. Just recently, YouTube and Vimeo support 8K videos and this prompts producers to prepare for the future.
Where can you find 8k video support mobile phones? Well, don't bother searching for the answers. Below is the list of some available 8K video recording camera smartphones:

Are There Any 8K Camera Smartphones Available in the Market?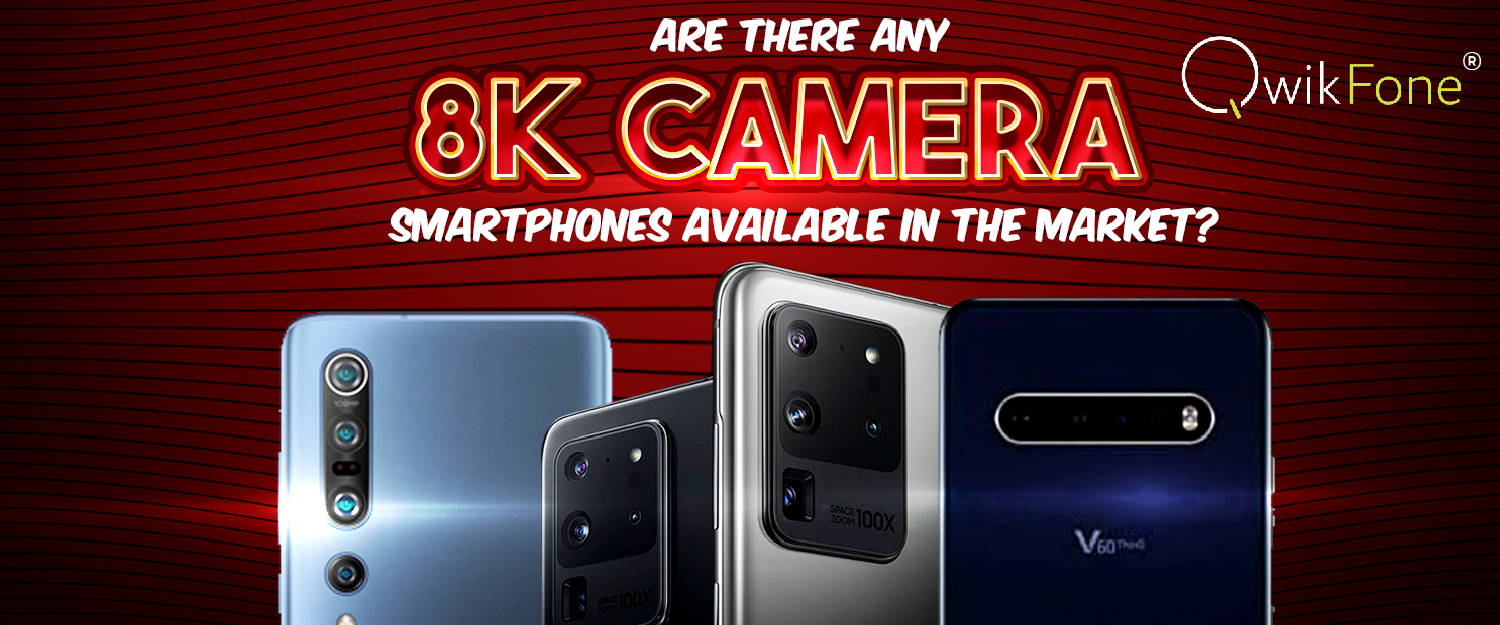 Samsung Galaxy S20 Series

Samsung is a well-known brand of mobile phones. It rose to popularity after selling plenty of high-quality yet cheap Samsung Galaxy phones. Mobile users were happy that they are able to get good value from their money with these Samsung phones or refurbished Samsung phones from
this website
.
It has been predicted that 8K shootable Smartphones will become popular in the future and Samsung perhaps won't let themselves be left behind in this race. With this, Samsung Announced S20 Phones that can shoot in 8K mode and they have releases that can shoot in 4K.
Some features of this brand of 8k smartphone camera mobile phone includes; 7,680x4,320 resolution that makes it four times the resolution of 4k UHD. Which is also four times the resolution of 1080p HD, the most popular in the market today. As of this writing, the S20 is the most sought-after 8K video recording smartphone.
The S20 Series is a new line of cheap Samsung Galaxy phones and was made available on the market after its launch last 11th of February 2021. From this series you can choose from three different models, the S20, S20+ and the S20 Ultra model. There will be a slight difference in some of their features but the three 8k video support mobile phones for sure can shoot in 8K mode.
A variety of camera modes are also available in this series that allows users to shoot in slow motion of up to 240 frames per second. The Samsung Galaxy S20 is the eye-catcher in this series since it is more attractive due to its size compared to the S20 and Ultra models. It looks slicker with few millimeters less than the two aforementioned units. You can also capture a high-quality image resolution of 33 million with its Artificial intelligence(AI) Technology. With these features, Samsung Galaxy S20 Series is considered as one of those that rightfully belong to the list of the best action cameras.
Now through this technology, you will never miss capturing moments worth cherishing in the future. With this series, the 8k smartphone camera will no longer be just an add-on to smartphones.
This dual-display smartphone is capable of shooting videos in 8K. LG tops other brands of smartphones when it comes to the dual-screen feature. Recently, LG announced the release of its third model for dual-screen smartphones in the market. Unlike Samsung's Galaxy fold or Huawei X Models, this one is a phone with another display attached to a case.

It's almost the same size as the Samsung Galaxy S20 Ultra and it includes a waterdrop notch with a 10MP front Camera. Storage is around 128GB, 8GB RAM, and an 865 chipset Snapdragon processor paired with Qualcomm's X55 Modem. This 8k smartphone camera mobile allows you to have a cinematic experience and enjoy a more detailed capture with its specifications. It features a 5,000 MAH built-in battery that can let you capture, create, or entertain yourself for hours. These features let you do more all day along with its AI Power Management that helps prolong usage.

Steady recording comes in handy on this one. You can produce Ultra-Smooth videos even if you have shaky hands. LG's V60 ThinQ allows you to focus more on the experience rather than just capturing stable videos during important moments. Through this feature, you can freely do fast-paced activities such as horseback riding or sailing without any concerns.

ASMR is also very popular in videos nowadays so LG developers made sure that you won't get left behind with this trend. LG V60 ThinQ enables a user to capture clear, high-quality audio with fine precision and detail. The audio can then be enhanced during the post process making it more pleasing to the ears.

Its specifications include a 6.8-inch OLED panel and is 5G-ready. This 8K smartphone camera boasts a secondary display attached to its case. Once the V60 ThinQ 5G is placed in the case, the user can get two displays; which is beneficial for multi-tasking users who wish to open different apps at the same time. Reading and replying to emails also comes in handy due to its landscape mode.

More 8K Video Support Mobile Phones Are Now Available
Xiaomi is an electronic company based in Beijing, China. Xiaomi has a wide variety of products such as; smartphones, mobile apps, laptops, bags, shoes, home appliances and many more. It follows huge names in the mobile industry like Samsung, Apple and Huawei in terms of producing chips.

Last August 2011, Xiaomi released its first smartphone and is now increasingly gaining market share in China. Around the 2nd quarter of 2019, the company was the world's fourth-largest smartphone manufacturer. It takes the lead in China and India. After its success, the company proceeded to produce a wider range of consumer electronics such as the smart home product that connects more than 100 million smart devices and appliances.

Founded in 2010, the Xiaomi brand made its way to the global market. As an internet and smartphone company, Xiaomi released its Xiaomi MI10 Pro Model. It is equipped with a 108MP quad-camera that enables videos to be shot in 8K resolution similar to that of the Samsung S20 Models. From this series, you can select from 8GB and 12Gb RAM options which come with memory cards with storage of up to 256GB or 512GB. Its storage capability enables users to shoot without having any concerns about storage spaces.

Xiaomi's brainchild makes the best 8k video support mobile phones for users who wish to produce professional-quality images. Aside from its 8K resolution, Xiaomi's 8k smartphone camera also allows users to record at 30fps for 4K footage. Moreover, you can choose from its wide array of resolution from 30 to 960 frames per second if you are opting for a 1080 Pixels resolution. On top of all these features, this brand of smartphone has ten times optical zoom for ease in recording any scene regardless of the distance. It has a 1/1.33 Image Sensor created as a counterpart with that of Samsung. This design has the largest image sensor available on the market.

Xiaomi 8k video support mobile phones feature a curved design, the screen has a diagonal length of 6.67 inches with gracefully rounded corners. However, some users pointed out a few concerns with the Xiaomi Mi 10 Pro and to mention one is the "slow fingerprint sensor". The issues are not that huge, and most consumers find it acceptable.

The Red Magic 3S is an upgrade from its predecessor, the Red Magic 3 and is the latest gaming device from Nubia. Nubia was founded in October 2012 and it aims to provide high-end, innovative smartphones to users. The brand plans of producing devices for adventurous consumers who love new experiences and a luxurious way of life.

In Latin, "Nubia" means "clouds" and is a sign of beauty and kindness. The name was derived from ancient civilizations. The company brought another meaning to its name which corresponds to a leap in terms of advancement in technology. This brand operates around the world including South America, Russia, Europe, North America, Southeast Asia and India.

This Qualcomm Snapdragon 855 processor-powered smartphone adds to the list of 8K smartphone cameras. However, unlike the previous items, this one only captures worth 15fps which is lower than the average rate. Its processor enables quick rendering of graphics. The liquid cooling system of this device makes it attractive to the gamer as it keeps the device cool even after a long period of gaming. This is due to its fan-powered liquid cooling system. This feature is one of the reasons why it is called one of the best gaming smartphones on the market. It has a 48MP Sony IMX586 sensor.

For this model, you can choose between 8GB or 12GB of RAM storage capacity. Compared to Xiaomi Mi 10 Pro and Samsung S20, Red Magic 3S doesn't have a luxurious quad 8k smartphone camera setup. In addition, it is equipped with a 16MP Selfie Camera. Despite the lacking features, this Nubia model still has a lot to offer to both gamers and photo or video enthusiasts who want their smartphones to be used in sharing photos or videos on social media. Added to the features mentioned already, this phone's camera has a wide-angle lens with F/1.9 aperture that makes it ideal for live-streaming, video chatting, photography, videography, and a whole lot more.

This smartphone has been considered for a more immersive gaming experience. It features big stereo loudspeakers and touch-capacitive triggers at the side of its frame which works best in shooting and racing games.

Important Mobile Phone Specs to Consider
Here are some specifications of the phone models mentioned above that you might want to use for comparison: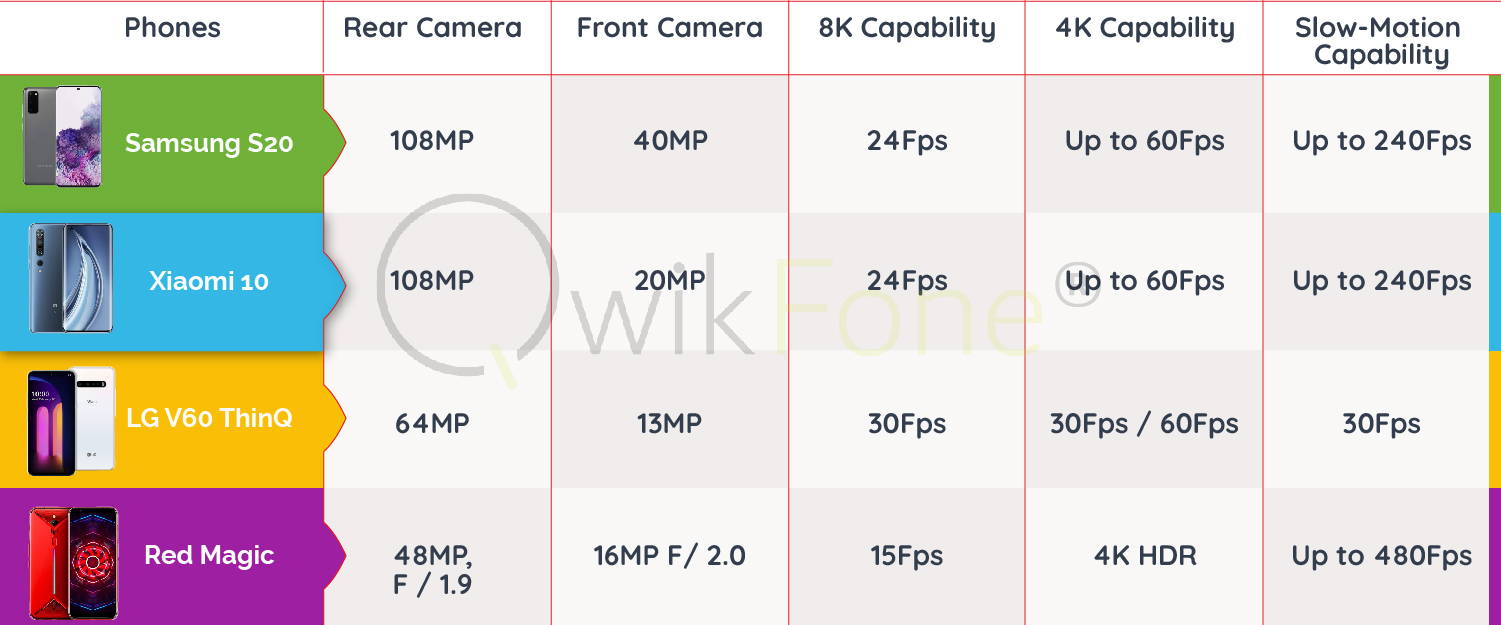 Despite the storage concerns coming from the latest innovation in the mobile industry which is, the 8K smartphone camera, this new development in mobile technology is still something that will gain popularity in the upcoming years as predicted. Along with the growing number of people who opt for a more convenient and modern device that can do more than just communicating, these 8K Smartphone cameras will be highly demanded by the market in the future.

It was predicted that the requirement of video platforms will increase in the upcoming years and because of this, devices for viewing videos would also upgrade to 8k. These devices and gadgets include monitors, laptops and television sets. Several video vloggers are now looking into future-proofing the videos that they will produce in platforms that now allow 8K resolution videos. This means that the demand for this in the future will surely grow. Based on current trends, there will soon be a great leap and advancement once 8K-enabled displays will become affordable and accessible.