Why Refurbished Samsung Mobile Cost Less than an iPhone?

Why Refurbished Samsung Mobile Cost Less than an iPhone?
by Ishaan Seth January 11, 2021

Due to the 2020 effect on the economy in almost every country in the world, people and institutions are looking for ways to cut back on their costs. Eyes are now turning towards local business rather than big brands and recycling and using second hand items rather than buying new items. This applies to smartphones as much as it applies to other products in the global market if not more.

With smartphones, users and customers are facing a special dilemma. As a product, smartphones are somewhat of an expensive and luxury item. However, smartphones are an absolute necessity to every single person to keep up with everyday life events whether it is social or business-related and, thanks to social media, the two aspects often overlap nowadays.

So, to solve this balance issue between smartphones' importance and sky-rocketing prices, finding the cheapest refurbished phones seems to be the best fitting solution. Once the smartphone user reaches the point of deciding to buy a refurbished phone to save money while keeping the specs of the phone up to par, another major questions come to mind: A Samsung phone or an Apple iPhone?

While there is an obvious answer to this question which is related to the more famous one: Android or iOS, the information we're looking for here has to do more with the price since our main focus is to save more money.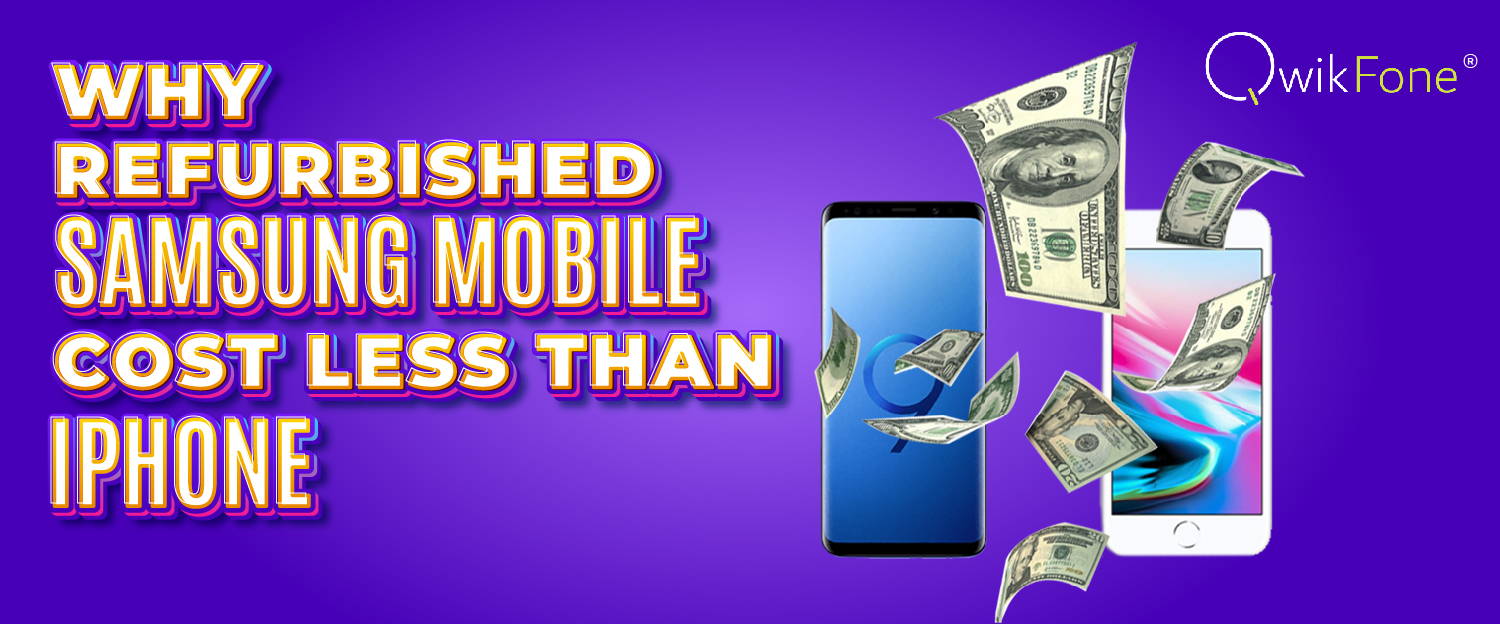 Samsung refurbished phones vs Apple iPhones

Apart from the software difference, Samsung phone and Apple iPhones have always had a major price gap up until a few years ago. The reason for this is that Samsung used to control the cost of its smartphones manufacturing by choosing plastic body and frame. While this was a good choice in terms of the budget of the company and the users alike, the cheap-looking plastic phones were always criticized for not looking as high-end as their internal parts and specs actually are.

Lately, this has drastically changed as Samsung flagship phones became worth of that title with metal, and later glass, bodies which made the outside of the Samsung Galaxy phones finally reflect the premium quality of the parts and specs inside.

While the prices of brand-new Samsung phones have jumped up in the previous years to catch up, and even exceed, the prices of Apple smartphones. Yet, in the refurbished condition, Samsung refurbished phones are often the cheapest refurbished phones when compared to Apple iPhones refurbished. The reason for this is directly related to the refurbishment process. So, let's take a look into this process first.

Why Refurbished Samsung Mobile Cost Less than an iPhone?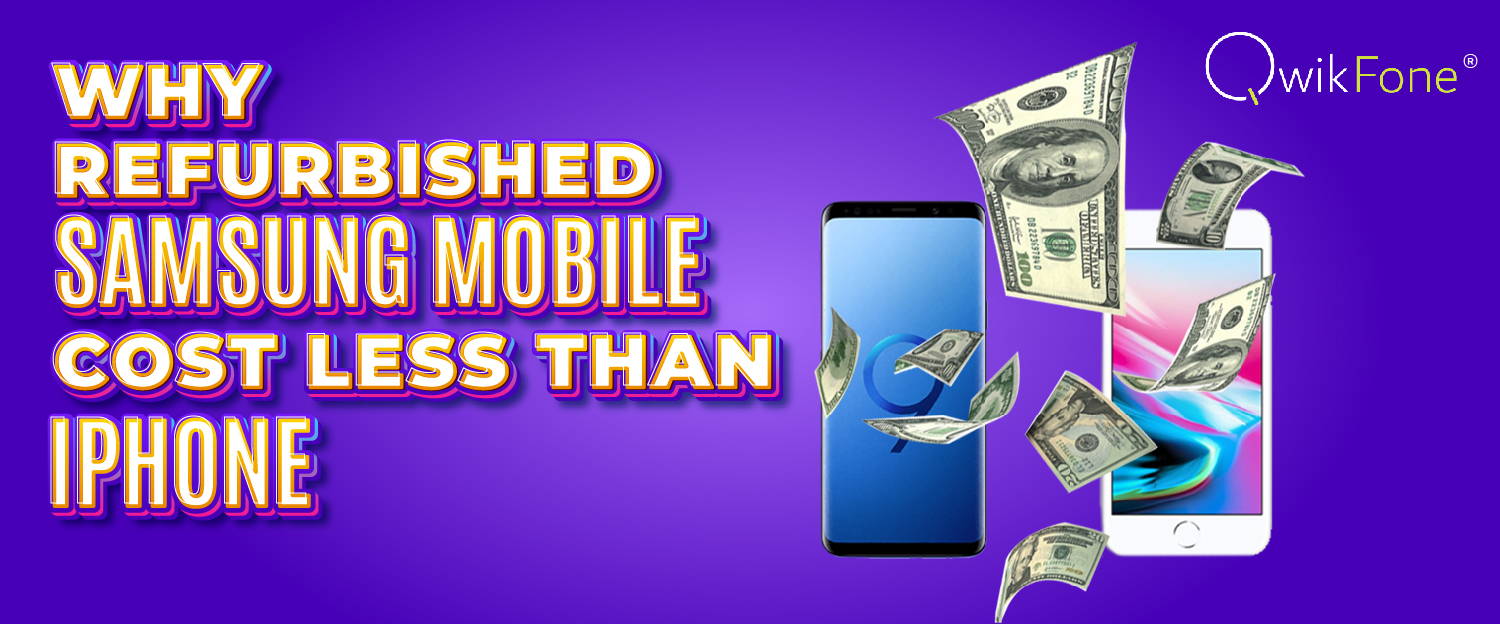 The refurbishment process of a flagship phone


Giving second life to smartphones

At QwikFone, for example, the refurbishment process focuses mainly on reducing the E-waste as well as presenting our customers with affordable smartphones in good condition. This is why QwikFone's refurbished phones whether Samsung or Apple iPhones are all pre owned devices obtained from their previous owners.
Making sure everything is in orders

Before accepting any device, QwikFone runs a thorough background check via CheckMEND which clarifies whether the phone is legitimate or not. This way, we assure our customers that they are always getting 100% authentic and original devices created and sold by their original respective brands.

Then, the testing process begins. During the testing of the smartphone, one of the refurbishment market's most famous and reliable testing software is used by QwikFone's team of experts to ensure that there are no issues with the phone internally. The phone is thoroughly tested from the mother board to the outside case to make sure everything is in order.

Of course, there are cases where devices are not in perfect condition in every aspect. This is when the skills of the QwikFone team step in to fix it all. During this repair and actual refurbishment process of any smartphone, spare parts are often required to replace worn, old, defective, or broken parts within the phone.

At this stage, the QwikFone management makes the decision which determines to save the environment and save our customers' budgets in addition to holding the answer to the question of why refurbished Samsung phones cost less than Apple iPhones.

Spare parts: What is OEM?

When it comes to mobile phone spare parts, it's no secret that there are levels representing different qualities of each part. Of course, these qualities in turn would differ in price as well.

The spare parts that are manufactured by the original mobile manufacturer such as Samsung or Apple factories are called OEM (Original Equipment Manufacturer) spare parts. As can be expected, these parts are the most expensive when it comes to repairing or refurbishing a smartphone. Moreover, in the case of Apple iPhones, OEM parts are almost entirely exclusive to Apple repair centers and are not available for third party refurbishers. High end spare parts for Apple iPhones are also too expensive for the most part which makes Samsung refurbished phones far more affordable and cost less than Apple iPhones refurbished.

So, how does QwikFone use OEM part in refurbished mobile phones?

Well, the answer to that question lies in our main concern besides lowering the costs & prices, which is the environment. In our quest to save the environment from the millions of tons of E-waste that is generated each year by the mobile industry alone, we have decided to use working pristine parts from devices that are beyond economical repair and utilize those parts to save other phones.

This way, we're able to obtain pristine refurbished OEM parts for both Samsung and Apple phones, reduce the world's E-waste crisis, and give our customers the chance to get their dream Samsung refurbished phone and Apple refurbished iPhone at a fraction of its original price if they were to buy it brand new.

Cheapest refurbished phones pristine!

Thanks to the careful and skillful team of QwikFone refurbishment experts & our policy of using refurbished OEM spare parts, we are able to present our clients with a prefect pristine device at the lowest cost possible in the refurbished phone market.

To ensure the best experience for QwikFone customers, we devised the best terms for our refurbished mobile phone deals.

Impeccable warranty policy & a safe return policy

One of the most important factors of choosing the right refurbished phone vendor is the warranty policy offered with the refurbished phone. At QwikFone, the warranty policy lasts for a 12-month period to provide the ultimate and longest period of support for the refurbished phone user.

The warranty policy covers any manufacturing defects which are repaired by our dedicated repair center for free. According to the judgement of our repair specialists at QwikFone, some devices may even be eligible to be replaced for free within the warranty policy if these devices have a defect that reoccurs or cannot be repaired for example.

As for the return policy, it facilitates the most perfect conditions for our customers to buy and try their favorite smartphones refurbished with no risks whatsoever. Thanks to this return policy, a 30-day period is available, during which, the customer can return his or her refurbished smartphone and receive a full refund of the price he or she paid for the phone.

Finally, customers who would like to buy a pricey smartphone whether it is an iPhone or a Samsung Galaxy, can now pay monthly instalments for refurbished phones!

Thanks to Klarna, instalments are now available over 3 equal payments with the first one paid at the time of the order confirmation. Then, the next two payments are paid after 30 & 60 days consecutively.

Klarna also offers a "pay later in 30 days" option where the payment method will finance your order for the first month so that you get to receive the order and try out the phone for a month before deciding to pay for it if at all. If you're not happy with your refurbished phone, you can return it without having to pay for it at all. The difference between Klarna's offer and QwikFone return policy is that, while both extend for 30 day, with QwikFone you would pay for the order and then receive a full refund upon returning it. Whereas with Klarna's "pay later in 30 days" payment plan customers will not have to pay for the order at all if they don't like the phone and decide to return it.

Making a refurbished phone deal cheap, safe, and environmentally safe is definitely not an easy job, nor is being socially and environmentally aware. However, QwikFone has proven it to be possible. So, choose your vendor wisely!