Apple Watch Series 6 Review – Price, Battery Life & Health Features

Apple Watch Series 6 Review – Price, Battery Life & Health Features
by Ishaan Seth March 8, 2021

Apple's latest Watch Series is the 6th iteration of the device which was first launched back in 2015. Although Apple Watch users will be quick to agree that the design and style of the Watch 6 is the same as that of its predecessor, the tech giant has made some adjustments to its features, most notable is its health features.

The release of Watch 6 seems to be appropriate in these times when there is an ongoing pandemic as Apple added a sensor to determine one's blood oxygen saturation in it which detects and records data even while you are inactive or are sleeping. What makes this a useful investment nowadays is that it helps detect how efficient your respiratory as well as circulatory systems are when it comes to delivering oxygen throughout your body.

But what else is there to watch out for the newest Watch Series? Here's an Apple Watch Series 6 review to get you started.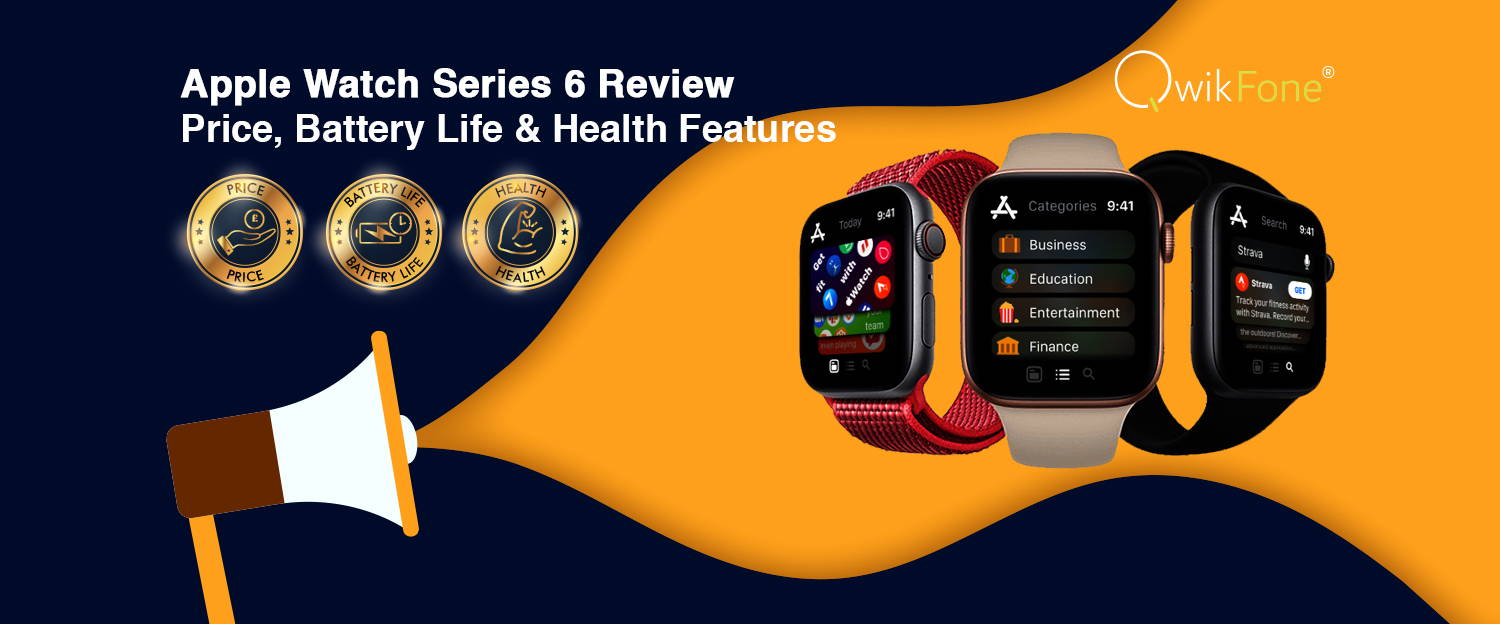 There are two new Watch models that were released in 2020 which are the Series 6 and Watch SE. The current retail price of the Series 6 is $399 for its GPS-only version. You will have to add $100 to the Apple Watch 6 price if you prefer to get one that has both cellular and GPS capabilities.

As for the SE version, it is sold at $279 for the basic model while the cellular/GPS version is priced at $329. Since this model is designed to be budget-friendly, it is missing a few key elements to it such as ECG readings, blood oxygen sensors, and always-on display. For price perspective Refurbished Apple watch is best to buy from here.

One of the key features that is worth mentioning in this Apple Watch Series 6 Review is the added health features. The tech company has installed a new sensor for monitoring blood oxygen levels. This new tech is a welcome feature as it helps with a person's overall health and fitness. By keeping an eye on blood oxygen saturation, it is easier to identify whether the user needs immediate medical assistance which usually happens when the meter goes down.
This latest feature works with the aid of clusters of red, green, as well as infrared LEDs which are combined with the photodiodes installed at the back of the device. These components are the ones responsible for measuring the amount of light being reflected back from the user's blood. Other key features include:
Blood Oxygen application programmed to measure oxygen levels ranging from 70 to 100.

On-demand testing.

Occasional background testing even when a person is inactive.

Data collected is accessible in the health application.

Another example of Apple Watch 6 health features that remains in this model is the electrocardiogram or ECG. This helps record heart activity which can be used in treating an individual. To check your current heart rate, you will have to place a finger on your gadget's Digital Crown for it to track your heart's activity.

You can also activate the Sleep Tracker in the Watch 6 which can be useful if you want to ensure that you are getting plenty of rest each day. Although this will require software activation, it is a useful feature that can keep you on track when it comes to the number of hours of sleep that you will need each day.

Apple Watch Series 6 Review – Price, Battery Life & Health Features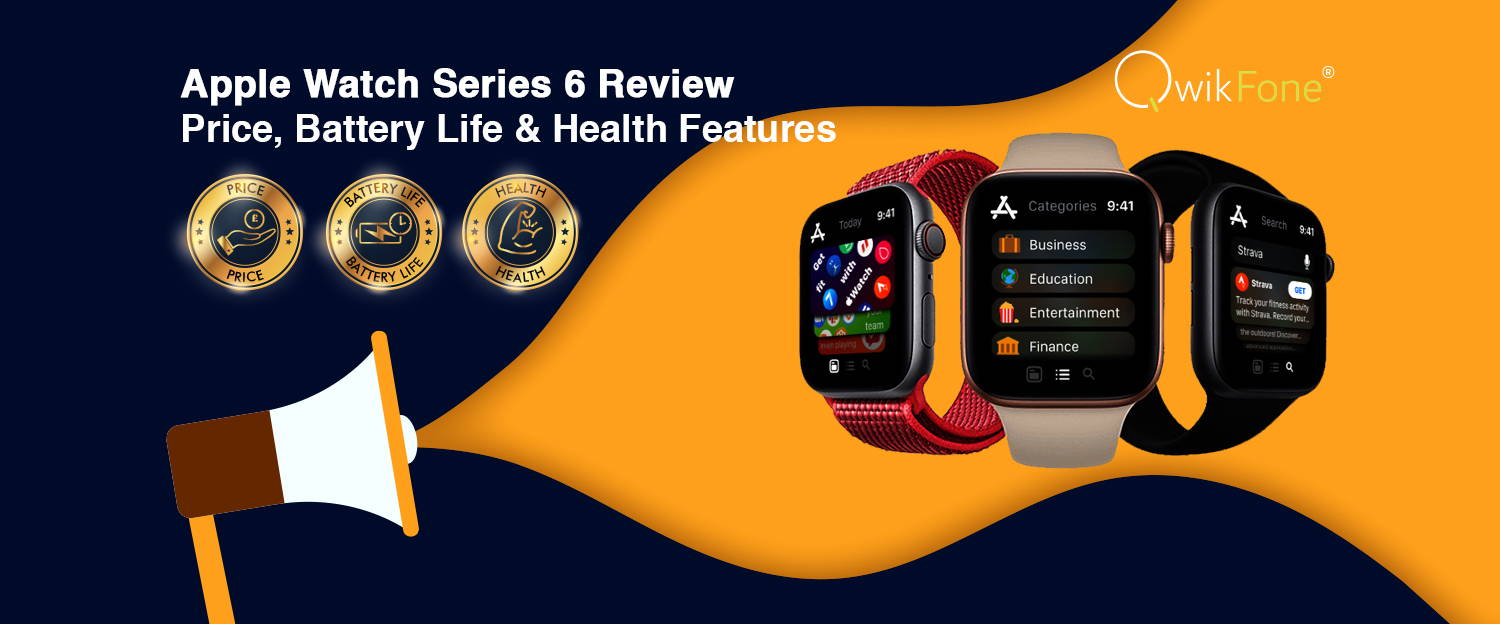 Like it was mentioned before, the design of the Watch 6 is quite the same as the Watch 5. It has the same slim bezels on the display with two size options namely 40mm and 44mm to accommodate different wrist sizes. You might think that the same square design is already boring since the company has retained the original look from 2015. One of the advantages of this move is that the Watch 6 will be compatible with previous watch bands which means additional savings on your part.
Other notable design features here are:
Black ceramic combined with crystal backing to accommodate the multiple sensors at the rear.

More LEDs are installed compared to its predecessor.

The Digital Crown is located on the side to help navigate the Watch 6's interface.

Side Button lets you launch apps that are often used quickly.

Itfeatures an Always-On display made from OLED materials that displaysinformation on the Watch's screen for easy monitoring. The light dimswhen the hand is down and will brighten only when the arm is raised.

ForceTouch is no longer supported with the Watch 6. Instead, users can usethe Digital Crown to navigate the user interface or swipe down on thedisplay.

Waterresistance is only up to 50 meters. It is not recommended to use thewatch in the shower, waterskiing, or even scuba diving as the componentswill not be able to handle the long immersion.

Apple has removed the ceramic casing in its list with its newest Watch model and has replaced it with stainless steel, aluminum, and titanium. So far, the one made with aluminum is the cheapest of the three while the most expensive is the one that is made from titanium.


Aluminum.

The aluminum used inmaking Watch 6 comes from 100% recycled aluminum. It is lightweight,cheap, and designed to withstand daily activities.

Stainless Steel.

This model tends tobe heavier than that of aluminum and is more for daily wear than activelifestyle. It is also a bit pricey but it is hardy and can last you awhile.

Titanium.

Since this is the mostexpensive of the three, you can expect the titanium material prolongsthe life of your Apple Watch. It is also lightweight, durable, and isquite resistant to rust and stains.
Another thing that is worth noting in this Apple Watch Series 6 review is the device's processor. Apple has installed an upgraded dual-core system in this newest iteration which they have based on their iPhones A13 Bionic chipset.

According to the tech giant, the S6 processor is 20% faster compared to the previous processor which means that applications are able to launch quickly.

With regards to Apple Watch 6 battery life, you will be pleased to know that you can get up to 18 hours out of it. Additionally, it charges real quick so that, even if you activate the Sleep Tracker, and charge it in the morning, you won't have to wait long before you can use your gadget again.

The size of the battery varies between the 40mm model and the 44mm version. For the 40mm Watch 6, it is equipped with a 1.024Wh battery which is around 8.5% bigger while the one installed in the 44mm version is at 1.17Wh and is 3.5% larger than that found in the previous iteration. You only need to wait an hour to an hour and a half to charge the device 100%.

What's great about the battery life of the newest Apple Watch is that it is designed to track indoor and outdoor activities to help make it last longer. There are instances when the battery of your smartwatch drains faster such as when you are using it to place a call or when you are working out and are using its fitness tracker and apps.

In terms of connectivity, you can choose between getting the Watch 6 with GPS only or one that supports cellular activities as well. The latter model is capable of connecting to LTEs while the other can only work when there is WiFi available. Let's discuss further in this Apple Watch Series 6 review its connectivity features.
LTE.
The LTE feature has been around since the Watch 3 model was released. Choosing a Watch 6 that has cellular capabilities let's you use your device even untethered to your Apple smartphone and without the need of a WiFi connection. Take note, however, that you will still need an Apple device to connect your Watch to. Additionally, the battery capacity of the Watch 6 is not enough to use it the entire day without the aid of the iPhone.
Emergency SOS. Another connectivity feature that is present in the Watch 6 is being able to call for emergency assistance regardless of your location and where the device was purchased. It is also worth noting that the emergency SOS works in tandem with Apple's fall detection service so that, in case you had a hard fall and lie motionless, the watch will automatically send an SOS to the country's medical assistance department.
GPS, Bluetooth, and WiFi.
The Watch Series 6 fully supports Bluetooth, GPS, and WiFi connectivity. GPS remains constant with the two Series 6 models regardless of whether it has cellular connection or none. The GPS tracker is useful when it is used in tandem with Apple Watch 6 health features as it will record accurate data on the health app.
The latest operating system for the Watch 6 comes with several features that are useful in today's times. A few that are worth mentioning are:

Handwashing detection

Sleep tracking

Cycling directions in specific locations

Additional types of workouts

New watch faces

The handwashing detection feature that comes with a 20 second countdown timer is quite useful given that we are required to wash our hands more often these days in light of the health crisis.

What else should you know about in this Apple Watch Series 6 review? Let's see what else below.

Apple Pay. Since paying in cash is no longer encouraged because of minimizing physical contact with others in public, the Apple Pay service is a welcome addition to the Watch 6.
Siri Translations. Another useful app that you can take advantage of is the language translation so you will not get lost in translation when talking to foreigners.
App Store. This is still the strongest feature of the Watch 6 remains the Apple Store wherein you can download and install programs directly into your device.

The Apple Watch 6 release date was on September 18, 2020 which means it is now available across the globe. The prices will vary depending on where you will be purchasing it from whether it is directly from Apple or from online retailers.

Spend Less on Refurbished iPhones

Since the Watch 6 as well as the previous models only work with Apple's iPhones, you will need to get one if you are planning on buying this wearable. However, with the Apple Watch 6 price currently at $399 or £379 for the base model, spending extra on an iPhone may be more than the budget that you have allotted for especially if you are going to purchase a brand new smartphone.

That said, there is a cheaper alternative to consider and that is to look for refurbished iPhones in the UK. The biggest advantage of buying refurbished is that you will get bigger savings compared to buying brand-new. Another reason to switch to a refurbished iPhone is that it will look and even work like it is new especially when you purchase one from QwikFone. How so?
QwikFone follows a 40-point testing scheme to check the device and to guarantee that it is in pristine condition.
Only certified technicians do the refurbishing process for this shop.
They have access to OEM parts to ensure that any parts that need to be replaced will be up to the standards of the manufacturer.
They offer a one-year warranty for all their products, including Apple smartphones.
A 30-days cooling period is included to allow customers to test the item out.
They offer free accessories to minimize added expense.
Customers can apply for Buy Now, Pay Later schemes.
Compared to the previous Watch 5, the Series 6 Apple Watch works better than ever. The all new health features like being able to read the blood oxygen levels as well as being able to track sleep, and even count the seconds during hand washing all points to improving one's overall well-being.

Hopefully this Apple Watch Series 6 review gives you the information you need on whether this wearable is the right fit for your active lifestyle.