Samsung Galaxy A90 5G Review

Samsung Galaxy A90 5G: Product Analysis & Review
by Ishaan Seth January 16, 2020

Mid-range smartphones are the main focus of many users around the world. As they offer a reliable performance for an affordable price range, these phones are more popular than flagships in many cases. In this post, QwikFone is providing its readers with a Samsung A90 5G review to help them make the decision of whether to get this phone or not.

Samsung Galaxy A90 5G looks like a flagship in areas that matter such as fast specs, a huge display screen, and a slick overall look. It also boasts of waterproofing, wireless charging, as well as curved edges that make it an interesting option for those who are looking for a budget-friendly phone equipped with 5G technology. If you want to switch to a 5G mobile phone and will not mind having one that has a limited camera feature, then the A90 is worth considering. Check out this Galaxy A90 review to find all the info.

Samsung A90 specs:

● Samsung Galaxy A90 5G price is £ 669 at the time of this review.
● 7-inch 1080 x 2400 display
● 48MP camera
● 6/8GB RAM
● 4500mAh battery
● 5G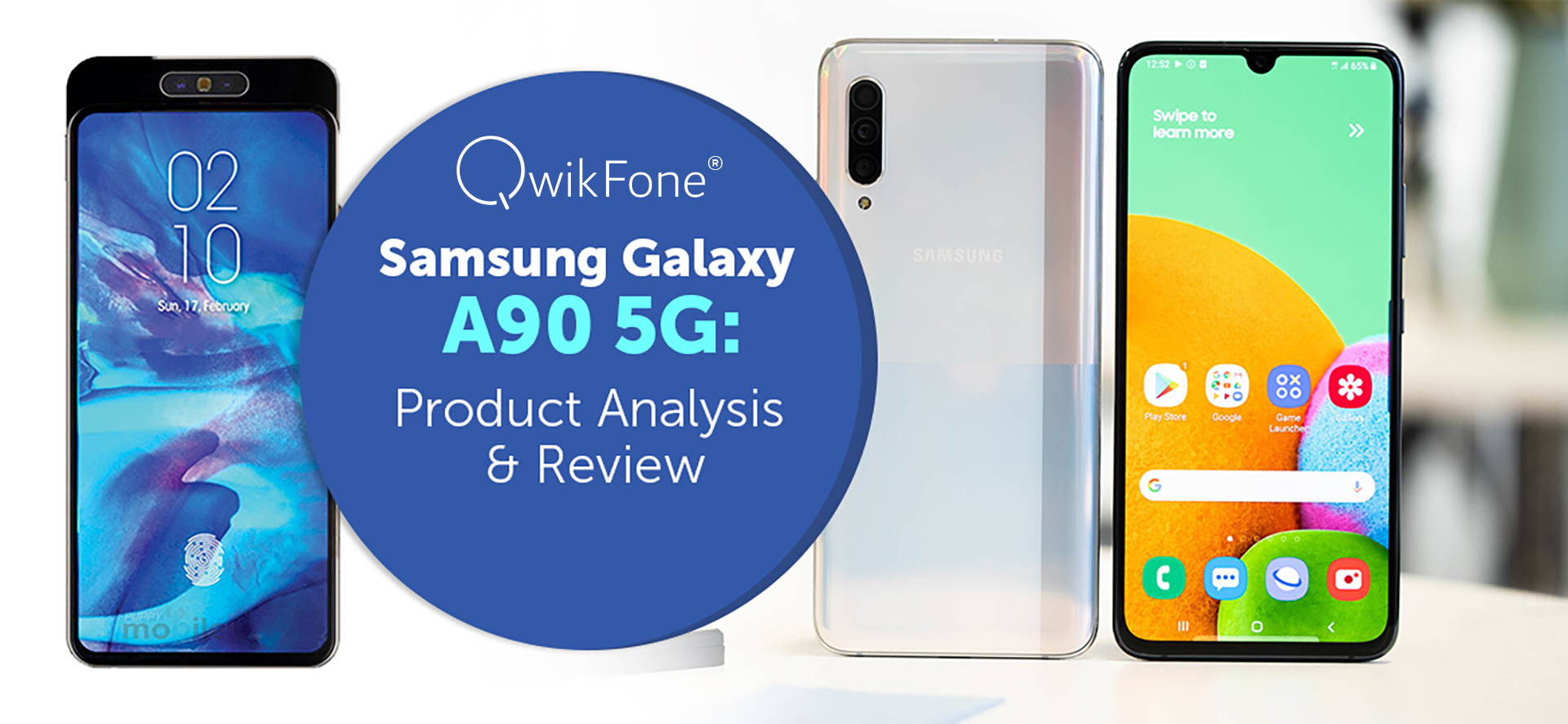 A90 5G Design – Appealing but Not Unique

Starting this A90 5G review with the design portion, it is easy to say that the design is not the strongest point among Samsung A90 specs.

Compared to Samsung's Galaxy S10 and S10 5G, the design for A90 5G is like its 4G sibling of the same name. Basically, it's great to look at, but it is not that unique at all.

For starters, its design is a combination of glass and metal, with a bit of curved sides on the back. It also sports a speaker and USB C charge port at the bottom, with a dew drop style notch camera on the front. Other features that you will see in this brand is the under-screen fingerprint scanner which works just the same as other models that have this technology. Although it works most of the time, it can lag when the weather conditions are wet or damp.

According to the A90 5G review, the description of this phone is somewhat like the rest of the brands out there. As a matter of fact, if you remove the branding, most people will have a hard time distinguishing it from the Huawei P30 that was released recently.

That said, there is one design feature that makes A90 5G stand out from its competitors and it is its dual tone backing. Although the design looks slick, it may not survive getting in contact with a pavement without getting damaged. Still, the overall design looks like it was well made by Samsung which is a plus for those who are looking for a 5G phone that is great to look at.

Samsung Galaxy A90 5G: Product Analysis & Review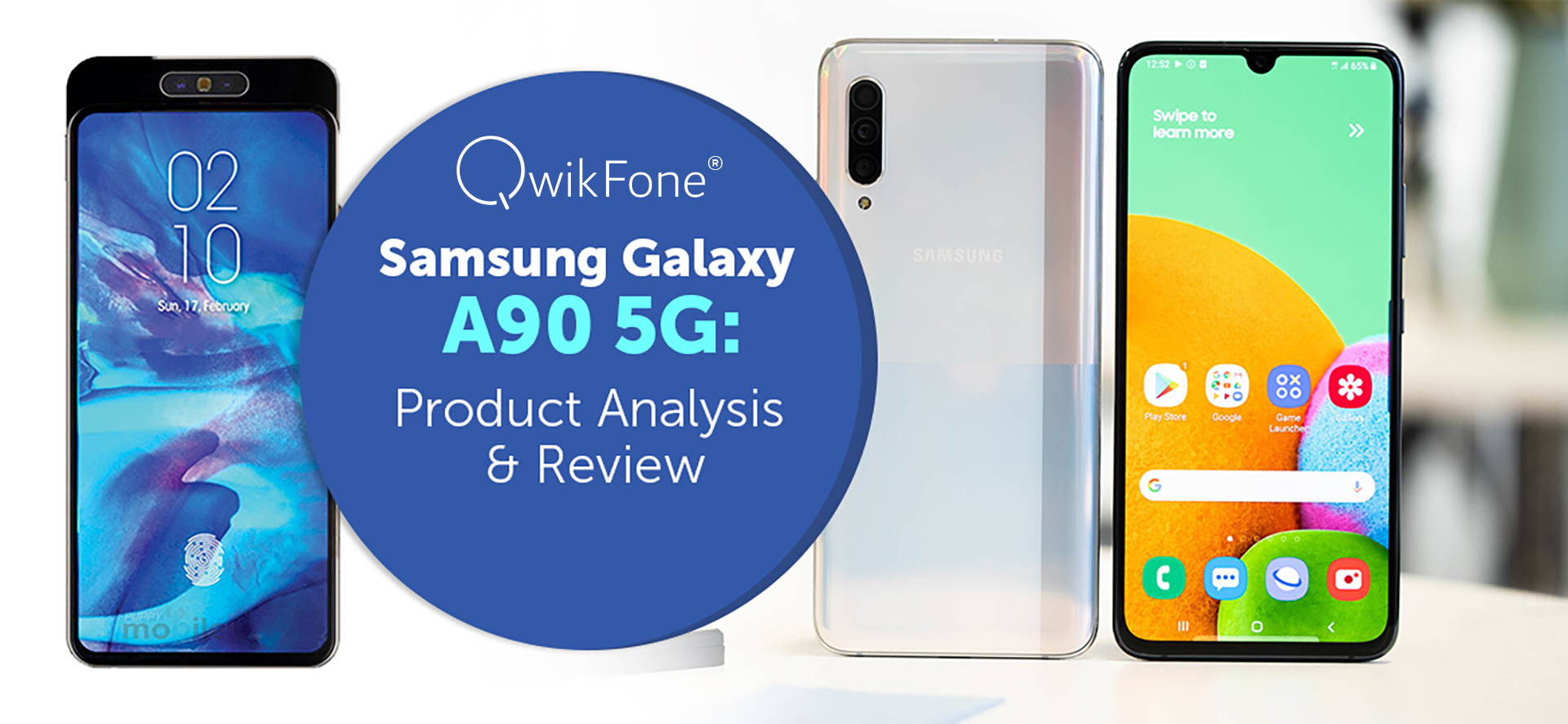 A90 5G Display – Tough AMOLED Screen

The next point in our A90 5G review is the display. Samsung is well-known for producing smartphones with tough mobile screens and when it comes to Samsung A90 specs, they utilized a 6.7-inch, FHD + resolution AMOLED display. When you turn on your mobile phone, you will be wowed by the display of colors without making it look overcooked. This statement is backed up by its 6408 kelvin color temperature.

The black level is at 0.00 which is basically as deep as it can go in mobile phones. Combine this with the 363 nits max brightness and what you'll get are games and videos having vibrant colors that will give you that immersive playing as well as viewing experience which is impressive to say the least.

However, if you are going to use your mobile phone for creative photography, our Samsung A90 review finds the range of colors used may not be up to par. The sRGB coverage is at 99.6% which is great, but the 71.1% DCIP3 and 68.8% Adobe RGB coverage are on the low side. However, this won't be a big deal for those who just want to take photographs with a handy phone, since professional artists and even photographers will not be keen on doing their work on a phone in this size without the use of a stylus. Still, the technology used in mobile camera is quite limited even for those who plan on using for semi-professional purposes.

A90 5G hardware & performance – Great performance for the price

The 5G connectivity is the main selling point among Samsung Galaxy A90 5G specs. Although there are cheaper phones available in the market, for £669 SIM-free, this is one of the more affordable 5G phones in the UK.

If you are in an area where 5G connectivity is available, you will find that this phone will run smoothly. This is because the Galaxy A90 5G is powered by the Qualcomm modem that you will find in Galaxy S10 5G. What this means is that the connectivity speed is top of the line, according to our experience with the Samsung A90 review.

Although this sounds amazing, you might find that its connectivity will be limited if you are in area that doesn't have any 5G connectivity. This may make you wonder if it is worth switching to 5G when there is only a handful of places that have it.

The inside of the A90 5G mobile phone is impressive too. The combination of Qualcomm Snapdragon 855 CPU was considered at a flagship-level when it was introduced several months ago, and when you pair it with the 6/8GB RAM of the A90 5G, you'll find that your mobile phone will give you a great 3D gaming experience, lightweight touch up photo work, and others that you'll want to do with your mobile phone. You won't find any issues regarding its performance either which is a factor to consider. So, if you're looking for apps to download for Samsung A90, don't worry about this phone's performance!

A90 5G Battery Life – Enough to Last a Day for People Who Use their Phones a Lot

Like it was mentioned before, Samsung A90 specs include a 4500mAh battery which is actually the biggest that you will see in most mainstream mobile phones today. When used for this Samsung A90 5G review, it does work fairly well.

If you will be running your phone through listening to your music for hours, random web browsing, playing PUBG games, and checking your emails every now and then, with video streaming on the side, you'll find that the battery life of this mobile unit will serve you well.

With regards to dealing with the more demanding processes, the 4500mAh battery does well too. During video streaming with the brightness set at 150 nits, the phone will be using up between 5% to 9% of its charge which is reasonable in today's phones' standards. Using your A90 5G for gaming will be using up 12 to 15% of the charge each hour of game play.

Here comes the tricky part which was found during this Samsung A90 review. If you will be using its 5G connectivity feature, a whopping 8% of the battery charge gets consumed easily in just 15 minutes of watching a show from your Netflix account. If you want to extend your battery life, you might want to consider when to use the connectivity feature.

A90 5G Camera – Doesn't Compare to Pixel 3A But Good Enough

Moving on to the Samsung A90 camera point of this Samsung A90 5G review, Samsung is still on the right track of making good mobile phones, but they fall behind in terms of camera quality.

Taking a closer look at the Samsung Galaxy A90 5G specs, when it comes to the camera, you'll find out that it is equipped with a triple sensor setup. Basically, it is a combination of 48-megapixel for the main camera, 5-megapixel for depth, and an 8-megapixel for its ultra-wide parts. Kudos to Samsung for equipping A90 5G with an ultra-wide camera feature since it is more useful compared to the telephoto third sensor that most mobile phones are equipped with. When you use the camera option, you will find that the Samsung A90 camera takes decent photos. In regular light, the main sensor produces photos that are sharp, have decent contrast, and are not that sharpened. A90 5G does produce good quality photos which is a good deal already.

There are some minor issues though such as in the case of taking landscape as well as cityscape shots using the main camera. The problem here is that the 12-megapixel shots can appear a bit over-processed which is an issue that is typically found in most Samsung phones. Portrait shots do have that bokeh effect where in the foreground is sharpened while the background remains blurred. The only time that you will see an issue here is when you blow up the photo in your big screen since there are anomalies as well as blurring happening in the focused object.

The only area that Samsung A90 5G review finds to lags behind in terms of camera function is its ability to take photos in low light. Although it does take better low light shots compared to others, it cannot match Huawei P30 and Pixel 3a. The same issue can be noticed when you use A90's front camera where the image quality gets affected when you are in dimmer locations.

Samsung A90 5G software - Top security features highlighted

The most important point to look at when it comes to the Samsung A90 software, is the Samsung Knox. As the name indicates and as the manufacturer describes it, Samsung Knox is a defense-grade security feature that Samsung has made available for everyone who uses its services. The level of security that Samsung Knox provides makes the A90 5G the perfect phone for business purposes as it will provide protection for your most sensitive business-related data and information.

Another main security feature is phone user ID recognition. With the in-screen fingerprint reader, it can be a hit-or-miss experience. However, this shortcoming is compensated with a perfect Face ID reader that never misses!

Is Samsung Galaxy A90 5G Worth Buying?

If you are considering switching to 5G for your mobile phone, this Samsung A90 review finds the phone to be worth the price. Samsung is known for producing large screened displays for mobile phones with specs that are quite competitive in the market, and A90 5G is not different. For only £669 for a SIM-free, 5G phone, you are getting a good value already.
According to our Galaxy A90 review, the phone has an impressive array of features from its main selling point, the 5G connectivity, to its 4500mAh battery, AMOLED display, and camera function, you will find that this phone can help you stay connected, play video games, stream videos, and snap up photos with ease. Although there is room for improvement, at its price, you are already getting your money's worth.
However, there are certain issues that you need to take note of before purchasing this unit. For starters, the battery life, although it is still one of the most common models used today, may not last long when you turn on its 5G connectivity for downloading purposes. Like it was mentioned before, staying in 5G mode while downloading TV series or movies, can eat up 8% of your battery life in just 15 minutes.
Although Samsung has replaced the telephoto sensor with an ultra-wide version, there are some notable issues especially when taking photos in dim locations. Also, most Samsung users have noticed that when taking photos of cityscapes and landscapes, the results appear to be over-cooked. Although some like the outcome, if you are particular with the quality of the shot, this may be an issue for you. The A90 5G does take some pretty good shots regardless, which is a plus if you are looking for a 5G phone that will give you a camera feature that you can easily play with.
In terms of performance, Samsung assures its customers that they are competitive. With the combination of Qualcomm Snapdragon and the 6/8GB RAM, you won't find any serious issues in terms of gaming and streaming features. However, if you will be using it for creative work, like professional photography or even for drawing, this mobile phone may not be able to provide you with the tools you need. You are better off with another a Galaxy S10 from
here
if that is the case..
Is Samsung Galaxy A90 5G worth buying? As we have found in our Samsung A90 review, if you want to be ahead of the game, then this is a good option to consider as its price is quite reasonable. However, it is important to take note that there are only limited areas in the UK that has 5G connectivity, so this can render A90 5G's selling point to be useless. If that is not an issue, and you would like to get an upgrade from your old phone, then this is a good value for the price.Compared to other medium-range phones, the Samsung A90 review finds it worth considering. Although its design may not be referred to as people-pleaser, the dual tone style is eye-catching to say the least. Also, there is no mention of a headphone jack being included in its features which is something to take note of. This can mean that you will have to purchase a Bluetooth headset instead which can add to your expenses. Still, the slick design, decent battery life, better camera function, and memory capacity help in making A90 5G a worthwhile choice for those who want to get ahead in the 5G game.
Although 5G is still in its infant stages,
Samsung is making a point in introducing budget-friendly mobile phones
that will give you great value for its price. However, it may take a few years before 5G connectivity gets ahead of 4G so you might want to weigh your options first before making the switch. With that in mind, it is safe to say that our Galaxy A90 review finds this phone to be worth buying!