Top 10 Essential Accessories for Samsung Galaxy Smartphone

Top 10 Essential Accessories for Samsung Galaxy Smartphone
by Ishaan Seth December 4, 2020

Smartphones, regardless of their brand and model, will always have accessories included in their box. However, these accessories will be limited to the charger and headset or earbuds depending on what you will get. But are these the only ones that you can use on your Samsung Galaxy? What are the best Samsung phone accessories if there are any?

Luckily, mobile phone accessories have been evolving over the years, and they are designed to deliver better user experience. So, which ones should you get? Find out here.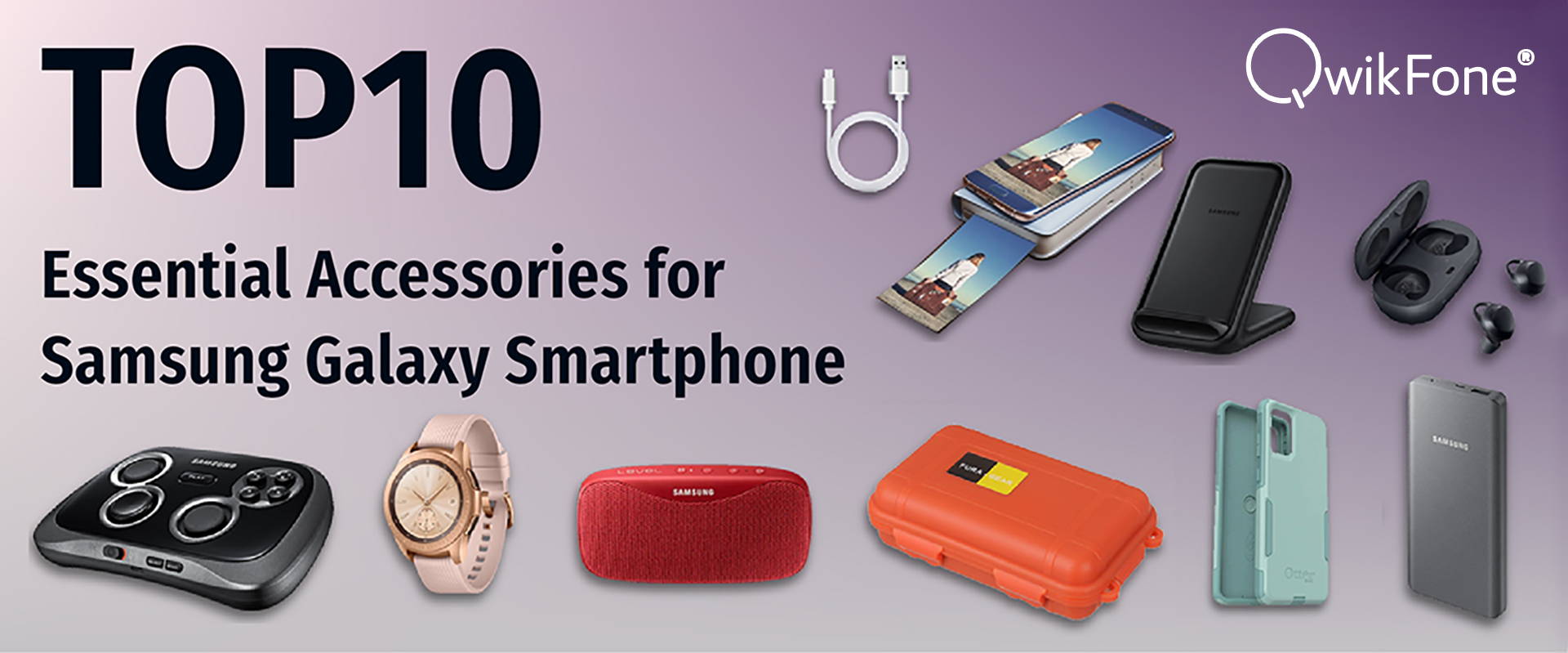 Must-Have Accessories for Your Samsung Galaxy Phone

If you have been an Android user for years, you have probably noticed the discrepancy in accessories sold where most are inclined to support iPhones and iPads. This doesn't mean that there won't be any accessories available to phones that are Android based but it does get a little tricky finding a useful one that is not designed primarily for Apple.

For those who want to invest in a good add-on to their mobile phone from Samsung, you might want to check out this smartphone accessories list which are considered to be must-haves.

Top 10 Essential Accessories for Samsung Galaxy Smartphone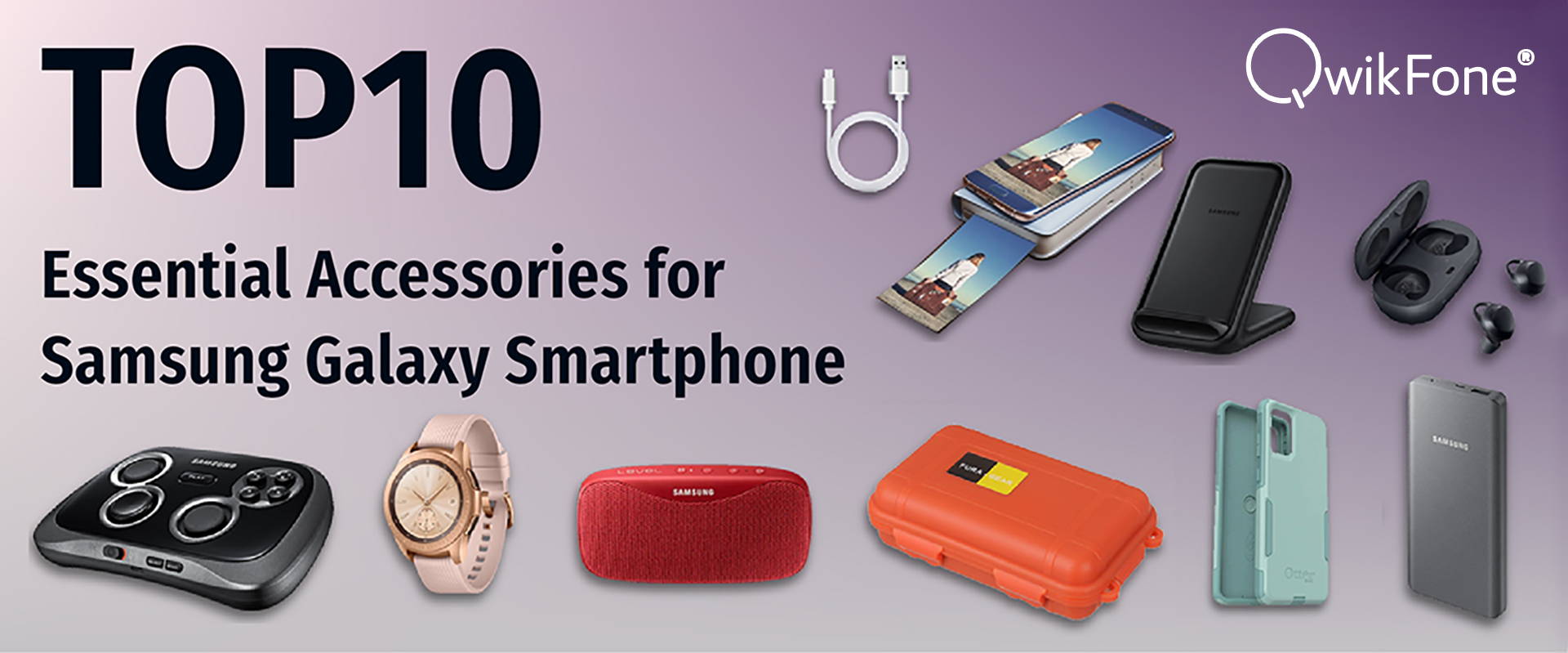 Wireless Earbuds.
Regular headsets or earbuds do get the job done of delivering sound to your ears. But if you want a superior user experience where the quality of the sound is crisp, sharp, and can capture everything in the surrounding, you will need to invest in the True Wireless earbuds. Although it is a bit pricey, it is worth grabbing for the ultimate listening experience. Gone are the days when you get tangled on your headset so make sure that you invest in a high quality earbud that will work with your Samsung device.
Photo Printer.
Another example of the best Samsung phone accessories that you should get is a pocket sized photo printer. You're probably thinking of how you want your photos to look like, especially when you have a printer that can churn out your choice of image in a flash. All that you have to do is to connect via Bluetooth, choose a photo that you want to have a physical copy of, and that's it! You can start giving those away without having to go to a shop to have them printed out. And because it is portable, you can slip it inside your bag, or your jacket pocket so you can whip it out afterward to print out your memories.
Controllers for Gamers.
Although the bulk of gaming programs in smartphones like Samsung utilize the touch screen, there are those that can be enjoyed better with the help of a controller. Games that support VR or come with an emulator will need a decent gaming controller for them. Fortunately, there are dozens of options to consider, but make sure that it has the essentials such as a smartphone holder, customizable buttons, and others. Game controllers that are designed for smartphones may look like the ones used for consoles with a few adjustments such as a smartphone holder to keep your device in place. This way, you don't have to prop up your gadget on a stand or on your table while playing.
Casing.
This is definitely one of the most important smartphone accessories that you should invest in for your Samsung Galaxy. A casing acts like an outer shell for your smartphone thus protecting it from scratches, getting damaged when dropped, and even giving you a good grip on it as well. There are different kinds of casing and surely there will be one that is designed for a Samsung Galaxy device. You can choose from a metal, plastic, or jelly casing for your device. Just make sure that you go for one that is durable and offers the best protection for your investment.
Charging Cables.
Don't you just hate it when the charging cables for smartphones are just short? The ones that prevent you from moving around while using your phone that is still charging? Well, the good news is that there is finally a solution to this. Since we are talking about the best Samsung phone accessories, make sure that you add a long and good quality cable for charging in it. Braided cables are actually durable, plus they don't get tangled up quickly which is quite a relief. After all, you don't want to end up with a knotted cable on your hands. Having a long charging cable at your disposal lets you move around to do tasks while still using your gadget attached to the charger. This is also useful if you want to charge your device while you are in bed and the socket is a bit far from where you are. Yes, there are endless possibilities for this accessory.
Portable Speakers.
What other item should you add to this smartphone accessories list? Well, what about Bluetooth speakers? Yes, Samsung phones do have a decent sound on its own, but the idea of blasting out your favorite tunes from a speaker makes the experience that more enjoyable. Fortunately, you won't be lacking on options at this point but getting from trusted brands like JBL may give you value for your money. They do produce decent portable speakers in various shapes and sizes.
Smartwatch.
Apple does have its own Apple Watch, but the good news is that Android mobile phones, like its rival, Samsung, can support other wearables. A smartwatch does come in handy for those who want to be extra healthy or just in need of a compact accessory that can have the same function as their smartphone. What's great about this nifty gadget is that it does have numerous features from monitoring your heart rate, the miles you have walked, and even provide you with some fitness tips and videos that you can monitor and follow without being too obtrusive. Smartwatches do look like your ordinary watch but they will have a square shaped display that features the same interface as your Samsung phone. From here, you can select the app that you want to use, receive notifications, and even get calls that will connect you to your wireless earbuds. How convenient! This is particularly useful if you are out on a run and you don't want to be burdened by your smartphone.
Storage Box.
To all outdoor enthusiasts, do get a storage box for your Samsung phone. This storage box is compact and waterproof so you can put all your essentials, like your smartphone, your keys, identification and whatnot in it to protect against the elements. Even if you drop this box in the waters, it will be able to withstand it for half an hour at least. This way, you don't have to worry about having your valuables damaged or destroyed while enjoying nature.
Charging Stand.
Samsung smartphones and other Android-based mobile phones support wireless charging. That said, it would be a great idea to add a stand to your smartphone accessories list for wireless charging since it will protect your device from getting scratched and allow you to still use it while getting some juice in it. Samsung does have its own wireless charging platform that you can purchase and it comes in three classic colors too. It does free your table from those charging cables and gives you plenty of room to utilize.
Power Bank.
And last but not the least, one of the best Samsung phone accessories that you definitely need to invest in, is the power bank. This is probably one of the most important inventions of today given that it helps you charge your smartphone while you are out and about. And it's not just your Samsung phone that it can support, but even your other gadgets as well. There are dozens of options to consider for power banks so see to it that it has the essentials such as a USB-C port.
Why Invest on Smartphone Accessories?

Samsung mobile phones are powerful on their own right, but they will need help from time to time. These accessories are not just for show because they are designed to enhance your smartphone experience. Even if you are considering
cheap Samsung phones to buy which is easy to afford in comparison of other phone
, they will still need further enhancement to improve your user experience.
Unlike the accessories for Apple gadgets, the ones for Android smartphones are considerably cheaper. This is a plus given that you will have plenty of choices. Choosing an accessory should be based on your needs as they still cost a pretty penny. But if you are going to splurge on some for your Samsung smartphone, choose those that will last you a long while such as a portable speaker, casing, and earbuds.Not only will they extend the life of your device, but they will also make your user experience that more enjoyable. Yes, even if you are using a refurbished phone from any retailer like
QwikFone
, these are the best Samsung smartphone accessories to get.
The list above is just a few that are worth mentioning, so if you are in the hunt for a good accessory, do a bit more research and you'll surely come across one that will work perfectly for your Samsung and your current needs as well.