Can't afford An iPhone? Time To Go For A Samsung Phone!

Can't afford An iPhone? Time To Go For A Samsung Phone !

by Ishaan Seth January 28, 2021

The rivalry between Samsung phones and iPhones is as old as the two brands themselves. Since the start of the smartphone market as we know it, there has always been a main question to answer before determining which smartphone to buy, which software you prefer, and which team you are on: Apple or Samsung? iOS or Android?

While we are now witnessing the rise of other mobile operating systems such as Huawei's HarmonyOS, which became a necessity after the Google-Huawei crisis in 2019 when Huawei phones were no longer able to use Google software services including Android and all of its features and apps based on it.

However, Since HarmonyOS is still relatively new, the main competition remains between Samsung phones and Apple iPhones as the trustworthy high-end brands to consider when looking for flagship smartphones to buy.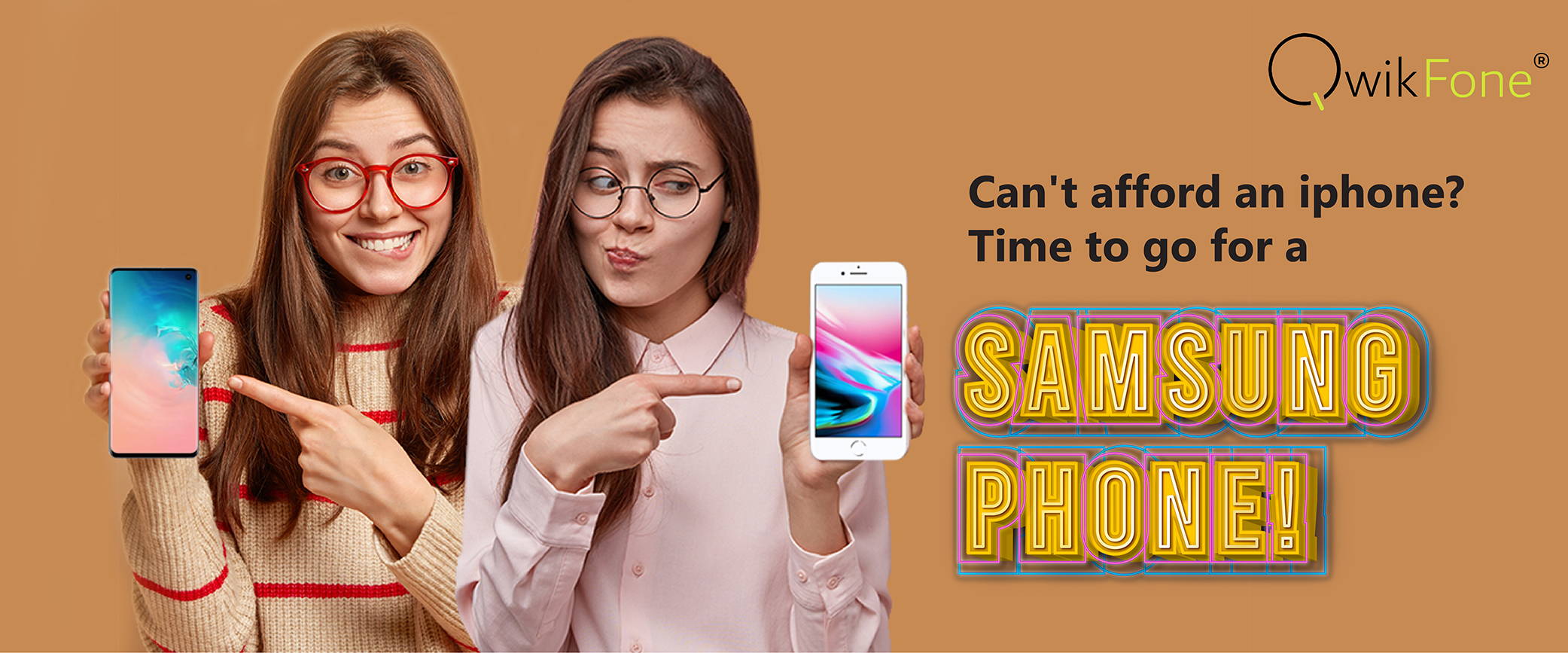 Should I get an iPhone or a Samsung phone?

The major point that comes up when discussing Apple iPhone vs Samsung & which is better is the price. While Apple's main thing as a brand is how exclusive its products are, which is reflected in the high prices that make iPhones too expensive for many people which, in turn, increases the appeal of Apple products, Samsung on the other hand releases smartphones in all price categories which satisfies the needs of those who look for mid-range and budget friendly smartphones in addition to creating high-end flagships that are both impressive and expensive.

So, if you're considering buying a new smartphone and have been on the fence as to which brand of the major two you should go with this time, this post is going to help you make the right decision.

Samsung & iPhones : A general comparison

While it is more traditional to compare single devices of each brand to each other, this method will not be sufficient here for the purposes of this post. This is why we're going to go for a general comparison of how both brands, Samsung & Apple, have developed their smartphones to get a general idea of which brand would be more suitable for your needs.

A few years back, there was no denying that Apple iPhones are the best in terms of premium build, design, software, and even materials. While Samsung phones were stuck at the plastic body phase, Apple iPhones came with a luxurious looking and feeling aluminum body. Granted, some models faced certain bending issues due to how thin the aluminum was to make the iPhone lighter, but this iPhone 6 issue was addressed and immediately fixed in the following iPhone 6s release.

As for Samsung, they also fixed their issue by replacing the plastic for premium metal body and frame on their smartphones to deserve the title and price of flagships.

When comparing iOS to Android in their early years, we found that the comparison result was similar to that of the design aspect of both brands. Apple presented innovative and groundbreaking features, but not without some issues. Android, on the other hand, provided a solid and reliable level of performance, but with what we can now call primitive features. The lack of a Siri equivalent up until recently comes to mind when we hold this comparison.

Now, however, Android has a virtual assistant that is rapidly catching up to Siri, if not exceeding, according to many people's opinions. So, it is safe to say now that Android is every bit as good as iOS now minus the exclusivity factor that Apple puts around iOS, which makes Android the more reachable option here.

Can't afford An iPhone? Time To Go For A Samsung Phone !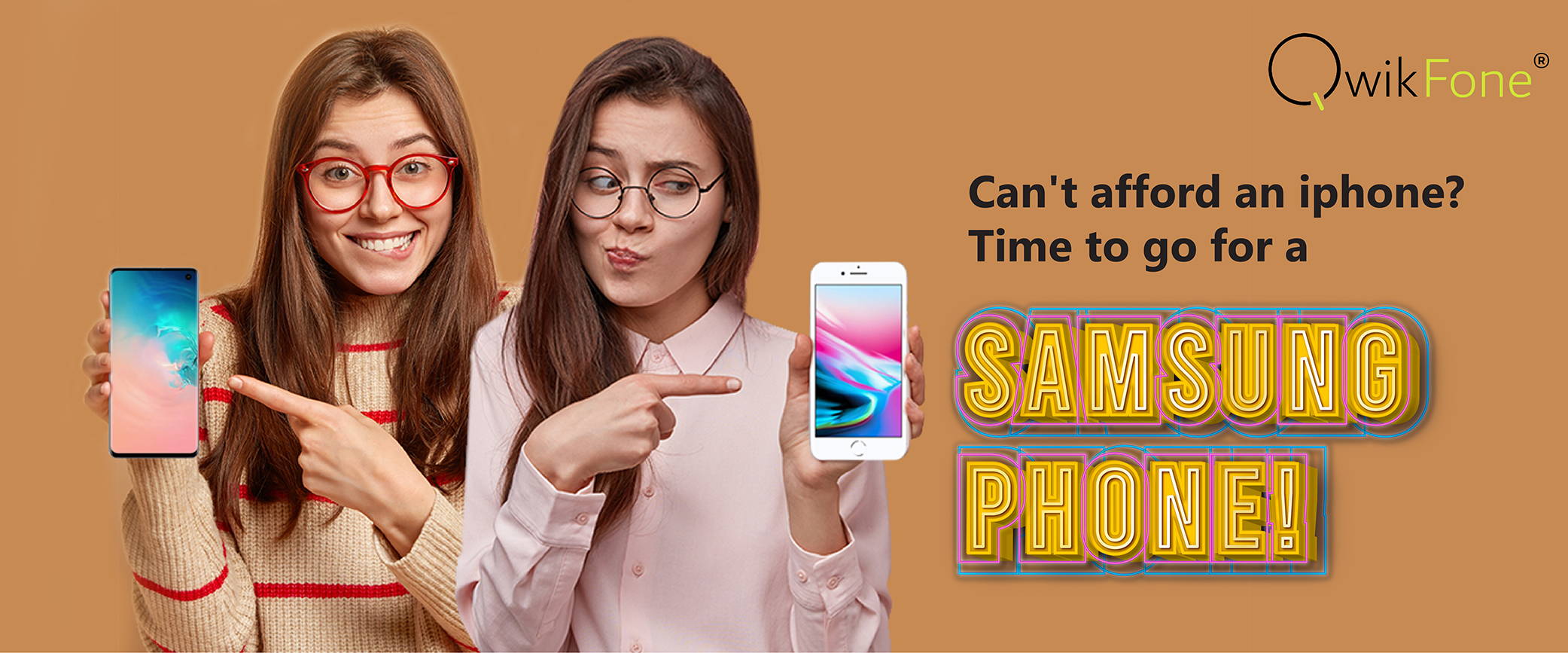 Samsung always has more to offer

In addition to catching up with Apple iPhone's flagship status, Samsung always presents more than Apple. As of recently, the Apple iPhone releases consist of: The expensive iPhone, the more expensive iPhone, & the most expensive iPhone of the year. When Apple attempted to present the masses with an affordable iPhone option, out came the iPhone SE 2020. A single device over the entire brand's lifetime!

Samsung on the other hand always has a second line supporting those who are not looking for and cannot afford its Galaxy S line of flagship smartphones with all the bells & whistles.

The Samsung Galaxy A series provides its users with all of Samsung goodness at the most affordable prices and this lineup always has a variety of models to choose from as opposed to the flagship yearly release which essentially contains one model with two or three altered versions of it.

Budget releases of 2020 Samsung vs. Apple iPhones
Apple: iPhone mini at £669
In 2020, Apple released a variant of its iPhone 12 to be the budget-friendly version of that iPhone, it's called the iPhone 12 mini. This is the only option if you want to get the least expensive Apple iPhone of 2020 and it comes at £669, which is, for most people, not affordable whatsoever.
Samsung: Galaxy A01 at £110
The first of the Samsung budget phones of 2020 comes at the super affordable price of £110 which makes it perfect for students & any user with a tight or limited budget. The specs are quite impressive compared to the price as it has a 5.7" screen & a 3000 mAh battery.
Samsung: Galaxy A11 at £140
Another budget-friendly Samsung A series comes at a slight price increase of £30 and also comes with a larger screen at 6.4" and a larger battery at 4000 mAh. This battery capacity is almost exclusive to flagships in other brands, but with Samsung Galaxy A11, you can get it at only £140.
Samsung: Galaxy A21 at £180
The Samsung Galaxy A21 has a 6.5-inch display with HD resolution which is a high-end feature in a budget phone. In addition to the perfect 13MP front camera for vivid selfies, this "budget" phone has a 4-lens main camera module to support all photography lovers out there.
Samsung: Galaxy A51 at £230
With another small upping of the price at £230, the next Samsung affordable phone provides its users with an even larger battery capacity at 4500 mAh and the 6.5-inch super AMOLED screen now gets a Full HD resolution! The main camera is also quad-lens and it films 4K videos!
Samsung: Galaxy A51 5G at £350
Want a 5G smartphone for under £500? No problem, Samsung has got your back!
With the same impressive and valuable specs & features of the A51 phone, this version supports the latest & greatest network technology & allows you to surf the web at the highest speed known to man!
Samsung: Galaxy A71 5G at £450
Finally, we're still under the £500 limit and Samsung is still offering an amazing phone!
The Galaxy A71 5G has the largest screen of all phones in this lineup at 6.7-inch. The panel is super AMOLED plus and the resolution quality is 1080 x 2400 pixels! As usual, the smallest increase in the prices of Samsung phones means the biggest upgrades ever and the A71 5G is no different!
Get flagship Samsung phones for less!

If you prefer to stay on the flagship boat but the funds are limiting you, there is still a way that enables you to get your desire at the lowest price.
Refurbished Samsung unlocked phones are great to pay only a mid-range price
and get one of the big impressive Galaxy S series phones.
Buying refurbished Samsung phones is now easier and safer than ever thanks to QwikFone's latest refurbishment techniques that use advanced software to inspect devices & locate the deepest issues in order to resolve them and restore the phone leaving it in an almost brand-new condition.
No matter where you purchase your refurbished Samsung flagship, here are a few tips to look out for in your deal to ensure a fair and a safe purchase as well as getting the best quality and the best after sale services:
Are accessories included?

If you're buying a refurbished Samsung phone from a third party refurbishment center, make sure that there are accessories included in the deal. You wouldn't want to pay for the phone and then start looking for suitable accessories in a good quality level to go with your latest purchase. This is one of the points of going with Samsung in the first place, not to buy everything separately, right?

How long is the warranty?

Any refurbished Samsung phone deal you choose must include a warranty. So, the question here is not whether there is a warranty because it is a must. Any deal that does not include a warranty is an instant red flag.

You should also go for a deal that offers a long warranty to secure and guarantee good quality of the phone as well as support whenever needed. Usually, refurbished phones come with a few months warranty, but you'd be better off with a deal that includes a full year of warranty and technical support.

Is this order refundable?

Return policy should be a huge factor in your decision of accepting or rejecting a refurbished Samsung deal. A safe deal should include a full refund in case of returning it.
QwikFone
's Samsung deals include a 30-day period for refunding the orders to ensure maximum safety and satisfaction for our customers.