How to Fix An iPhone That Won't Recognize the Sim Card

How to Fix An iPhone That Won't Recognize the Sim Card
by Ishaan Seth March 18, 2021
Have you ever received an alert that says "Insert SIM," "Invalid SIM" or "No SIM Card Installed" while you're using your iPhone? Does this mean the SIM card not working on your iPhone? No need to fret. This issue is not something that only happens to the newest iPhone models.

Users of the original iPhone can attest that this issue has been happening since then. Even owners of refurbished iPhones and other phones that also use SIM cards complained about this particular problem.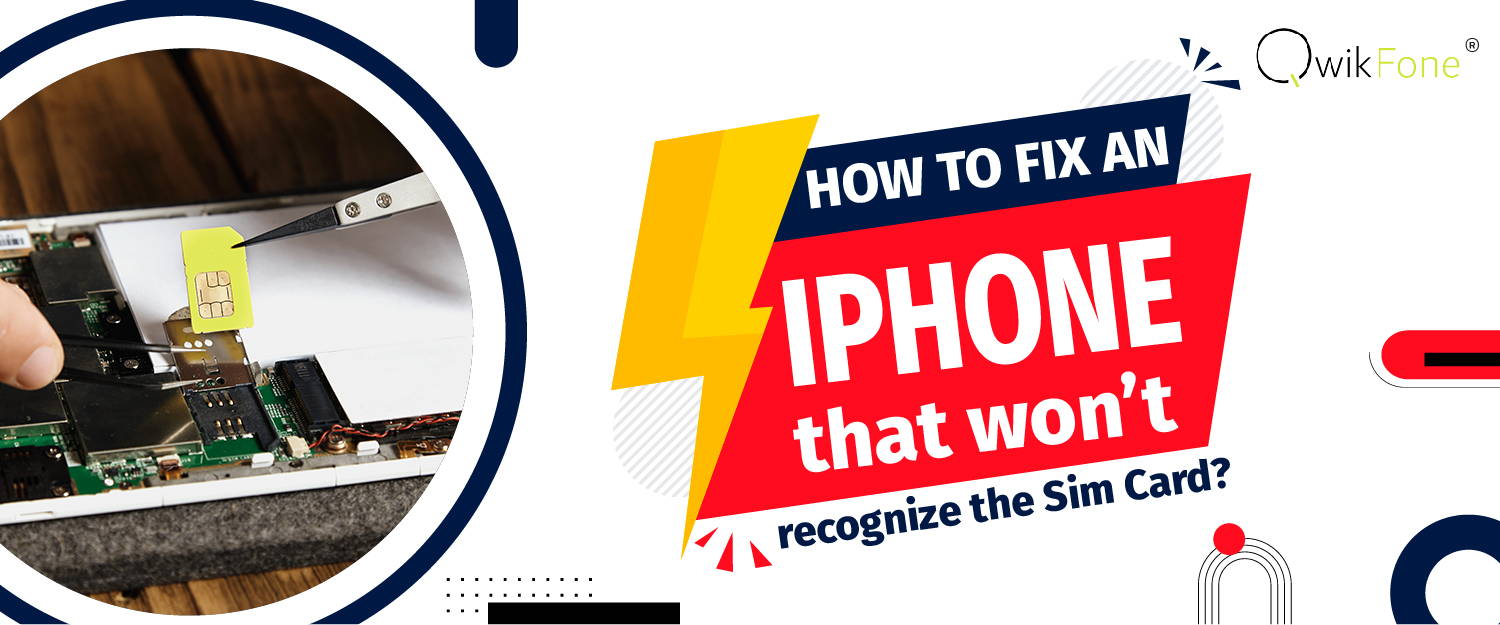 Why your iPhone doesn't recognize the SIM card
You're probably wondering, why is my SIM card not working? There are several reasons why your iPhone displays those error messages.

Unable to detect SIM card. There are times when your iPhone is unable to detect the SIM card inserted into your device. It might be because there really isn't a SIM card in there or the SIM card is dislodged. It might also be due to the software of your device not working correctly.
Glitch. There are times when your iPhone could not recognize your SIM card due to some glitch that cannot be fully explained.
Activation Lock. Your iPhone failing to recognize your SIM card might also be because the device you're using is still tied to someone else's iCloud account with an Activation Lock in place.
Not supported. Another thing to look into the cause of the issue is whether or not the SIM card in your device may work with your iPhone. Not all SIM cards are the same. Some SIM cards are locked to the carrier depending on what country you purchased the SIM card. This means that you can only use the SIM card you purchased on any phone that is sold by that carrier.
Defective. If the above mentioned reasons are not the cause of your iPhone being unable to recognize your SIM card, it might be due to the SIM card itself that is defective. This will require you to get a new SIM card for your iPhone.
How to Fix An iPhone That Won't Recognize the Sim Card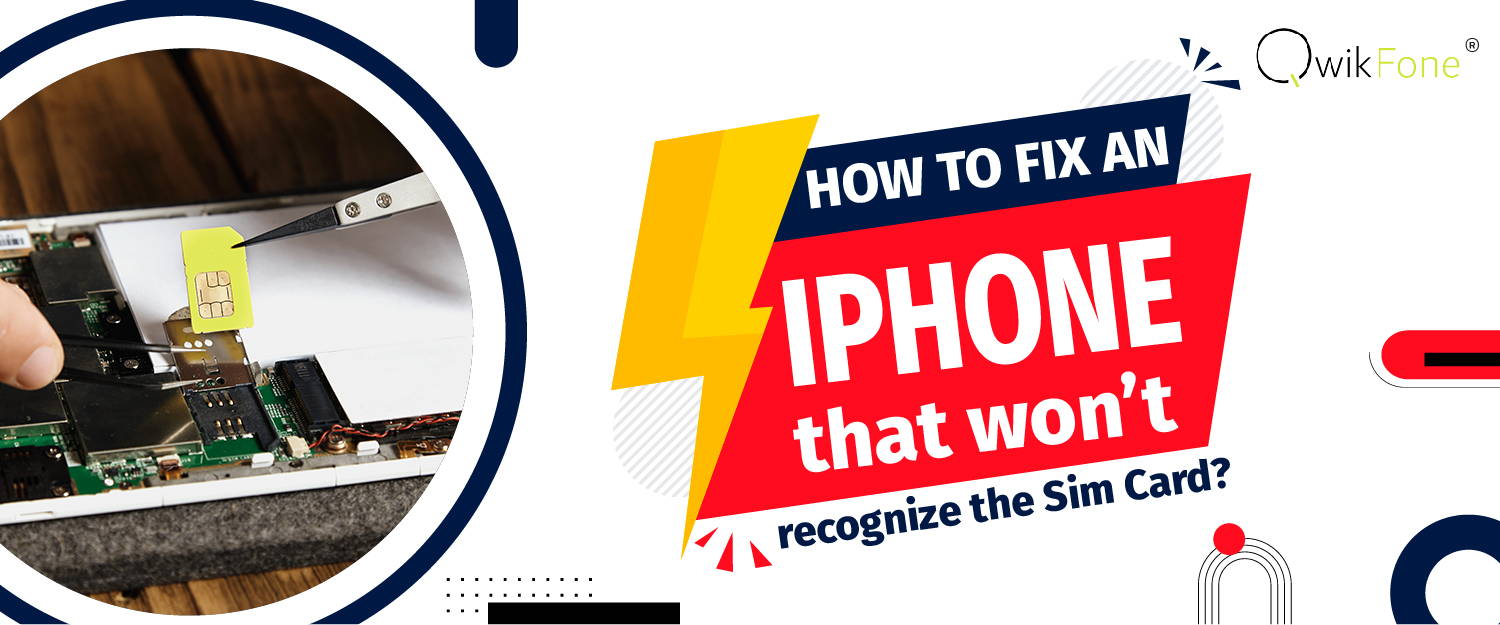 Frustrated to the point that you're tempted to slam your iPhone on a table? No need to do that. There are lots of solutions to address the No SIM card Installed problem of your iPhone. Here's how to get rid of No SIM on iPhone:
Check for a SIM card. Before doing anything else, make sure that there is a SIM card in your iPhone.
Active cell plan. You have to make sure that you have an active plan with your wireless carrier. It is possible that your SIM card is not working because of a problem with your cell provider. You should also look for new messages or notifications in your cell plan online. If you haven't received any, you should call your cell provider and ask if your account is still active.
Update your iPhone. Have you updated your iPhone to the latest version of iOS? You should. Know more on how to fix my iPhone after update. The "No SIM card Installed" alert may be there due to a fault in the operating software. While bugs in iOS are rare, they still happen from time to time. Updating the latest software of your iPhone can fix these bugs.
Restart. Close every app and restart your iPhone. Restarting your device will force the background processes that might be the cause of your problems to restart.
Airplane Mode. If your iPhone is not reading the SIM card and you kept receiving alerts even after restarting your iPhone, the next thing to do is to turn your Airplane Mode on and then off. By doing this, your iPhone's connection to cellular networks will reset and the problem can be resolved.
Carrier settings update. While usually your iPhone automatically updates when your cell carrier changes its systems, there are times that it doesn't happen. First, go to your phone's Settings > General > About. If an update is available, you will see a prompt to select OK or Update. If it does have an update, make sure to install them.
Reset Network Settings. There are background settings on your iPhone that change the way it works with the SIM card inserted into the device. You can reset the network settings, however, it will also cause your iPhone to forget any WiFi networks you've connected your device to in the past. To reset the network settings, go to Settings > General > Reset. Choose to Reset Network Settings and enter your passcode.
Check if your phone account is valid. It is possible that the reason why your iPhone doesn't recognize the SIM card is due to your phone company account not valid. You need a valid, active account with a phone company in order for your iPhone to be able to connect to a phone company network. You will see the SIM error if your account has been canceled, suspended, or has some other problems.
Check the SIM card tray. Remove your SIM card from the SIM card tray and put the SIM card back after. There's a possibility that there could be a physical problem with your SIM tray. When you remove your device's SIM tray, check it isn't bent or broken. You should also make sure that it sits flush against your iPhone when fully inserted. If you are using a SIM tray from a different model of iPhone, this might be the reason why your device won't recognize your SIM card.
Check the liquid indicator tab. You should check inside the SIM tray slot on your iPhone. Look for the small white liquid indicator tab inside. If the tab has turned from white to orange or red, this means that your iPhone has suffered liquid damage. This might be the reason why your iPhone doesn't recognize your SIM card.
Clean your SIM card. First, check if your SIM card doesn't have water stains or scratches on it. If it does, then that means you should replace it. Also, make sure that your SIM card is the right size for your iPhone. If you see no scratches on your SIM card or water stains, then clean it with a soft damp cloth. You should clear the debris, if there's any, out of your SIM tray slot using compressed air. Before inserting the SIM card back into your iPhone, make sure that it is totally dry.
Test if your SIM card has malfunctioned. If you have done everything mentioned above and you are still receiving no SIM card error alerts, then the problem might be in the hardware of your SIM card. To test this, insert a SIM card from another phone that you know works fine. If the SIM card error disappears after inserting a different SIM card in your iPhone, it means the device recognizes the new SIM card. Thus, the problem is in your SIM card and not your phone. You need to replace your SIM card.
Replace your SIM card. If the SIM card is the problem then it's high time you replace it. You can contact your cell provider to replace your original SIM card.
Restore factory settings. When you restore your iPhone, it uses a SIM card to activate itself. If your device cannot do this, then, it becomes unusable. You should only restore your iPhone if you have a spare phone at your disposal in case it goes wrong. Before restoring your iPhone, be sure to make a backup.
Contact Apple Support. If all the above mentioned steps fail and you still receive the no SIM card alert, then you should contact Apple Support. Visit the Apple Support website and speak to Apple's advisors. They can offer more troubleshooting help. If the above mentioned reasons are not the cause of your iPhone being unable to recognize your SIM card, it might be due to the SIM card itself that is defective. This will require you to get a new SIM card for your iPhone.
Can you use your iPhone without a SIM card?

Thinking of having your child use a spare iPhone without a SIM card? While you can use your iPhone without inserting any SIM card, this also means that you cannot connect to your wireless carrier's network. This will make you unable to use your wireless data over 4G or 5G. You also won't be able to receive or make any calls or SMS.

Apart from that, activating and setting up the device can be a bit tricky but can still be done. Here's how:

Active your iPhone using someone else's SIM card. This is perhaps the easiest way to activate your iPhone. If you don't have a SIM card of your own, you can borrow a SIM from someone else and use it for the duration of the activation process.

Activate using iTunes. This method can be effective depending on whether or not your iPhone is locked to a particular network. You can choose the iTunes method if you have no WiFi access. How?

Check if your iTunes is up to date. If you don't have iTunes yet, you can download it for free through Apple's website.

Now you have iTunes installed on your phone. You need to connect your iPhone to your computer.

If there is an onscreen prompt that says "There is no SIM card installed in the iPhone you are attempting to activate," this means that the phone is locked to a particular carrier. In this case, you need to find a suitable SIM card to borrow so you can activate your iPhone.

If the phone isn't locked to a carrier, you will receive an onscreen prompt in iTunes that explains what you need to do and the details you need to fill in to activate your iPhone. Simply follow the instructions.

Once activated, you will be able to use your iPhone on a WiFi network.

Activate using R-SIM/X-SIM. You can resort to using an R-SIM or X-SIM to activate your iPhone instead of using an actual SIM card. The follow these steps:

Insert the R-SIM or S-SIM into your phone. After which, a list of network providers will show up.

Select the cellular network provider you prefer then continue. If the carrier you want is not in the list, select input imsi from the options given.

Enter the 7-digit carrier code. You can search for all imsi codes online.

Once you entered the correct code, select your iPhone model type from the options given.

Choose your preferred unlocking method after.

Wait for the device to process your request then choose Accept from the set up prompt. This will reboot your iPhone.

Active using the emergency call feature. This may not be a suitable method of activating your iPhone, however, there are some that still uses this procedure. Using the emergency call feature of your iPhone does not actually connect the call. Here are the steps on how to activate your iPhone without SIM card by dialing an emergency number:

When you see the "No SIM card Installed" error message on your iPhone, look for the option for making an emergency call.
Use the 112 or 999 and as soon as it dials, press the on/off power button to disconnect the call.
A pop-up will appear on the screen to cancel the call. Select it and you will notice that your iPhone gets activated.
Jailbreak your iPhone. You can attempt to jailbreak your iPhone if the methods mentioned above fail to activate your iPhone. This method is best done to an old iPhone that's carrier-locked but can still be used.

There are actually some phones that do not use a SIM card. These phones, instead of using a SIM card, have an electronic serial number. The electronic serial number is tracked by the phone carrier. Through this, they have no need to store the information on a SIM card as the carrier has a list of all the phones in use in their network.
Are you still looking for a suitable iPhone to use? Are you looking for something brand new or a refurbished one? There are different sites you can visit to browse for your preferred device, one of which is the QwikFone.


QwikFone
has a variety of best-value refurbished phones. They guarantee that you will get to choose the sim deals right for you. Their warranty also ensures that you are buying the highest quality products.
Looking at the second-hand mobile phones in their store, you will notice that they are back to their pristine condition as if they are brand new. You can also purchase refurbished phones at an affordable price.