How to Fix Galaxy S9 Battery Drain Issues

How to Fix Samsung Galaxy S9 Battery Drain Issue
by Ishaan Seth June 30, 2020

Samsung is a well-known brand when it comes to technology, with its offerings of mobile devices among the top favorites. Their flagship phones are known for their elegance and functionality that many android users prefer to have one for their daily use. Although Samsung is a popular company, there are still issues that crop up with its products just like with the Galaxy S9. As a matter of fact, many are hoping that they fix the battery drain issue in Samsung Galaxy S9.
However, we could have other
solutions to stop phone batteries from draining fast for iPhone
and Samsung phones.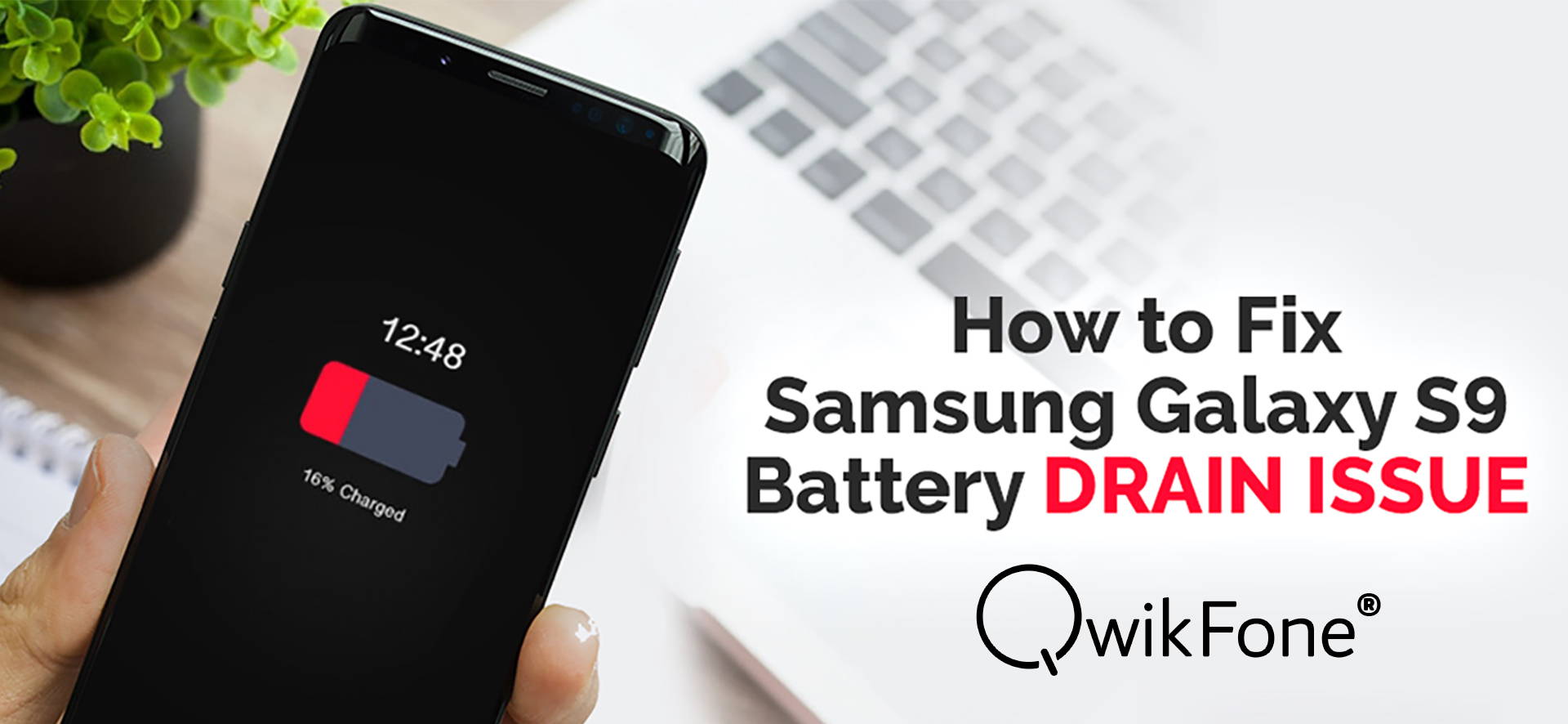 More on Samsung Galaxy S9 Battery Drain Issue

Reports of battery issues cropped up last year, as users noticed that their device shuts down on its own when it reaches 30%. Many claimed that this issue with regards to their batteries occurred just after their UI was updated. There are others who believe that it is just a bug that is causing the said issue, but the tech company hasn't released any update for it. There are several reasons why this could happen in the S9. The question, however, is how to fix drain issue fast?

How to Fix Samsung Galaxy S9 Battery Drain Issue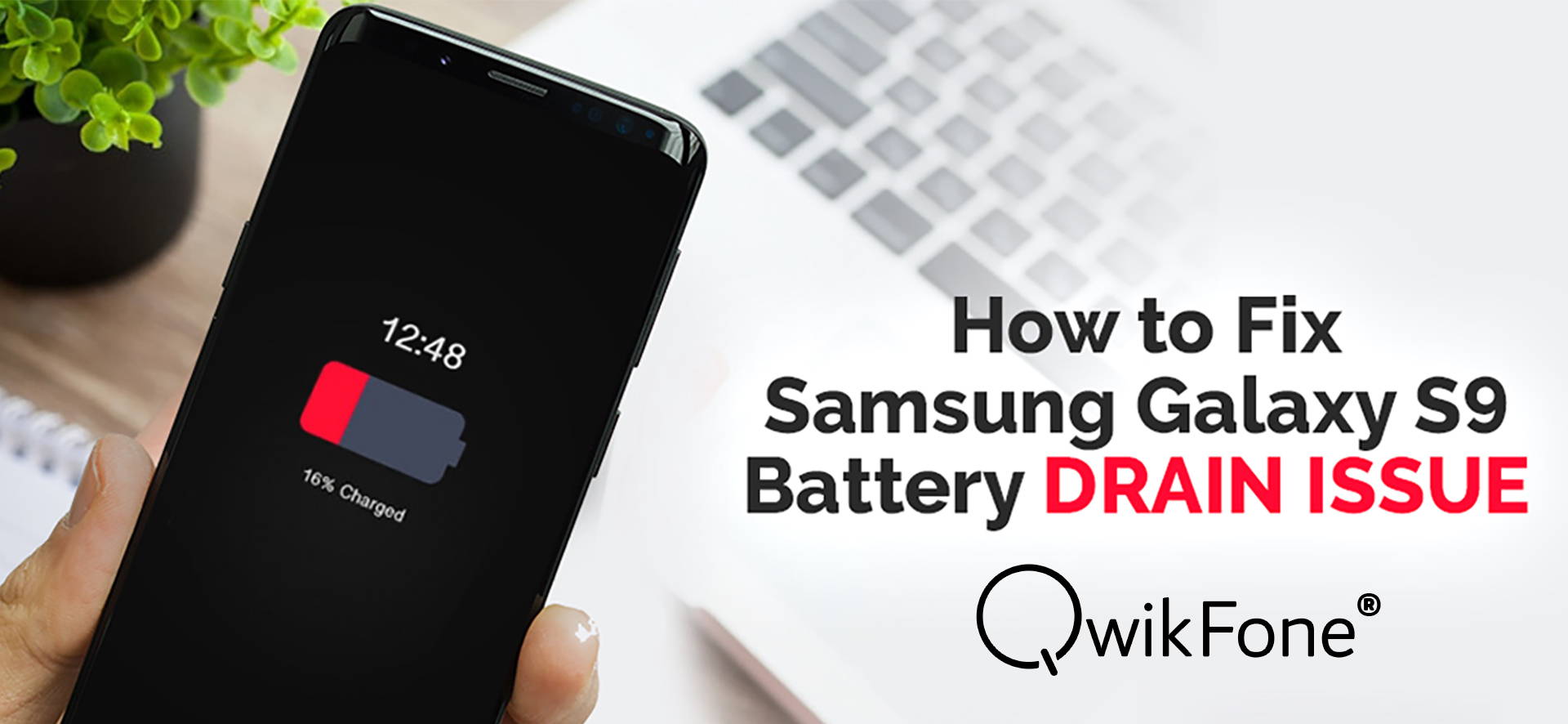 Force Restart the Mobile Device

A force restart may help solve the issue with your device's battery. In older devices, removing the battery can cause it to go on a force restart. However, for newer devices like the S9, do the following:

Pressing down on the buttons for power and volume should be done until your phone goes into maintenance mode.
You need your phone to go into a Normal Boot to correct the error. You can choose this option by pressing on the button for volume until Normal Boot is selected. To confirm, press the lower key on the left side of your mobile phone. This will make your gadget go into reset. Wait for a few minutes for the process to complete.
Clearing your device's cache partition is another possible solution to fix battery drain issue in Samsung Galaxy S9. Android devices have system caches stored in the device's cache partition to make it easier for programs to load when activated. However, there are instances when the system cache itself gets corrupted which can lead to problems with the mobile phone's performance such as with its battery. Clearing up the partition may help.

How can you do this? First, you will need to power down your S9. There are three buttons you need to press at the same times and these are the power, volume up, and Bixby. Release your hold on them once the logo appears. You will have to press the button for volume down a few times in order to reach the option for clearing the cache. Press Power to confirm. Pressing on volume down should be done until the word, 'Yes' is lit. Confirm this selection by pressing the Power key. After the cache partition is completely cleared, a reboot needs to be done to finish the process. Hit the power button to proceed.

Calibrating Your Phone's Battery

To fix drain issue fast, it would be a good idea to calibrate the battery. It might be that the phone's software gets confused with the information that it is getting, which can lead to the issue with the battery. For battery calibration, these steps should be done.

Keep using your mobile phone until it shuts off on its own. This means that you have used up its entire juice.
Connect your S9 to its original charger and plug it in until the battery is fully charged. Give it an extra two hours of charging time before removing it from the charger. Do not use your device while it is still plugged in.
Turn on your Galaxy S9 and continue using it until the battery has been drained again. Repeat the steps for calibrating the battery.
Refrain from Using Unofficial Charging Accessories

Most Android-based devices are compatible with various phone accessories, which is one of the reasons why they don't bother much when getting charging accessories. However, many assume that it will take years for the charger to deteriorate. Unfortunately, when the charger used has some broken wires already, there is no guarantee that your phone is getting charged correctly. That said, it is best that you stick with the brands charging products because you know that they meet the company's standards.

Another possible reason for the Samsung Galaxy S9 battery drain issue to occur is an application you are using. It is possible that the program doesn't work well with the current OS that you are using, or that its code was changed after an update that made it incompatible with your device. Switching to Safe Mode is the best course to take to find out if a third-party application is a reason why your phone's battery is draining quickly. When you switch to this feature, only the pre-existing applications are going to work. Pay attention to how quickly your phone's battery is drained while you are in Safe Mode. If it doesn't drain quickly, then the suspect can be any one of the programs you have downloaded onto your gadget.

Resetting Your Phone's Application Preferences

There are instances when applications tend to get buggy if certain core programs have been removed or disabled. To make sure that the downloaded programs in your S9 can access the default program, complete the steps here:

Launch Settings in S9.
Select Apps then press on dots to access more options.
Search for the option for resetting preferences then tap on it.
Restart your mobile phone to complete the process.a
Restore Device to Its Factory Setting

What else can you do to fix battery drain issue in Samsung Galaxy S9? When the suggested steps above did not help with solving the issue with the battery, a hard reset is advised. This should be your last resort when it comes to fixing the battery drain in your S9.

Do not forget to transfer, save, or backup all files and folders stored in your mobile phone prior to resetting it. This way, you won't lose any important data when you proceed with this last resort. If you are not confident to do this on your own, ask a specialist to help you out.

Although not all S9 users have encountered this issue with their batteries, however, if yours tends to drain quickly once it has reached at least 30%, go to a Samsung service center to have it checked. They can double-check all possible scenarios as to why your phone tends to get drained quickly.
Having your phone serviced may come with a price, but if you are still under warranty, this won't be much of a problem. If a factory reset needs to be conducted, make sure that you back up your files first before proceeding.
These are just a few examples of why the battery of Galaxy S9 can drain quickly. If you are experiencing any of these issues, simply follow the recommendations above until you find the right solution. It's not easy pinpointing the cause immediately, but through the process of trial and error, it is possible to narrow down the likely culprit and get it fixed too. And if all else fails, it may be time to replace your mobile phone with a brand new phone or refurbished phone from
this website
.