Is It True that Apple iPhone 12 will Defeat the Galaxy Note 20?

Is It True that Apple iPhone 12 will Defeat the Galaxy Note 20?
by Ishaan Seth October 16, 2020

Samsung has been receiving rave reviews on their latest flagship smartphones, with the Galaxy Note 20 Ultra taking the lead. But it's younger sibling, the Galaxy Note 20 is the one that rakes in the money as it is a powerful device with a retail price much lower than its bulkier siblings. Since Samsung's phones went ahead with their launch, the time is becoming short for the Apple iPhone 12 to be released.

Recent news, however, reported that the new iPhone 12 will be launched on the 13th of October along with four other models. Based on the leaks and rumors that have been swirling around this new iPhone 12 model, many are wondering whether it can dethrone the Note 20 once it is finally revealed?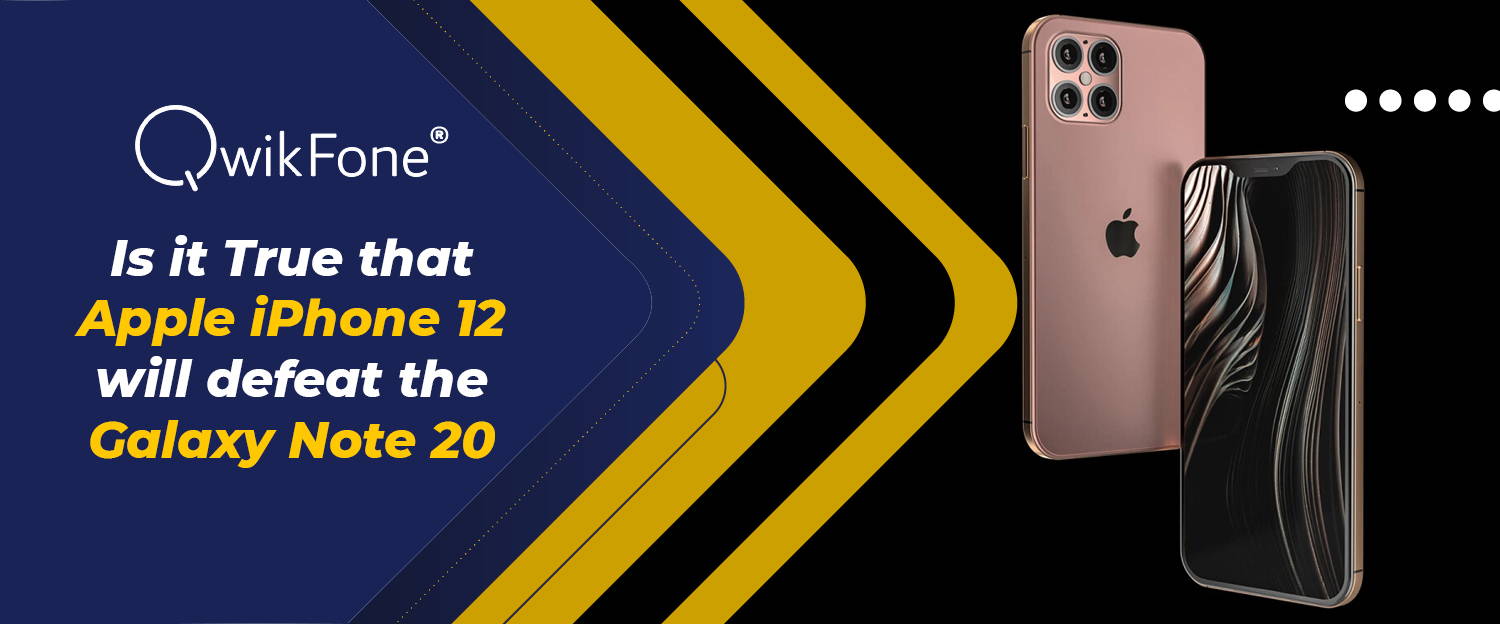 A Look at Samsung Galaxy Note 20

It's not that hard to look for Samsung Galaxy Note 20 full specification since this device is finally out in the market. But just to recap, here's what you need to know about its specs to understand why many people love it.

Display and Design.
At 6.7 inches, the Galaxy Note 20 is not really small and may require you to use both hands when handling it. It looks almost the same as that of the S20, but it comes with a holder for the S Pen which everyone loves. The camera holder at the rear is a bit boxy and it is hard not to notice it, but unlike its bigger sibling, this one has a flatter design. The refresh rate is just at 60Hz which is less compared to the 120Hz in the Ultra. Nevertheless, you can expect this device to deliver faster performance compared to its previous models.
Camera
In terms of camera, the Note 20 sticks with a main camera with only 12MP. It does come with a telephoto lens at 64MP with a 3x lossless zoom. You will also find a 12MP lens for taking ultrawide angle shots. It remains to be seen whether the iPhone 12 will be able to stand against this camera set up.
Performance
What about the performance of the Galaxy Note 20? It sports an 8GB RAM with a processor from Qualcomm which is the Snapdragon 865 Plus which is its fastest in the market. It offers 5G connectivity with an internal storage of up to 128GB.
Battery
Samsung has definitely improved on the battery life of the Note 20 by using a 4,300mAh battery. Also, the charging life is said to be faster compared to that of the iPhone where it can reach 50% within thirty minutes of charging.
S Pen
The Note 20 has an edge against its competitor and that is it is able to retain the S Pen. This accessory is part of the tablet series and the company has added new features to it. This includes Bluetooth capabilities and even expanded its transcription functionality.
Is It True that Apple iPhone 12 will Defeat the Galaxy Note 20?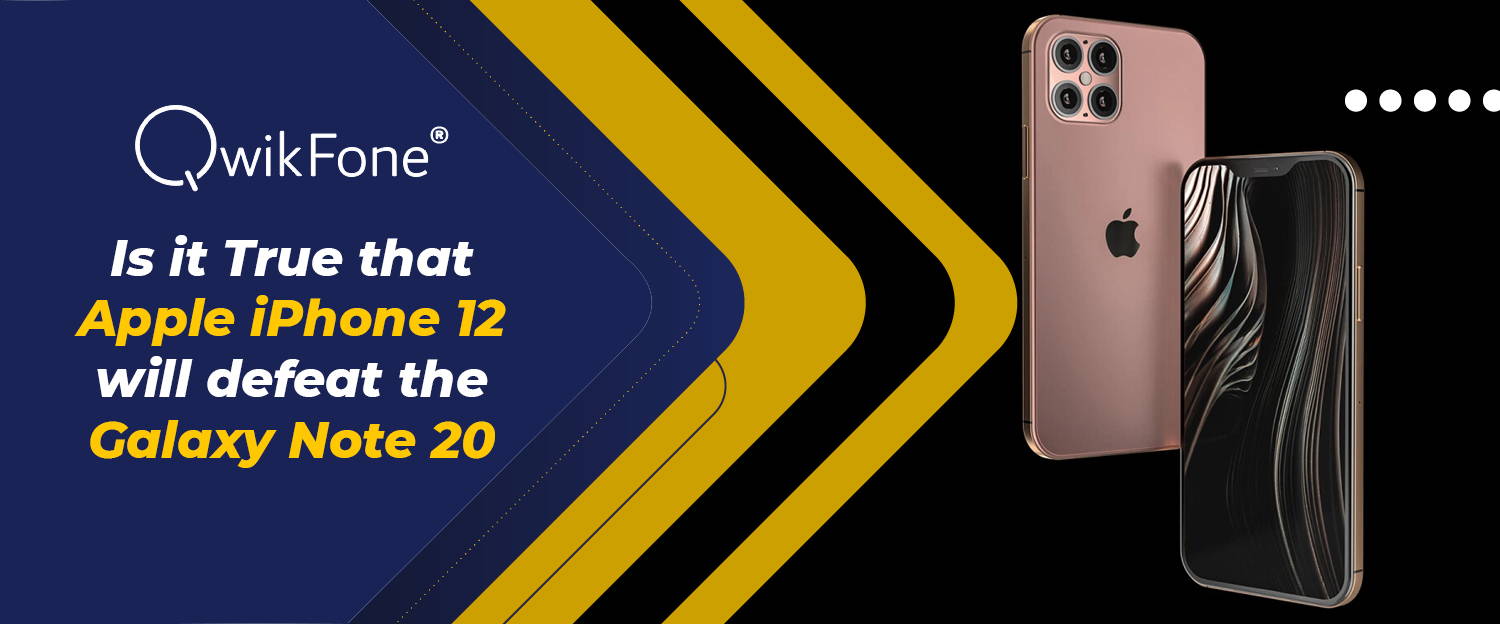 What to Expect from the Apple iPhone 12

The new iPhone 12 is set to be released in October this year, which means that it won't be long before we finally see what it truly looks like. Still, thanks to rumors that have been constantly bandied about in the tech world, there are a few possibilities that we can expect come the reveal.

Display and Design
Based on rumors and leaks, we can expect that all iPhone 12 models will sport that flat metal-edge just like the one used for iPhone 5. The iPhone 12 design may be a throwback but it does go back to that level of sophistication that it is known for. If this is true, then Apple is set to make their gadgets look more streamlined. It appears that there will be four variants in the iPhone 12 series with the mini measuring at just 5.4 inches. Both the iPhone 12 and Pro versions will be at 6.1 inches while the Pro Max will come with a 6.7 inches screen.
Camera
Digitimes has confirmed reports that both the iPhone 12 mini and the new iPhone 12 will be equipped with two cameras at the rear, while their bigger siblings will come with three cameras and the latest LIDAR sensor.
Additional reports stated that the latest iPhone will come with 7 lenses for the primary camera with the added lens aiming for a more refined photo.
Performance
Rumors or not, we can expect that the iPhone 12 will be running on the newest Bionic chipset which is the A14. This latest processor can boost this gadget's performance by up to 15%. This makes it more efficient by up to 30%. Although there is no confirmation of this yet, we can expect that the iPhones Bionic processor will leave their competition behind.
Battery
This may be where Apple will fall behind its competition since it appears that the tech giant will not ship their new iPhones with a charging adapter. It appears that Apple is in the process of creating a 20-watt charger which is why its users will have to pay extra for it. This may not sit well with Apple users, but it remains to be seen if this is indeed the route that the tech giant will pursue.
On the plus side, this will mean that there will be less electronic waste since previous chargers may work with it. However, if you are expecting that the latest iPhones will be featuring bigger batteries, you will be disappointed since the iPhone 12 is said to have 2,775 mAh battery.
Can the iPhone 12 Defeat the Galaxy Note 20 UK?

There is no doubt that the Samsung's Note 20 stands out among the crowd, but it is highly likely that it will bow down to its rival once the iPhone 12 hits the market. Here are a few reasons why many are expecting that Apple's latest offering will take the lead.

Ecosystem. Apple has put a lot of effort into building an ecosystem for their users right from the start. This means that their users can easily switch from one model to the next with little difficulty since the user interface remains the same. This may be boring for some, but it is a smart move since Apple users will not have to search their phone for new features and learn their use before they can use their smartphone to its fullest.
5G connectivity. It appears that the tech giant was simply biding its time when it comes to 5G. And it seems that all the iPhone 12 series will have 5G connectivity embedded into them already.
Price. In terms of iPhone 12 price UK, the iPhone 12 128GB and 256GB will be priced at £679 and £779 respectively. These prices are considerably cheaper compared to the previous model which can make them look more interesting to smartphone users. This can also put Samsung at a disadvantage given the pricing of the new Apple iPhones with their big screens and fast processing power.
Refresh rate. It is possible that Apple will be switching to a faster refresh rate with their new iPhones. If they do, then the refresh rate will be at 120Hz which puts it on equal footing with Samsung.
Camera. In terms of camera set up, although the iPhone 12 will stick to having two cameras at the rear, the iPhone 12 Pro will be sporting the liDAR sensor which is the same as what you can find in their iPad Pro. This extra sensor means that the distance of the object or objects will be more accurate which is guaranteed to improve your portrait shots considerably. The most promising part in this is that the added sensor will be useful when it comes to augmented reality or AR. If users will be installing applications that make use of AR, then this extra sensor will be beneficial to them in the long run.
Apple has never been one to take a look at what their competitions are doing, but rather they run their own course. Their way of thinking has certainly put them at the head of the competition since they often come up with unique features that others simply try to copy or at least improve on.
One likely reason why people will purchase the latest iPhone is that it is made by Apple. However, we can have
other phone options instead of latest iPhone models
. In terms of flagships, you can tell by the specs of both the new Apple iPhone 12 and Galaxy Note 20 that the former has the better processor overall. Although the latest Snapdragon chipset aims to close the gap, they are still far from reaching the capabilities of the A13 or even the new A14 Bionic chipset once we see it running on the latest iPhone. The camera, display, and performance are top notch as you would expect on any iPhone. And to top it all, the iOS environment remains the same which gives users a unique experience compared to Android devices.
In these times when people aren't keen on spending more than a thousand pounds for a smartphone, the release of the Apple iPhone 12 may be heaven sent for those who are seeking for a powerful compact device from the brand. It remains to be seen whether these predictions will come true come October.
But if you are not a fan of Apple products, or you want to dabble in the world of Android smartphones, why not take advantage of QwikFone's Samsung unlocked phones
here
? They are all in pristine condition and are compatible with different carriers too. You can shop for older Galaxy phones, or get the newer models at reasonable rates.These are professionally refurbished units that will work just like new which means that you are going to get a device that will look and feel brand new minus the exorbitant price. This is a great deal already and worth checking out too.