3 Best iPhone Alternatives

Top 3 Phones You Can Buy Instead of The Latest iPhone
by Ishaan Seth November 20, 2019

Each September of every year, the time comes for the release of the new iPhone. The whole world stops in anticipation to see Apple's next and newest innovations in both the software and the hardware of smartphones. Also, more often than not, this anticipation is turned into a disappointment for many people who find the new iPhone didn't cover a feature that they wanted, removed a feature that they enjoyed, or is just too expensive for the value it offers.
Either way, it's always wiser to wait a few months or a year before deciding to buy the refurbished iPhone than wait in line to pay £1000+ for a phone that you're uncertain of how well it'll turn out to be.

In this article, QwikFone's mobile experts are bringing you the best three alternatives. So, keep on reading to find them out!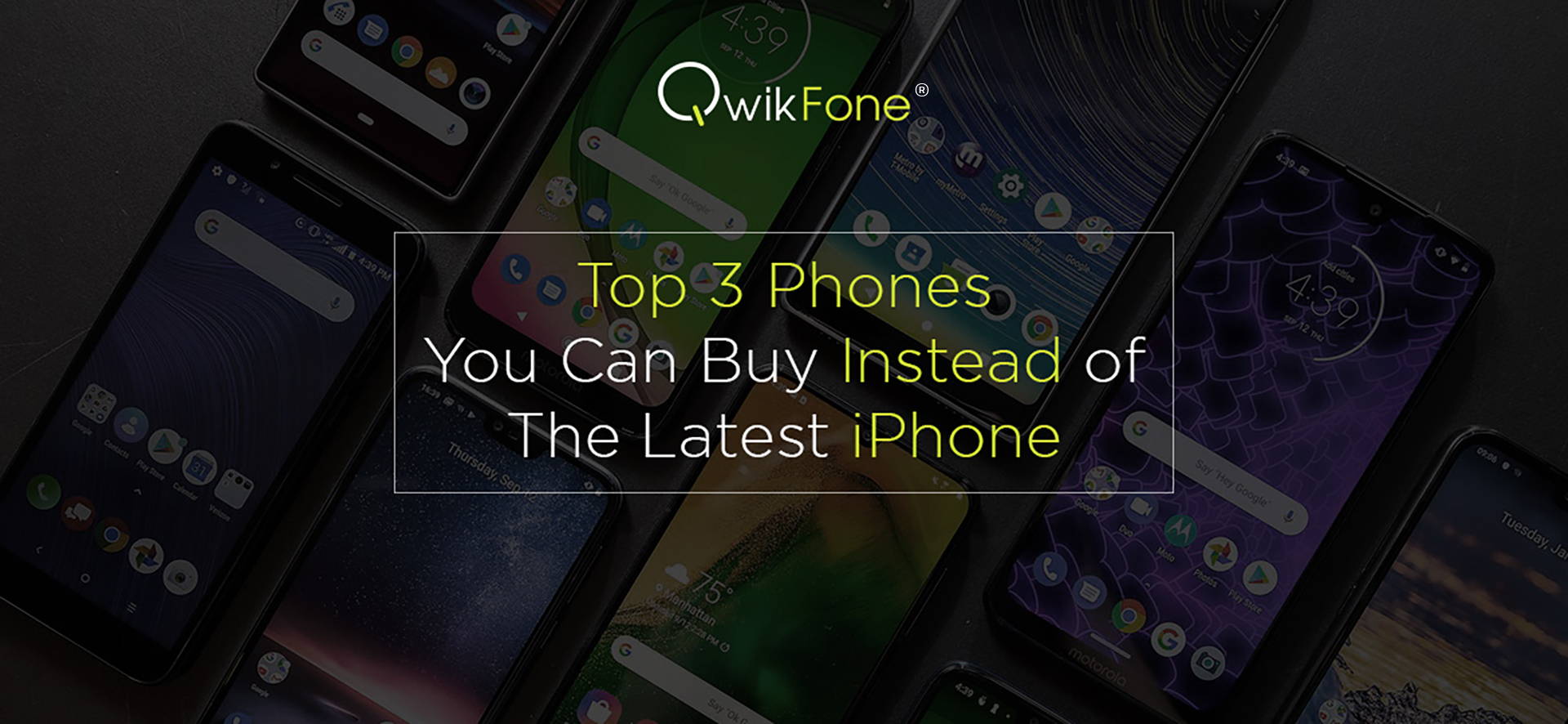 Refurbished iPhone with warranty

Refurbished iPhones are widely misunderstood. In the minds of many users, a refurbished iPhone is a broken phone. The truth is, however, that refurbished iPhones, in many cases, are iPhones that have never been used before. They are essentially iPhones that have been returned by users for various reasons.
A user who changed his or her mind about having the phone for any reason, financial or otherwise, returns his or her phone after the unboxing. This phone gets resold and re-listed as a refurbished phone. Similarly, a user that returned the phone for a manufacturing defect returns the phone which gets fixed by the manufacturer and then re-listed as refurbished when, in fact, it has never been used before.
Last but not least, there are refurbishment businesses, such as QwikFone, that takes slightly used iPhones, renew them with original parts, and then resells them as refurbished phones.
In all cases, refurbished phones are not, by any means, worn broken phones that have their screens and such replaced. In fact, replacing a screen is one of the most difficult and costly things to do while fixing a phone. So, you can rest assured that a refurbished phone would rarely, if at all, have a replacement screen. Also, take good care of your
refurbished iPhone's screen
!
There are a few tips and tricks that you should know about if you're going to go for a refurbished iPhone.
The first tip is to seek a refurbished iPhone with a warranty policy. Even if you are still skeptical about the refurbished phone, a good warranty policy can put your mind at ease towards the phone's condition and quality.
You have to be careful not to choose any refurbished iPhone with just any warranty. The period of this warranty says a lot about the seller. For example, a one-week warranty period might as well be non-existent since no phone can be truly tested and used to show its problems, if it had any problems, in just one week.
So, the longer the period of the warranty is, the more you can trust the seller and the quality of the refurbished iPhone. At QwikFone, you get a warranty for one year with your refurbished iPhone; just like the warranty period of a brand-new phone!
Top 3 Phones You Can Buy Instead of The Latest iPhone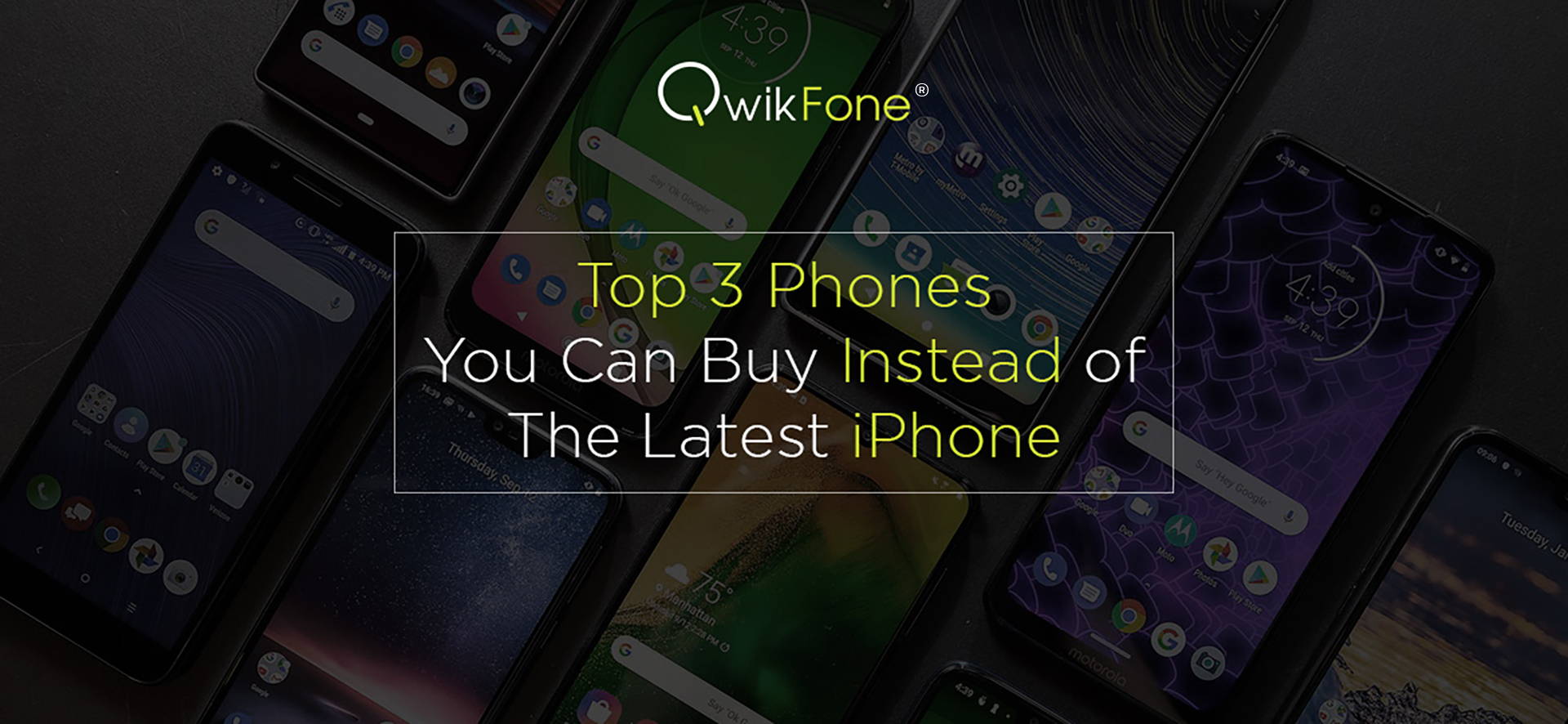 Pristine second hand iPhone

Since many people like to upgrade to the new iPhone as soon as possible, they keep their current iPhone in a pristine condition so that they can sell it when the next iPhone is released. Thanks to those people, you can buy a pristine second hand iPhone that has been slightly used for a year or even less than that for a greatly discounted price.

The good thing about pristine iPhones is that there is a specific set of criteria they can be measured against to confirm their like-new condition. So, with the proper guarantees such as the warranty and return policy, you wouldn't be risking anything at all. You will, however, get a recent iPhone in a grade A new condition for the price of a used iPhone!

Refurbished Samsung phones

Samsung has been Apple's biggest competitor in the smartphone market ever since the smartphone market existed. So, you may want to consider buying refurbished Samsung phones as an alternative to Apple's iPhones.
Buying a Samsung refurbished phone won't only be a great opportunity to get premium features for less money, but it also will be your chance to experience the latest version of Android. Starting Android Marshmallow, Google presented the Google Assistant which is smarter than Google Now and even Siri!
Another powerful aspect of Samsung phones that most people seem to overlook is the Super AMOLED display that offers the darkest black and best color experience anyone can get in a smartphone. In fact, when Apple decided to upgrade its iPhone's display specs, they had to buy AMOLED screen technology from Samsung! So, why not have the purest and original experience from the owner itself? If you watch a lot of videos and spend a lot of time streaming Netflix shows on your phone, a refurbished Samsung Galaxy is the one for you!
If you want one of the latest handsets out there of the brand, Samsung Galaxy S8, S8+, and S9+ are now available refurbished in a pristine condition on QwikFone's
website
. Not only will you get them for almost half of the price of a brand-new corresponding iPhone, but also, you will be able to pay monthly installments for your phone, have a 12-month warranty with the possibility of changing the device, get all the necessary accessories like the charger and earphones for free, get a 14-day return period with full refund, and get the phone dispatched on the same day as your order!
So, with this deal, you can forget about all your worries as you can order the phone, check it out and use it for a few days, see how good it really is in terms of the hardware condition and the software performance, and then decide whether you want to keep it as your primary smartphone or return it and get your money back.
While the enthusiasm to join the long lines waiting for the Apple store to open and pay enormous amounts of money for the latest iPhone can be overwhelming, you'll find it much more rewarding to take a step back and reevaluate the situation. You will be surprised at the things you'll be able to do with the price difference if you get a refurbished iPhone or a refurbished Samsung phone instead of spending all that money on the latest iPhone to be disappointed that it doesn't have all the features you wished it would.