Are Refurbished iPhone Screens Good?

Are Refurbished iPhone Screens Good?

by Ishaan Seth December 7, 2020

The iPhone is built to be durable, but sooner or later, accidents can happen which can damage its screen. Dropping your mobile device from a certain height, exposing it to intense heat, and even getting it waterlogged can all damage the screen still you can have some
iPhone water damage problem
. If you have been checking out DIY mobile phone repairs, you're probably thinking that you can replace your iPhone's screen on your own. But since the original parts are limited to the manufacturer itself, your next best option is an iPhone refurbished screen. But are refurbished iPhone screens good?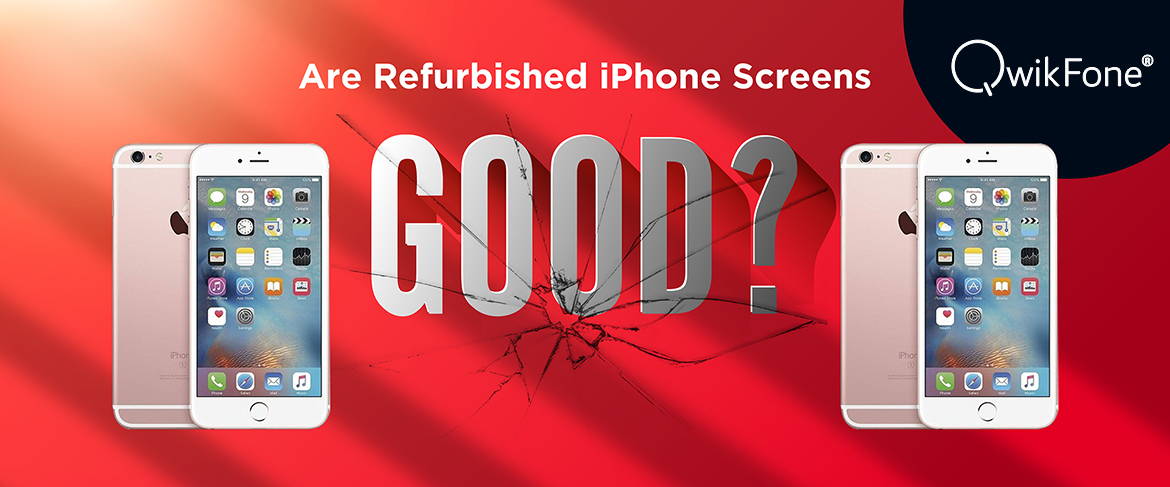 How Are Mobile Phone Screens Refurbished?

How does an iPhone refurbished screen come into being? Well, there are several steps that it undergoes starting with the fact that it was once a broken LCD or OLED display. However, instead of ending up in the landfill, the screen is sent to a recycling center where it will undergo a refurbishment process. Here's how it goes.

Testing. The damaged display will first undergo a thorough testing to determine if there are any dead pixels or distortion of images which can affect its touchscreen properties.
Removal of broken parts. Once the device has passed the first test, the broken or damaged parts will be removed. The LCD-digitizer will be taken apart from the shards of glass as well as the body and the polarisation film will be removed too.
Refurbishment process. After the damaged components have been removed and that it has undergone a thorough cleaning, it will then undergo a refurbishment process. This includes applying new adhesive films as well as frame and glass.
Quality check. The unit will undergo another round of quality check to determine if the parts have been installed correctly and that the screen is functioning as it should.
Once the iPhone refurbished screen has passed everything, it can now be put up for sale. This makes it a great alternative to the pricier original parts from Apple, but will not affect its overall quality.

Are Refurbished iPhone Screens Good?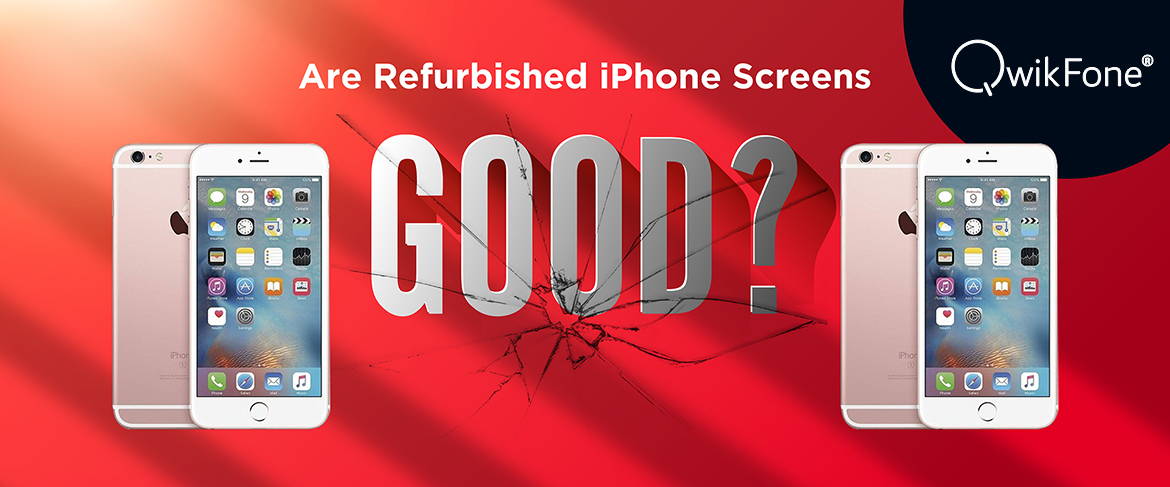 Copy or Refurbished? How Do They Differ?

You might have come across iPhone screens that are labeled as refurbished or copy, but what exactly are they?

Let's start with refurbished iPhone screens. These displays contain manufactured LCD in behalf of the tech giant which is then refurbished to meet the original standards of the company.

A copy, as the name suggests, is a product that meets the specifications of the screen used on iPhones but it was built from ground zero. Although this is relatively cheaper, if you want to get the best replacement screen from your damaged iPhone, it is best that you stick with the refurbished versions instead.

A copy version of the Apple screen is guaranteed to be inferior in several areas when compared to a refurbished version. Among these are:

LCD resolution is less in terms of brightness, refresh rate, and even vibrancy.
The fingerprint reader built into the display may not work well.
Touch performance is not up to standards and may cause difficulties when copying texts, links, and such.
Copy versions of iPhone screens tend to be more fragile than refurbished ones.
Are Replacement iPhone Screens as Good as Original?

Replacement screens during the early years of smartphones were considered a hit and miss. This was because the quality of these screens were not consistent since it depended mostly on where it was bought. Most of them were bought from China but with US manufacturers entering the scene, the quality of the iPhone refurbished screen has changed considerably.

What were the changes seen with the newest versions of replacement screens for iPhone?

The glass is more durable and stronger.
The quality of the screen is almost the same as the original.
The performance of the touch screen is responsive and there are no lags too.
The colors are noticeably more accurate than previous versions.
Testing of the products had increased dramatically ensuring the quality of replacement screens are up to standards.
As you can see, there are certain improvements with replacement screens for iPhones nowadays that have helped boost the overall quality of refurbished iPhones in UK. As a matter of fact, these refurbished models are almost like new which is a far cry compared to the ones that were sold during the first few years of refurbished devices. However, this will depend on where you will be purchasing the parts or the refurbished iPhone too which is why you should stick with trusted retailers as much as possible.

What to Look for in an Original iPhone Screen

Investing on an iPhone is definitely worth the money since this device is durable, stylish, and can last you for a while thanks to its upgrades. Unless you bought your smartphone directly from Apple itself, you might be wondering whether the screen installed is original or a replacement. If you are willing to take your iPhone apart to check, then there are a few key signs that you should look for such as:

Look for the brand's logo. One of the best ways to determine whether the screen is original or not is to look for its trademark logo on the flex cable for the LCD as well as digitizer. If you don't spot any, then it is a good indication that the current screen is already a replacement.
Quality of flex cables. Another way to determine whether the screen is Original Equipment Manufactured (OEM) is to take a look at the flex cables. The original cables are usually flexible so that they won't break easily during installation. The cable for the screen, on the other hand, tends to be rigid since it doesn't require to be folded multiple times.
Brightness. A tell-tale sign that the screen on an iPhone is a replacement is its brightness. An original display tends to be bright. When it is replaced, you will see a huge difference.
Are Refurbished iPhones Worth Getting?

Are refurbished iPhone screens good especially on refurbished units? This will depend mostly on where you will be purchasing your refurb. The good news is that Apple does sell refurbished iPhones at discounted rates but not as low as those from third-party retailers.

Yes, there are several retailers of refurbished mobile devices that you can approach, but if you are after high quality OEM parts, then QwikFone is your best bet. This brand is a familiar name in the UK as a reliable source of OEM mobile phone parts, so regardless of whether you want your broken iPhone repaired with them or you simply want to get a screen for your damaged device, approaching this shop is highly recommended.

But the real question here is should you buy a refurbished Apple iPhone from them?

If you are looking for an iPhone that works and even looks like new but doesn't come with an expensive retail price then yes, this is a good place to do your shopping. What sets QwikFone apart from other retailers is that they have been in this industry for more than a decade and are considered as experts in mobile phone repairs too. They have a great selection of OEM parts not just for Apple, but for other brands as well.

With regards to their selection of refurbished iPhone models, you can find older models such as the iPhone 6 all the way to the more recent iPhone 11. Each one has been tested before it goes through a strict refurbishment process to ensure that all components are working based on the standards of the original manufacturer. QwikFone guarantees that you will get a smartphone that cannot be discerned from a brand new one based on the quality of their refurbishment process.

You can expect that all their iPhone products come with a warranty that will cover up to a year. This easily matches what Apple offers its customers too. If ever the device you bought malfunctioned because of an error on their part, then you can bring back the unit to them for free repairs or replacement even. You'll have more confidence with this brand in the UK since they are already familiar with the refurbishment process and has access to OEM parts as well.

Are Refurbished iPhone Screens Good?

Overall, we can say that an iPhone refurbished screen from reputable retailers such as QwikFone is good already. This is because they are selling high grade OEM parts that are a match to what Apple is using for its products. Although they will be more expensive than copies, you will get a good value from it since it will be more durable, its performance will be better, and that your overall unit will function as if it is like new.
That said, if you want to secure a professionally refurbished iPhone with a screen that is of the highest quality, then your best bet would be to buy from
QwikFone
. All parts used on their refurbished iPhones are of the highest quality plus they do come at discounted rates too. And the best part? These phones are unlocked so you can use it with any carrier of your choosing.