Why is Samsung Outgrowing Apple in Terms of Customer Preference and Requirement?

Why is Samsung Outgrowing Apple in Terms of Customer Preference and Requirement?
by Ishaan Seth November 26, 2020

The rivalry between Apple and Samsung has been going on for years. This is not surprising given that these two tech giants have been churning out gadget after gadget over the years that are designed to make our lives a little bit more convenient. Saleswise, we are seeing more Apple products being bought because of their performance and their design. However, in terms of customer preferences and requirements, it appears that Samsung is not falling behind.

But first, let's take a closer look on Apple marketing strategy and what propelled it in the top tier of the best smartphone companies of today.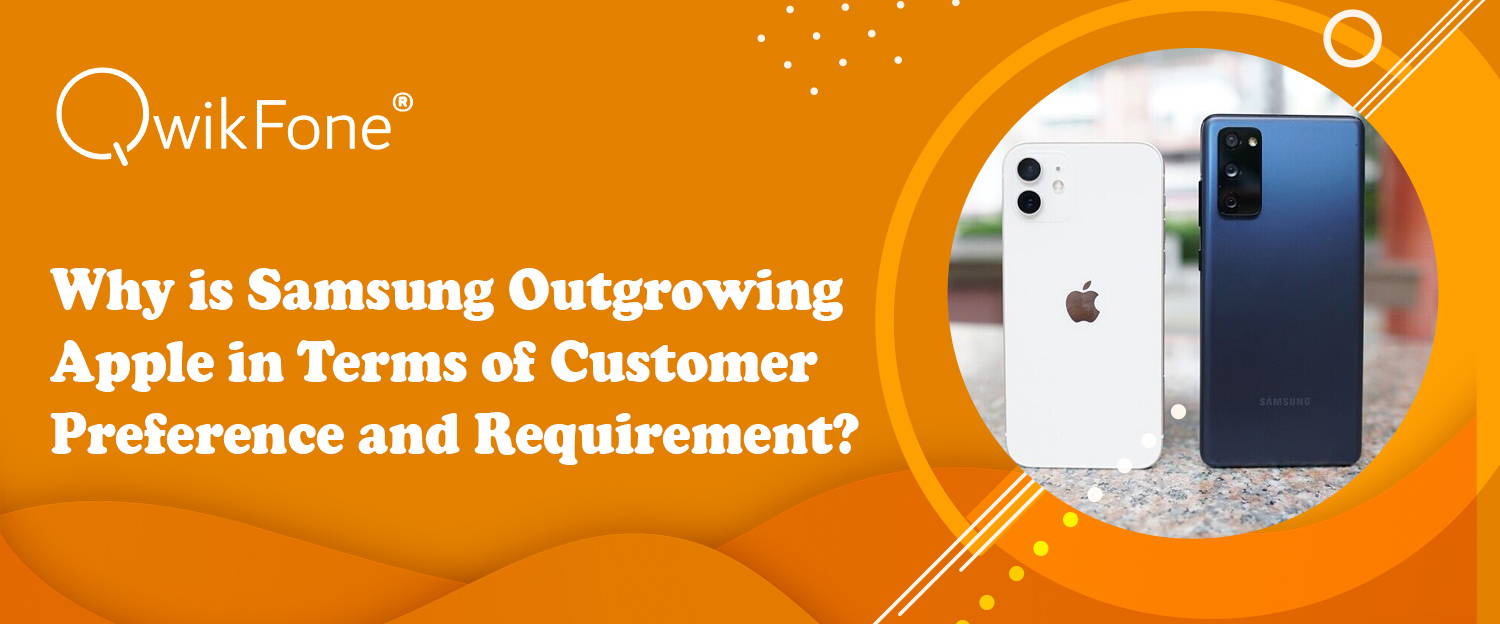 How Does Apple Meet Customer Expectations?

Apple is unique in the sense that it is not just creating smartphones that are for daily use, but they want an environment that can be used on multiple platforms. The environment that Apple is trying to create is a customer-friendly one where they are able to supply all the solutions to their customers as needed. This translates to how Apple designed their iPhones and their functions over the years. With Apple, you can expect:

Paying bills and ordering online through their Apple Pay in the comforts of their homes.
Set up multiple accounts for an Apple platform such as iTunes that can be assigned to everyone in the family.
Accounts can be synced across all Apple gadgets seamlessly. No need to open your account in your Apple Fitness wearables or tablets, since your accounts will be synced to all of your devices.
Step into any Apple Store and you will get assistance for an Apple product that you didn't buy specifically from that store.
The UI remains the same with minor tweaks which means that learning the interface won't be that hard to do even when you switch to a model that has all the bells and whistles.
Easy to use for those who are not familiar with this type of technology, especially the elders. This is because the user interface is simple and easy to understand.
Supports parental controls so parents can oversee their children's smartphone activities through their own mobile device.
Their stores are people-friendly and it can be seen that Apple puts a lot of thought in the design of their shops to make it a comfortable space for their customers.
Their smartphones are designed to last for years. This is one of the reasons why there are those who stick with their still-working fully-functional old iPhones.
Apple customer support is always available online and in their physical stores as well. This means that you will find help with them regardless of which store you enter.
Staunch Apple users tout on the ease in which they move from one model to the next as the user interface hasn't changed that much. This is a good indication that the interface is robust and doesn't take long to get in stride with its usage. However, the price tags for the latest iPhone models make them difficult to obtain for everyone. This is also another driving force as to why Samsung seems to be faring better than its competitor. Have a look at
top 3 phones you can buy instead of the latest iPhone.
Why is Samsung Outgrowing Apple in Terms of Customer Preference and Requirement?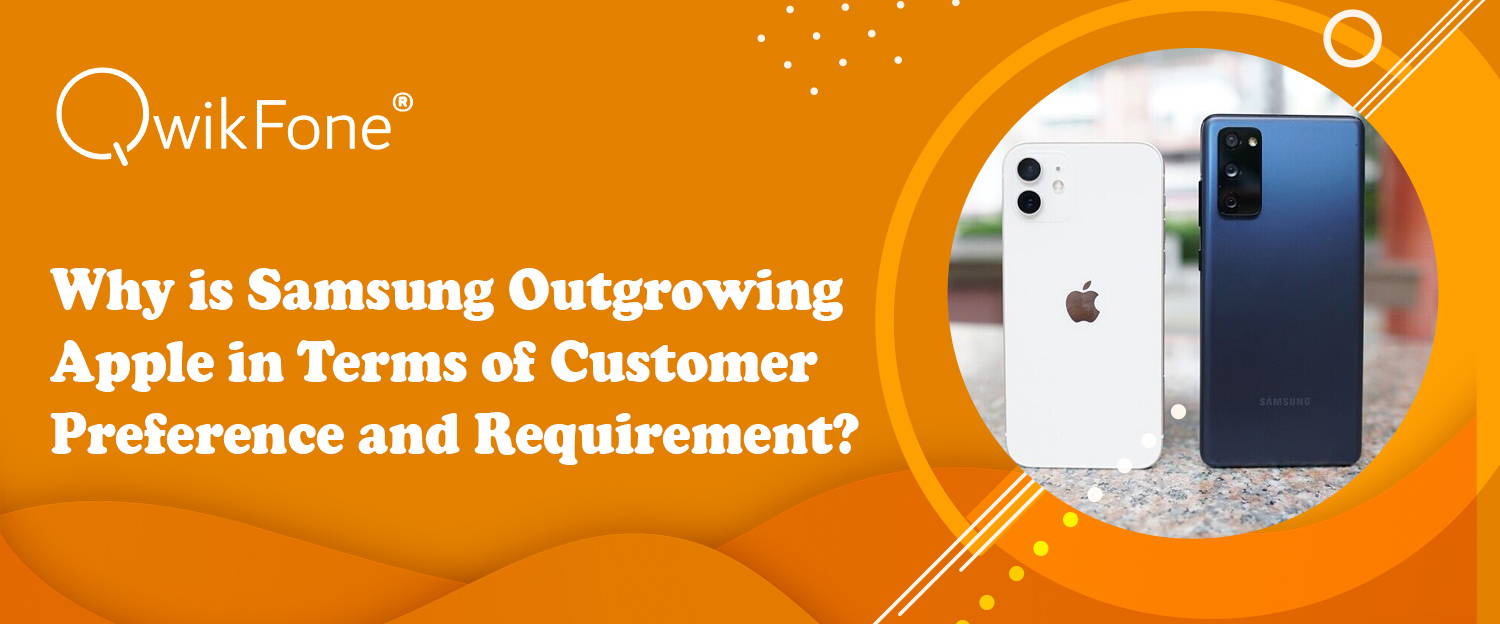 Apple has been enjoying the lead over other mobile phone brands for years now, but it seems that Samsung is edging closer to its competitor. Based on one study in the UK with regards to people's preference in smartphones, the Korean tech company Samsung, is in the lead. According to this study, salaried individuals prefer to purchase a Samsung smartphone as opposed to Apple while students or those who belong in the 16 to 24 age group are more inclined to get an Apple since their friends will most likely have one. From this data, it can be inferred that the Android smartphone is the preferred choice for day-to-day activities both personal and business too.

In terms of overall ratings, Samsung has taken the lead over Apple. This is because around 40% of the respondents of the study in the UK preferred to purchase a smartphone that is within the mid-tier level which Samsung has plenty of compared to its rival. Additionally, Samsung always offers something more with every smartphone that they produce which is quite different from what Apple does. For those who are looking for new features that will make their mobile phone usage more enjoyable and more convenient, the Korean tech giant has always been able to provide for their needs.

Although Samsung sits comfortably in the lead, this gap can be easily reduced since mobile phone parts are becoming cheaper to make thanks to the ever evolving technology. What this entails include mid-tier handheld devices looking more and more like flagship phones but without the hefty price tag as is in the case of OnePlus which is edging close to the top tier in terms of smartphone popularity. Other brands like Huawei and Oppo are closing in too. There is going to be a stiff competition out there as mobile phone companies are taking advantage of cheaper cell phone parts that help them lower their prices without compromising the quality and the features that they can offer.

More Smartphone Users are Loyal to Samsung in the UK

According to BankMyCell, a website which lets its guests sell their used mobile phones for a brand new one, showed that in terms of mobile phone retention, Samsung beats Apple significantly. Out of the 38,000 people that they studied, Apple's loyalty base went down to 15.2% this year. This was slightly different in the case of Samsung which appeared to have more loyal customers to its name.

From the report, around 26% of mobile phone users traded in their iPhone for a different model, while only 7.7% of Samsung users switched to an Apple product. The loyalty of Apple users has significantly gone down over the years and is now just steady at 73%. In 2017, Apple was enjoying an all-time high loyalty rating at 92%. You can see that there was a significant drop from the time the iPhone X was released to today.

However, Apple is going to release new iPhone models this year which might change the tide for them in terms of loyalty and preferences especially when it is expected that these flagship phones will have better processing powers. On the other hand, Samsung is yet to reveal its new set of gadgets that are highly anticipated as well as these two rivals are going head to head once more in the race to the top.

It cannot be denied that there is a fierce battle between Apple and its constant rival Samsung not just in terms of their smartphone quality, but also in terms of customer preferences. Samsung's wide array of options has garnered it quite a huge fan base all over the world because there is something for everyone whether you are on a budget or are willing to spend more than a thousand pounds for their more recent flagship mobile phones.

Apple, on the other hand, has developed an iPhone that falls in the mid-tier range with an advanced processor to give their users a compact and affordable iPhone with a strong punch. This may prove a tough competition in the mid-tier range especially when people are looking for a smartphone that is cheap but powerful at the same time. However, the iPhone's boring look may be one of its downsides since Samsung knows how to give their devices that sleek and stylish look which appeals to a great number of mobile users today.Add to this the fact that there are several variations available in terms of color and people just can't say no to what these gorgeous devices can offer them.

Samsung will be hard pressed to stay on top with Apple churning out more impressive iPhones this year. However, their affordable and stylish smartphones are still popular among those living in the UK because of their impressive features, wider and bigger displays, and powerful specs too.

Samsung is outgrowing Apple in terms of customer preference because many are looking for affordable but powerful mobile phones lately. Even when it comes to refurbished phones, many are keeping an eye on cheap Samsung phones to buy because they are guaranteed to last them a while. Also it can be easily bought at affordable price at
here
. It cannot be denied that looking at Samsung's mobile phones, there are plenty of beautiful designs to watch out for while Apple is still retaining its iPhone's classic looks.
However, the race is far from over since there is a good chance that the tide can shift once Apple has launched all of its mobile phones for this year. This is because Apple will be including a device that falls under the mid-range smartphones which is something that Apple users are looking forward to. Samsung needs to keep up the pace and start becoming more customer-centric too in terms of their service if they want to remain ahead of its competitors.