Why Do People Choose to Buy a Refurbished Phone to Save Money?

Why Do People Choose to Buy a Refurbished Phone to Save Money?

by Ishaan Seth November 28, 2020

Let's face it. We are spending way too much on our mobile gadgets thanks to the contracts with carriers that we are tied to. Around half the population are spending almost one hundred pounds for being in a contract that is way overdue.

That said, it is not surprising that there are those who are reconsidering their current mobile phone contracts. Some have already chosen to choose a SIM-only deal since buying a phone from their carrier is leaving them paying more than they think is necessary. By buying a SIM from carriers, they have more options to decide where they will get their new phone and get to save money in the process..

However, taking a look at all these newly released smartphones, and it is clear that they can be beyond one's budget. It is not a surprise why people are considering getting a refurbished smartphone instead, but are refurbished phones safe to use?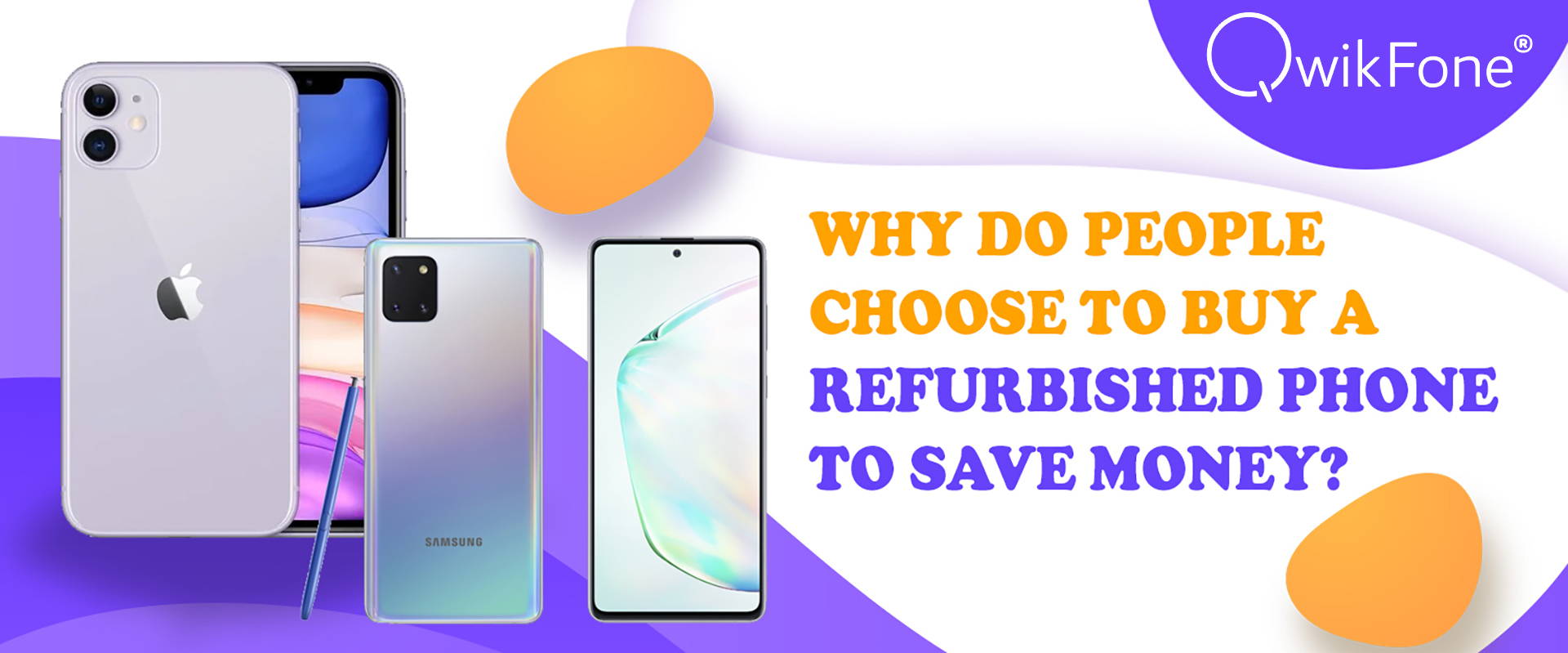 What are Refurbished Mobile Devices?

Refurbished handheld phones, or any gadget for that matter, are devices that were sent back to the manufacturer or retailer because there were issues with it. However, not all pre-loved units are damaged. Some are simply returned because the owner wanted something else. Regardless of the reason why the purchased gadget was returned to the seller, they will undergo a refurbishing process before they are put up for sale.

Pros and Cons to Consider when It Comes to Refurbished Phones for Sale

Smartphones that are sold as refurbished are considered as shoddy devices that are simply sold for quick money. Truth be told, these units are far better than the used ones. If you are still unsure though, reading what makes them a good buy and knowing their downsides may help.

Pros:

More savings since they have cheaper rates.
You will get a 1 year warranty on them.
You will receive a charger with the box.
They may work like new.
They will not come with their original box.
Any accessories included will not be the original ones.
Why Do People Choose to Buy a Refurbished Phone to Save Money?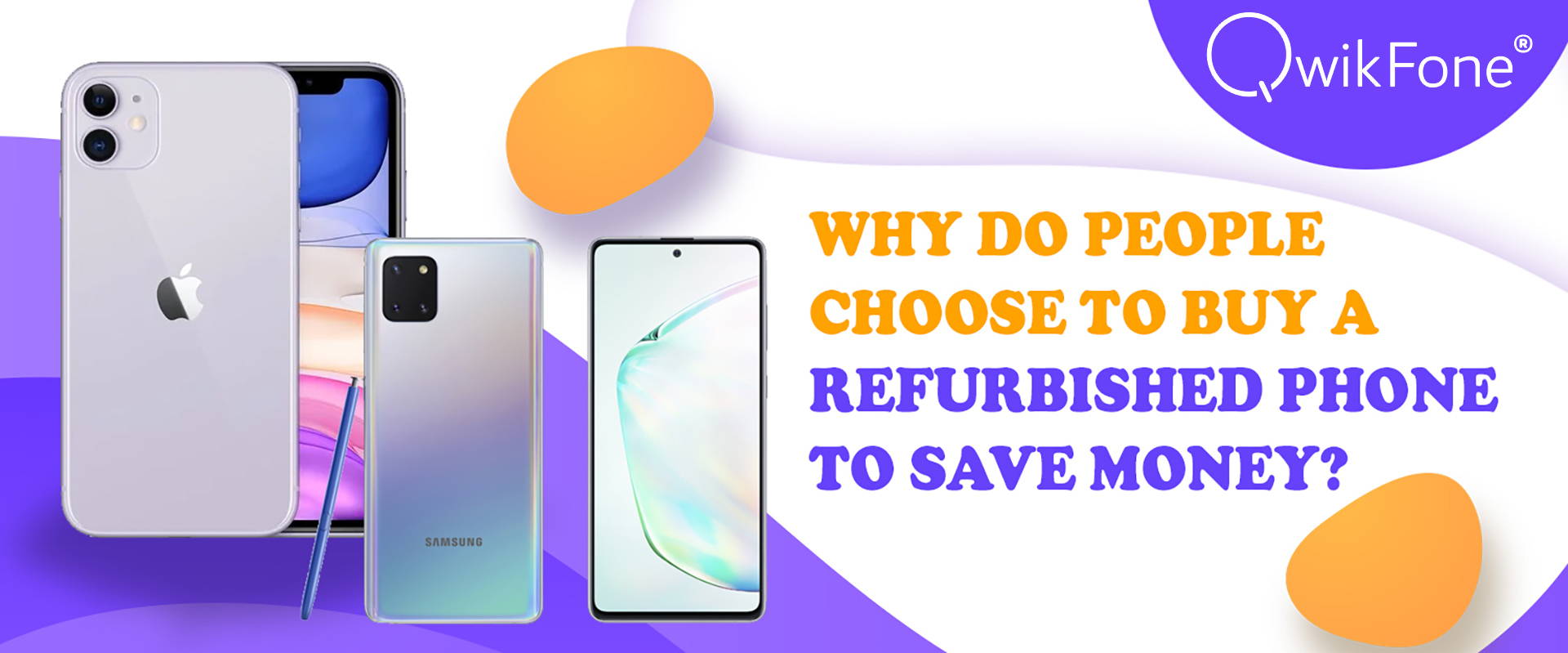 Why Do People Prefer Refurbished over Brand New?

Paying more than a thousand pounds for a brand new device may not be an ideal choice for many people these days. As much as these new gadgets are packed with faster and more efficient features, coughing up that much money doesn't seem like a good idea. But what if you can get the same features without spending a lot? If you choose refurbished mobile devices then it is likely that you'll get one. Get some detail about the
best site for cheap mobile phone offer
.
You can get a unit that works like new.
Mobile devices that have undergone refurbishing processes are usually working just like they were new. You won't even know that they were refurbished in the first place with the way they were fixed. Put these side by side with brand new ones and you will have some difficulties determining which is which. Those cheap Samsung phones to buy from sellers like QwikFone? They are refurbished and they are working like they just come off the manufacturing line. How cool is that?


Cheaper price.
Since mobile phone companies cannot sell an opened unit as new, they are typically resold as refurbished and at a discounted price. Truth is, the value of any newly released model will go down after a few weeks in the market. This is just the way how things work. If you choose to buy a device that has been refurbished, you can get up to 40% off from its original price depending on the make and model. Newer models will get around 10% off give or take, but this is much better than spending most of your salary on a still boxed device.


No contracts with carriers.
People are switching to refurbished devices because they are not any under contract. What this means is that you will have more flexibility and control over which carrier you are going to use and what type of mobile data you want to get based on your preferences and your budget too. The beauty of refurbished smartphones is that they are unlocked so you can use them with any available carrier. If you are considering switching carriers or you are planning on simply getting a SIM contract from your preferred carrier then it will be compatible with your refurbished gadget for sure.


Enjoy plenty of perks.
What else can you get out of buying refurbished phones for sale? How about all the interesting features and perks that you will normally find in brand-new units? Like it was mentioned before, there are retailers of refurbished devices that offer several perks to their customers such as:
12 months warranty. Have your unit repaired or replaced within one year from purchase. You don't even have to pay any fees as long as the warranty is intact.
Return policy. Retailers of refurbished units also offer a return policy to give their customers time to test run their wares. If you are not happy with the unit that you have bought, you can simply return everything to the seller and get refunded. This is a good deal already since it means that the seller will not be taking away your payment at all. .
Accessories. There are some retailers, like QwikFone, that offer free accessories with every purchase of refurbished units from them. Although these accessories are not the original ones, they are still made from high-quality parts that are up to the standards of mobile phone companies. Among the accessories that you can get to include headphones or earbuds and a charger.
5. Less e-waste.
Electronic wastes have worsened over the years because of how quickly smartphones and other gadgets are disposed of. Many are not fully aware of their habit of simply throwing their old devices. Unfortunately, these technologies that we are using are powered by batteries and other electronics that can deteriorate and leak over time. And when it does, they can have a negative effect on our surroundings. By purchasing a refurbished gadget, you are helping keep it in circulation which means one less device being disposed of so carelessly.

Are Refurbished Phones for Sale Really Cheap?

Yes, refurbished handheld gadgets are often cheaper in the market since they are no longer listed as brand new. If you take a look at retailers of refurbished phones, you will notice that older models are priced cheaply because they are no longer listed in the market. That means that if you are not too picky with your iPhone, and you are willing to get an older model, you are bound to spend less than three hundred pounds for one give or take.

However, if you will go for a refurbished unit of a previously released model, chances are that the discount is not as big as you would hope it would be. If this is the case, then you are better off choosing investing on a brand new device.

Since we are talking about how you want to get big savings, you might be leaning towards getting a used device. Used smartphones are those that are sold as is, flaws and all. Unless you know who the seller is, you might want to be cautious when dealing with sellers who are offering used devices. It might be that these are stolen or that they have more flaws than they are letting on. If you can meet with them in person to check the quality of the smartphone, then do so. Otherwise, you should stick with refurbished units sold by reputable sellers like
QwikFone
.
Refurbished smartphones may be pricier than the used devices, but one thing is for sure, they are thoroughly checked, tested, and repaired. You will not find any traces of the previous owner saved in the device since they are factory restored first before being put up for sale. If you want to get the best buy, always compare prices and features to see which retailers offer the best deals. Fortunately, there is no shortage of sites where you can buy one so make sure that you compare them before making any final decision.
In these times when money is tight, splurging on brand new smartphones may not be appropriate for your finances. But if you are considering replacing your old device, but don't want to spend most of your salary, you should browse refurbished smartphones instead. There are plenty of perks waiting for you to enjoy when you choose this alternative from free accessories, warranties, and more.

All you have to do is to figure out whether you will be purchasing your refurbished phone directly from the manufacturer, or look for third party retailers where you will get more competitive deals. Regardless of whether you are looking for an iPhone or any android smartphone, getting a refurbished model will not only save you tons, but you will also get a device that works just like new.