Best Budget Camera Phones 2021 | Inexpensive Good Smartphones

Best Camera Phones 2021 – Top Picks by QwikFone Experts
by Ishaan Seth February 24, 2021

Smartphone releases of 2021 are super exciting and everyone's eyes are turned towards the devices that are going to present us with the best camera experiences. Granted, the prospects of most people leaving quarantine is not great at the moment. However, as the vaccine is taking serious steps all over the world, we're all expecting to be out and about by this summer. This is when our knowing the best camera phones in 2021 in the UK is going to pay off.

In this post, QwikFone mobile experts are bringing you the top picks for the best phones to capture your moments in both photo and video form. Our list will contain the best phones for selfies, best budget phones with good cameras, and affordable camera phones in general. Keep on reading to find out which way to go this year among all the new releases without getting lost in the specs!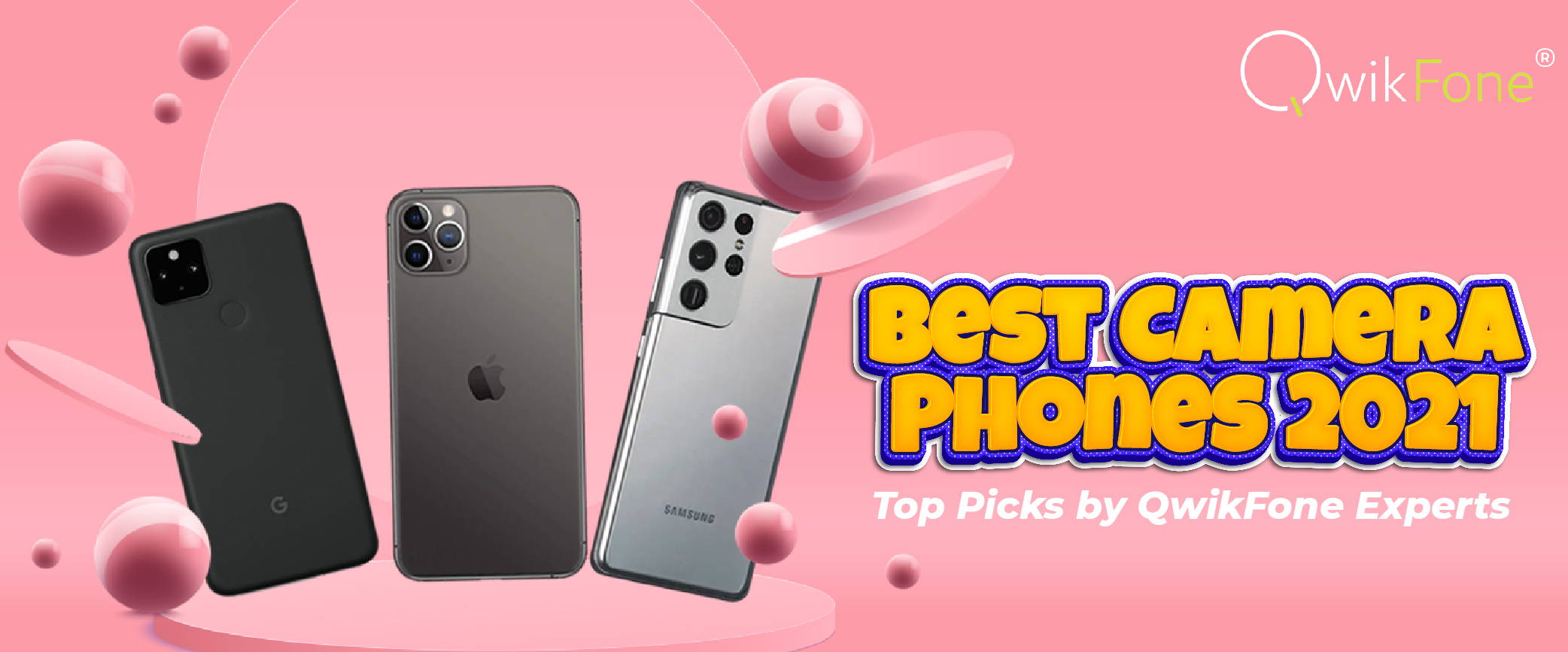 What's New in the Smartphone Camera World?

Before getting into the topic of which is the best inexpensive smartphone with good camera to get this year, we have first to take a look at how evolved the mobile phone camera technology has gotten to be able to appreciate the value of a good camera phone and determine whether a device deserves its price based on its camera specs and capabilities or not.
Digital photography took leaps forward in the past couple of years, so much so that is easy to compete with DSLR photos using only a smartphone camera. To understand how a mobile phone camera works and why having multiple lenses in a camera phone provides better quality, we need to discuss the importance of zoom.
Zoom
Whether you want a close up on a distant image or to capture a wide shot, zoom is the feature that enables you to achieve all that.
To know the right zoom for your shot, remember this: Lenses with longer focal length provide better zoom in, these are best for close-up shots. Lenses with shorter focal length, on the other hand, are best for zoom out effect which means they are used for wide-angle shots.
Aperture
Aperture is responsible for regulating the light in the photo by controlling the amount of light that enters the camera which, in turn, determines the focus of the picture and its depth.
Wide Aperture gives the famous out of focus effect which is known in mobile photography as bokeh. This effect is preferred in dreamy romantic photos with the background blurred. However, if you want a more focused background for your photo, then you go for lenses with a narrow aperture.
As for the amount of light that the lens sensor is getting, this is determined by dividing focal length by aperture size.
Shutter Speed
Another main factor affecting how your photos are going to turn out is the camera's shutter speed. If the shutter speed is too fast, images are going to be on the darker side, whereas slower shutter speed can result in blurry images. The reason for this is that the shutter speed controls how long the lens is going to be exposed to the light.
Why is it Better to Have Multi-Lens Camera?
Smartphones that have more than one lens in its camera module are able to deliver optical, digital, and hybrid zoom. Each type of these zoom features has a specific purpose which certainly improves the smartphone photography experience.

Optical zoom: Manipulates the light to magnify the subject of the photo in a true form.
Digital zoom: Only crops the photo to make the subject seem enlarged or closer.
Hybrid zoom: A mix of digital and optical zoom features with software zoom optimization.
Top 5 Camera Phones in 2021

In this section, we're moving on to our top 5 picks of smartphones with the best camera phones in 2021 to buy in the UK at good prices.

Apple iPhone 12 Pro

Quad camera
12MP selfie
Smart HDR 3
Dolby Vision for videos
Front cameras are gaining momentum in most phones now and their importance in the user experience is growing. So, we're starting with the best selfie camera phone in 2021. The iPhone 12 Pro.
The main camera module consists of a 4 lenses with one of them dedicated as a depth sensor. The other three are 12 MP telephoto, wide, and ultra wide lenses. In terms of features, this camera has a 2xoptical zoom thanks to the telephoto lens, Smart HDR, dual-tone dual-LED flashlight, and Dolby Vision HDR for videos. Along side your videos, the iPhone 12 Pro will also record sounds in stereo quality. So, if you don't want to use a standalone mic or record sounds separately on a different device, the basic sound recording of the iPhone 12 Pro videos will be sufficient.
Moving on to the selfie camera, the 12MP wide lens is the best camera for your selfie photos and videos in 2021.
Whether you want it for selfies or live videos on social media platforms,
this is the camera for the job. True-tone colors, sharp details, and vivid picture for every frame. While it costs a bit much, the iPhone 12 Pro's camera's are worth the price.
Google Pixel 4a 5G
Dual main camera
8MP selfies
Excellent camera software
Auto-HDR
While the 5G is the main selling point of this phone as it has it right there in the name, the Google Pixel 4a 5G's camera modules are one of its less known, yet most powerful, features.

The main module has a 12.2MP wide lens and a 16MP ultrawide lens. The main camera has panorama mode and both the back and front cameras have auto-HDR. In terms of videos, like all the front-liners of the industry, the Google Pixel 4a 5G's main camera films 4K as well as full HD, also known as 1080p, videos with gyro-EIS. The selfie camera does not disappoint either with a full HD video recording capabilities.

All of these features are in the camera alone. The Pixel 4a 5G pack a punch in terms of display, processor, and battery. All of this for under £500 making this phone one of the best inexpensive smartphones with good camera.

Apple iPhone SE (2020)

12MP wide lens
7MP selfie lens
HDR & Panorama
When it comes to the best camera phones in general, Apple iPhones have to come top of the line. However, iPhones have always failed to compete when it comes to the budget phone competition. Well, not this time. Since Apple has created the iPhone SE (2020) specifically to fit the needs of those who look for an iPhone on a budget, this is the right phone to occupy this spot for the best budget phone with camera in the UK.

While this is a single lens camera phone, the iPhone SE (2020) makes you enjoy all of Apple's advanced camera technology and computational photography which comes with the latest iOS upgrade which is available for this iPhone.

Google Pixel 5

Dual lens main camera
8MP selfies
4K & 1080p videos
Another great phone from Google, the Pixel 5 supports 5G and has a dual-lens camera with 12.2MP wide lens and a 16MP ultra wide lens. In terms of the hardware specs on paper, the Google Pixel 5 camera may not seem impressive. However, all the magic happens within the software itself.

Since Google as a brand is known for its stunning software for years, the Google Pixel 5 is taking advantage of that to lift the performance of its camera post the shot. At its price range, it is absolutely amazing what the Pixel 5's camera can do in low light settings. This level of sharp details and vivid images in low and mid-light settings cannot be achieved by other camera phones that are far more expensive than the Pixel 5 and that it is true strength point.

Samsung Galaxy S21 Ultra

108MP camera
Quad-lens main camera
40MP selfies
Videos with stereo sound recording
Saving the best for last, the Galaxy S21 Ultra has the most incredible camera quality of all of 2021 camera phones lineup. The rear camera consists of 4 amazing lenses. The main lens in 108MP! Yes, you didn't read this wrong, it is indeed 108MP quality. This is only the wide lens.

While other phones have telephoto lenses for zoom shot to provide the camera with a 2x optical zoom range, the Galaxy S21 Ultra has a 10MP periscope telephoto lens, giving the camera the ability to raise its optical zoom up to 10 times!

Then comes another 10MP telephoto lens that provides up to 3x optical zoom feature. As mentioned before, optical zoom is better than digital zoom when it comes to camera phones as it alters the light to actually make the photo's subject look closer whereas digital zoom only crops the photo which can affect the quality of the photo when you try to use the zoom feature.

Last but not least, the ultra wide lens of the Galaxy S21 Ultra's main camera comes at the quality of 12MP providing great photo quality for wider shots as well as extra steady frames for the videos.
Selfies are at 40MP quality with a wide lens that also films 4K videos at 60 frames per second with the support of auto-HDR.

Bonus Option: Cheaper Prices!

Other camera phones that provide amazing photo and video quality include:

Samsung Galaxy S10+
Apple iPhone 11 Pro
Apple iPhone 11 Pro Max
OnePlus 8 Pro
Google Pixel 3a XL
All of these devices and more can be found in a perfect like-new condition at
this website
among the great cheap UK refurbished phones the brand is now offering with a 12-month warranty and a 30-day refund guarantee.
These deals facilitate affordable deals on pricey flagships with premium cameras. This way, you get the high-end experience at a much more affordable price range and with all the standard guarantees and policies included.
The deals are also eligible for free next-day shipping as well as monthly payment plans that are free of interest. These plans are available through Klarna and PayPal Credit offers.