Comparison: OnePlus 8 Pro vs iPhone 11 Pro Max

OnePlus 8 Pro vs iPhone 11 Pro Max: Specs and Price Comparison
by Ishaan Seth July 27, 2020

OnePlus has finally revealed their latest offering in smartphones which is the OnePlus 8 Pro. It is equipped with the latest hardware, 5G ready, and upgraded cameras that can compete with others in the market. It still boasts of a sleek style and design that OnePlus is known for which makes this model the talk of the town.

However, with all these upgrades and new features, this is probably the most expensive flagship phone that OnePlus has in its roster. With just $100 shy from reaching $1,000, this smartphone is in competition with Apple's latest star which is the iPhone 11 Pro Max. The question now is which one is better than the other? Let's find out more about Apple iPhone 11 Pro Max vs OnePlus 8 Pro.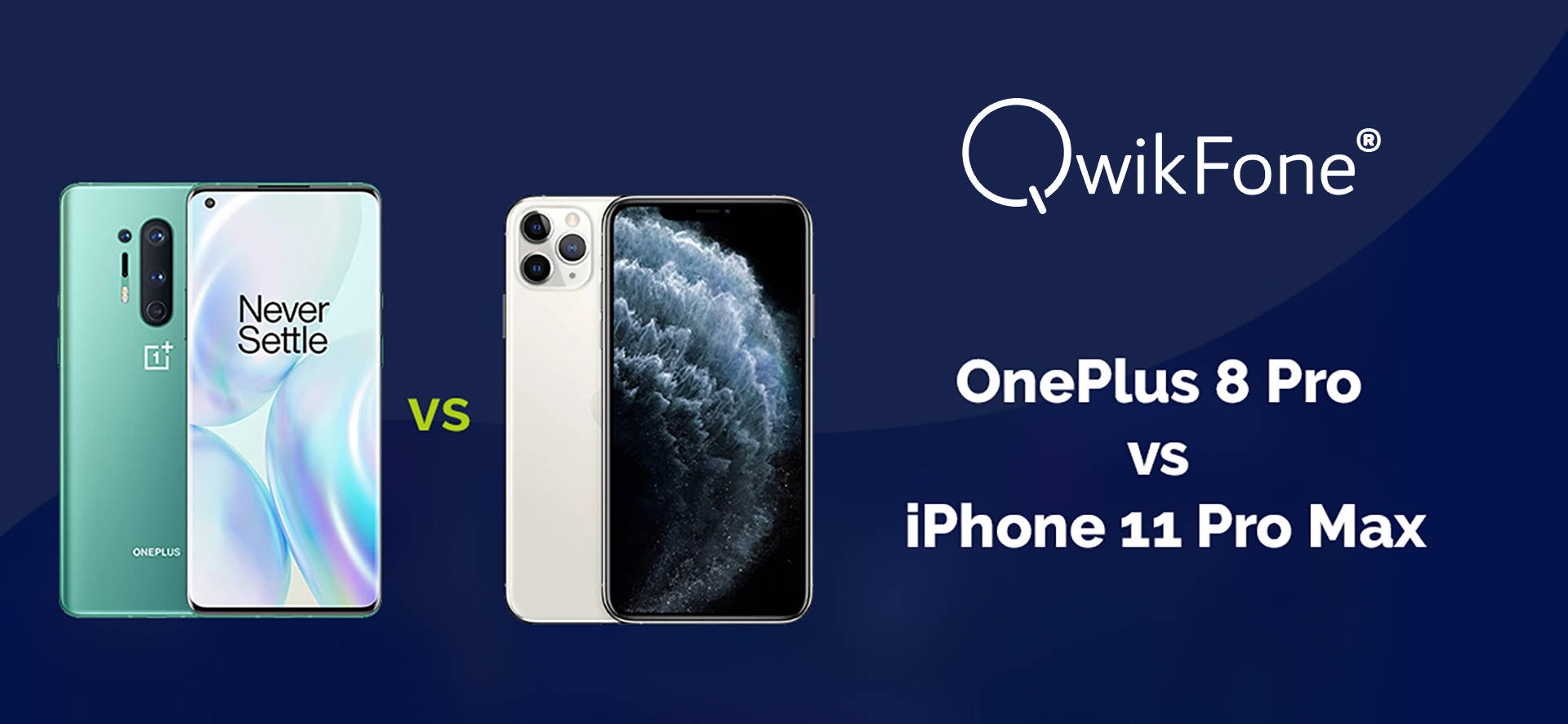 Overview of Specs of OnePlus 8 Pro and iPhone 11 Pro Max

Before we get into detail, let's view the specs on these two models first:

OnePlus 8 Pro

Screen Size: 6.7 inches AMOLED
Weight: 6.81 ounces
Screen Resolution: 513ppi
Operating System: Android 10 (OxygenOS)
Storage: 128GB, 256GB
Processor: Qualcomm Snapdragon 864
Screen Size: 6.5 inches Super Retina XDR OLED
Weight: 7.97 ounces
Screen Resolution: 458 ppi
Operating System: iOS13
Storage: 64/256/512 GB
Processor: Apple A13 Bionic Chip
OnePlus 8 Pro vs iPhone 11 Pro Max: Specs and Price Comparison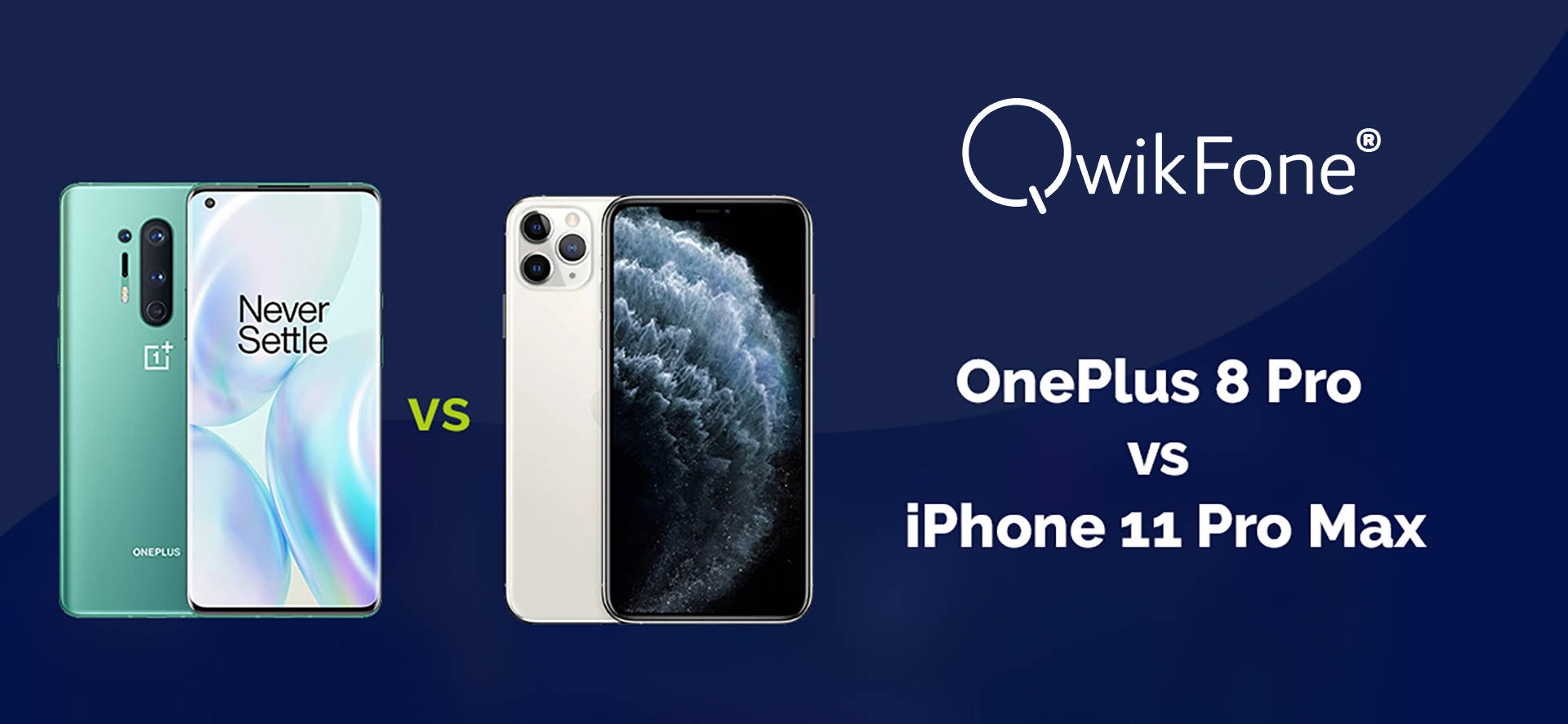 If you want to figure out which of these two is the best, then you need to compare Apple iPhone 11 Pro Max vs OnePlus 8 Pro. There are several factors that you need to consider when shopping for a gadget like these two. Here we will talk about the important features of the two to see which one stands out.

The design of the OnePlus 8 Pro may have some similarities with the previous models, but there are notable differences too. For starters, the pop-up camera for taking selfies is no longer there. Instead, you'll get the traditional punch hole in the phone's screen which is good enough since it barely registers to anyone looking at the front portion of the phone. Glass is still used in the body of this smartphone, but OnePlus applied matte coating to minimize any sign of fingerprints. The screen size is 6.78 inches with a refresh rate of 120Hz which is quite impressive since it helps load the screen faster and has a good response too.

On the other hand, the 11 Pro Max by Apple is massive too with the large screen that has hardly any bezel on it. However, the selfie camera here appears to be a large notch which can be a bit off-putting for some iPhone users since it is noticeable. Even if this is smaller compared to the OnePlus 8 Pro, it is heavier since it is composed mostly of stainless steel. This makes it extra durable compared to its competitor, but it can be a bit bulky too. These two devices do come with an IP rating of 68 for water and dust resistance meaning that they can withstand exposure to water at a certain limit.

Performance of Processors and Batteries

Other factors that should be considered when choosing between Apple iPhone 11 Pro Max vs OnePlus 8 Pro are their processors and their batteries. Like it was indicated above, the 8 Pro runs on Snapdragon 865 which is the latest in the market with RAM of up to 12GB. Even with all the heavy-duty applications installed, this device worked smoothly. You don't have to worry about lags either because OnePlus has upped its performance considerably.

Apple's own 11 Pro Max doesn't shy away from tough jobs thanks to its A13 Bionic chip where you can expect smooth performance all the time. It doesn't matter what kind of applications and even games you have installed on this iPhone, it can handle anything you throw at it.

What about their batteries? The battery in the iPhone 11 Pro Max is tough as it can deliver more than a day's use even when the device is used heavily. But when you compare it with the OnePlus 8 Pro, it is no match. After a day of moderate use, the 4,510mAh battery in OnePlus 8 Pro only lost 25% of charge. Even the charging capabilities of this device is outstanding since it can push it to 55% for only 24 minutes' worth of charging. For the first time, the company has also added a wireless charging feature for the 8 Pro and it doesn't fail to impress.

In the world of smartphones, the camera is where the competition heats up. So far, with regards to camera quality, the iPhone 11 Pro Max is in the lead. The triple-lens camera of this model offers the most impressive images no matter what setting you are shooting. Add to this the fact that it now has a Night mode which is perfect for taking photos under low light. Even though the blur background feature is not that perfect, there is no doubt that this is the best camera smartphone today.

But how does OnePlus 8 Pro compare?

So far, the OnePlus 8 Pro has a 48MP main camera lens, 48MP wide-angle lens, as well as an 8MP telephoto lens on its unit, plus its newest feature the Color Filter lens. The first three lenses work well and take great shots too, but the Color Filter is not that striking for us. Between the two, the iPhone 11 Pro Max is better in terms of camera quality. You can also have a look at
Oneplus 8 pro vs Samsung galaxy S20 plus which one to buy
.
The battle of operating systems of Apple iPhone 11 Pro Max vs OnePlus 8 Pro has no clear winner since both their OS work amazingly well. The OxygenOS used in OnePlus is known for creating amazing skins for Android devices, plus it is lightweight and has plenty of interesting features. In the case of iPhone 11 Pro Max, it runs on iOS 13 which is just as quick. It all boils down on which OS you are most comfortable using.

However, when it comes to software updates, Apple definitely beats its competition by a mile. OnePlus does its best to deliver updates regularly, but the tech giant, Apple, constantly releases software upgrades that no other companies can do. If you want a mobile phone that has updates regularly for improving its overall performance, then the Apple phone is a smart choice.

Apple is not one to install extra features on its iPhones not until they have perfected them. This means that their iPhone 11 Pro Max may not have any extra frills to it. Still, their FaceID security feature does come in handy in tightening your device's security, plus it has both Memoji and Animoji too. It is also believed that the U1 chip may have an additional function other than the AirDrop.

In the 8 Pro, however, it does come with several features such as the fingerprint scanner at the back, its 120Hz refresh rate, and Zen mode just to name a few. The refresh rate makes the user experience more enjoyable, while the Zen and gaming mode are both beneficial to gamers out there. Additionally, OnePlus' flagship phone is 5G ready which makes it a clear winner here.

Now that we know more about the hardware and software components of these devices, what about their retail price? Currently, the iPhone 11 Pro Max is sold at $1,100. You can get from most of the carriers in the US too as well as other online stores as well. The 8 Pro by OnePlus is currently priced at $900 and is only available with T-Mobile and Verizon. Although the 5G feature is enticing for many, you can only enjoy this connectivity if your area is 5G ready.

These two smartphones can stand toe-to-toe against one another, but Apple's product does have an edge over its competition especially when it comes to camera specs. Since most mobile phone users want a gadget that enables them to capture clear and high-quality photos, it is not surprising that they will go with the 11 Pro Max.

However, this doesn't mean that OnePlus' offering doesn't have anything to offer. As a matter of fact, it has more extra features to it, such as the fingerprint scanner at the back, 120Hz refresh rate, plus, it is 5G ready too. Also, the battery does work better compared to its competitor and is one of its strongest points too.

Which one should you get? This depends mostly on what your preferences are. If you are an Android user who wants a gadget that will give you almost the same value as that of an iPhone, then the OnePlus is a good option to consider. On the other hand, if you are thinking of trying an iPhone, the 11 Pro Max will give you good value for your money, particularly with the camera, software updates, and design too. Don't forget to consider the cost of these devices and whether their specs are worth the price that you will have to pay for them.