11 Things to Look for When Buying a Refurbished Phone

11 Things to Look for When Buying a Refurbished Phone

by Ishaan Seth December 10, 2020

Mobile phones make life more convenient for us as these gadgets make communication faster, plus they have various features to enjoy. Year after year there are new smartphones up for grabs with their designs looking more premium than the next. But the high retail prices of these gadgets may be an obstacle to many hence refurbished mobile phones unlocked are looking to be more affordable options.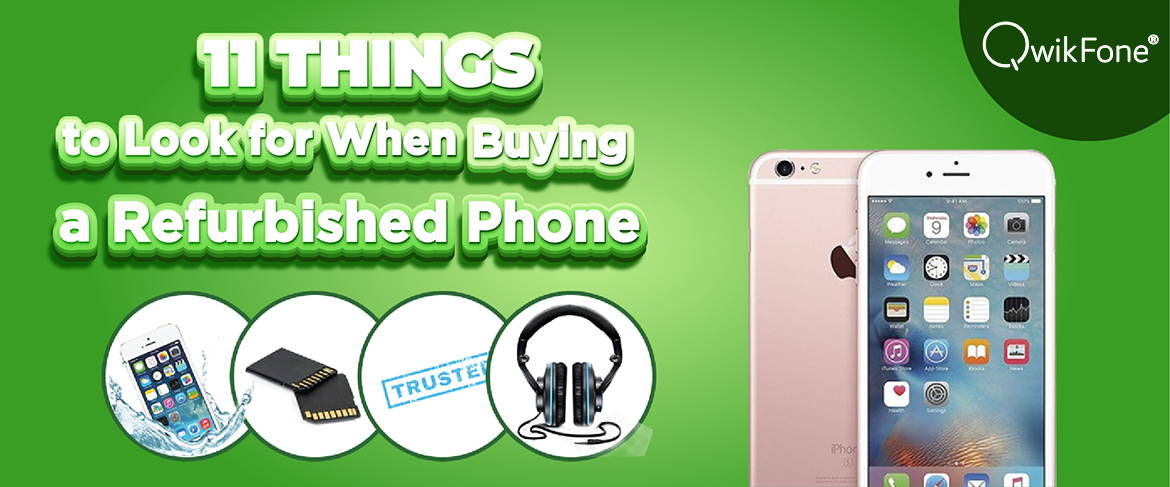 Buying Tips When Going Refurbished

The internet is the best place for you to find mobile devices that have been refurbished since there are literally dozens of platforms to purchase from. But how will you be able to decide which is the right one for you and that you will get the best value for its price? To help you narrow down your choices, here are the
reasons to consider before buying a smartphone
.
11 Things to Look for When Buying a Refurbished Phone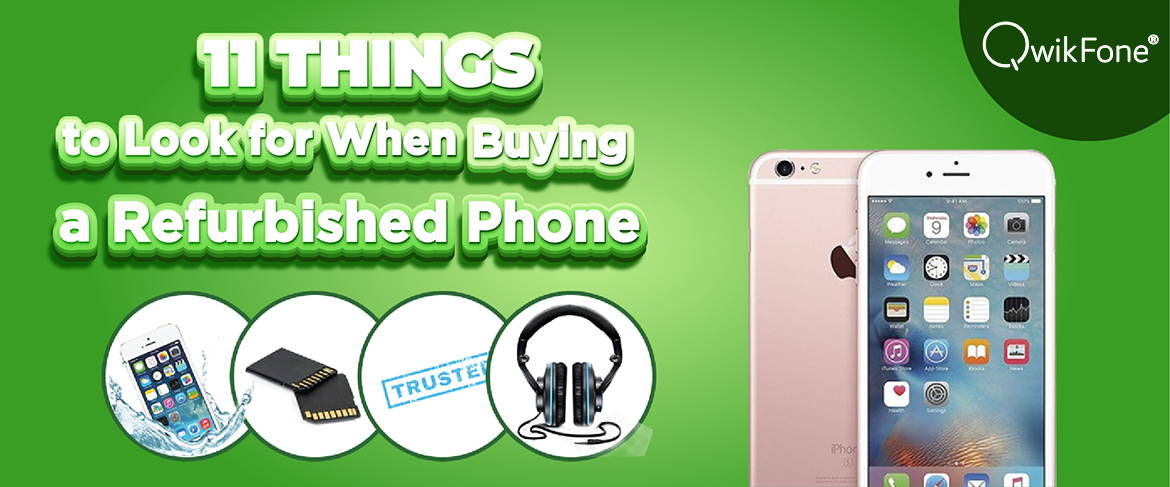 Trusted Seller.
It is not surprising that there are some people who are hesitant to purchase second-hand gadgets for fear that they will be scammed out of their money. This is why, if you are in the market for one, you should always start with the manufacturers themselves. Yes, they do sell refurbished so you can check out their options. Now with the third-party retailers, you should look for those who have established themselves in the industry.


Go Unlocked.
Since you are toying with the idea of buying a refurbished model, it is important that you look for one that is not limited to a single carrier. This is the whole point of skipping the brand-new models which are, most of the time, have a lock-in period to specific carriers. Trust us when we say that going for refurbished mobile phones unlocked is a whole lot better than being at the mercy of a single carrier. Also, this would mean that you can bring and use your refurbished unit when you travel! That's a win-win!


With or Without Accessories
Ask yourself if you will go for just the handset only or with all the trimmings. If you will go with the latter, it is important to determine the condition of the charger, headsets, or earbuds even. They should be up to factory standards otherwise you are better off buying from a different seller instead. Ask the seller for more details about the accessories included and whether they come with an additional fee.


Quality Matters
The common misconception about refurbs is that their quality will not be up to par with the unboxed units. This would be the case years ago when the idea of refurbishment was still in its infancy. Today, however, there is a set standard that refurbishing companies and certified technicians follow to ensure that the quality of the smartphone will be up to the standards of the manufacturers. That said, you should still know the quality of the device that is being sold based on its grading. Here's the basic:
Grade A - This means that the second-hand mobile device is almost like-new in both exterior and interior components. The flaws if there are any will be minimal. The performance will be like it was new.
Grade B - Minor flaws but still working great.
Grade C - Flaws are visible such as chipped glass or smudges on the casing. Quality is around 80% at least.
Basically, the lower the letters, the poorer the condition will be. That said, always aim for the first two letters as they will provide you with better value for the price that you have paid. Aside from reading the descriptions of the sellers, if you can visit their physical store then by all means do so. This way, you will be able to physically check and test out the refurbished unit so you can determine if it is what you are looking for.

5. Warranty
Another example of things to consider before buying a smartphone is whether the seller is offering a warranty. Warranty is your protection in case the device malfunctioned after a few months of use. Usually, the warranty should match what you will get when you buy a new device which means that it should be up to a year. This way, you can return the phone to be repaired for free.

6. Returns
A reputable retailer will always offer up to 14 days for you to return the item you have bought for a full refund. If the seller doesn't offer one or can only give you up to a week, it would be safer to look for another one. Do not buy from a shop that doesn't offer returns unless you are buying from a friend or from an individual.

7. Legitimacy
Unfortunately, there are some people who steal smartphones then sell them for a good price. If you are just new to buying a refurbished device, you might end up with one. Aside from making your purchase from reputable and trusted sellers, it would also be a smart move to ask for the serial number of the smartphone. You can use this to check online if it is a valid number or whether it has been stolen. This will only take a few minutes of your time and will give you peace of mind too knowing that you have a device that is legit and not flagged as stolen.

8. Software Support
Aside from choosing refurbished mobile phones unlocked, you should also check whether the device's software is upgradable or not. Unless you are fine with older smartphones, if you do plan on getting the more recent ones, check if how long it will receive an upgrade or update in terms of OS. The recent smartphones will have up to three years of updates give or take.

9. Water Damage
What else should you consider when shopping for refurbs? It doesn't matter what brand you will be purchasing, you should inspect the device if it has been exposed to water at any point in time. If the device has been exposed to water, its water resistance functionality may no longer be present, plus there is the possibility that there are some parts that have been damaged too.

10. Storage
The good news is that you will find different refurbished mobile devices with various internal storage capacity. You should decide how much space you need and whether the price tag attached to it fits your budget. If you are a heavy user and require storage for your games and photos, then go for the highest storage available. Also, if possible, look for one that comes with a slot for the microSD for added storage capacity.

11. Payment System
Parting with your hard-earned money, even when it comes to refurbished devices, means that you will want a seller who will guarantee that your money will be in good hands. Buying from individual sellers is risky especially since there is no guarantee that the product that they are offering is legit or is in good condition. This is why it is better that you buy from a retailer that has a proven track record and comes highly recommended too since they can guarantee that your payment is safe and that the item you will get in return will be worth the value you paid for it.
Buying Tips When Where Can You Find Quality Refurbished Smartphones?

Now that you have an idea on the things to consider before buying a smartphone, the next thing that you should know is where you should go for high quality refurbished units. Like it was mentioned before, there are several places where you can grab these pre-loved units, but here are a few options to start with.

Amazon. Amazon is always a good place to start your search for refurbs since they do have a section devoted to refurbished electronics. The mobile devices that you will find here come in different conditions which means that you need to be a bit thorough with your research to land the right one for your needs.
Best Buy. Not only will you find refurbished units here, but they also sell pre-loved as well as opened-box models. However, they are into selling Apple products more, but you will still find a good selection of brands here at reasonable prices. The open-box models give you a chance to land the recent handheld devices at discounted rates that are in pristine condition.
QwikFone. It doesn't matter whether you are looking for cheap Samsung phones to buy, or OnePlus, or even Apple, this website offers an excellent collection of pristine and unlocked refurbished mobile devices at just the right price. These gadgets have undergone a strict refurbishment process to meet the standards of the manufacturers. And they also offer a full year warranty with all of their units too.
If you are looking for refurbished mobile phones unlocked, you should consider the tips mentioned above. This way,you will not have a hard time choosing the appropriate model for your needs as well as where to buy one from. After all, there are literally dozens of sellers out there that offer a variety of refurbs but the quality will vary for sure that is why you should always start with reputable retailers to get the best deals available.