Top 5 Reasons To Buy Refurbished Phones (Updated 2020)

Top 5 Reasons Why It Is Better To Buy Refurbished Phones (Updated 2020)

by Ishaan Seth October 15, 2019

Smartphones, in general, are pushing the innovation limits every year making older versions obsolete and obligating users to buy the newer versions even if they were originally satisfied with the ones they already have. As a result, the smartphone consumption levels have been sky-rocketed in the last decade, creating a new problem for users financially as well as for the environment and our planet that is suffering from pollution.

In our search to find a way to help our planet, and our users' pockets, we found that refurbished phones are the best way that users can enjoy new mobile technology breakthroughs with a minimum effect on their budgets and the environment.
In this article, you will find the top reasons to buy a refurbished phone and how refurbished phones can be better than buying the same phone brand-new.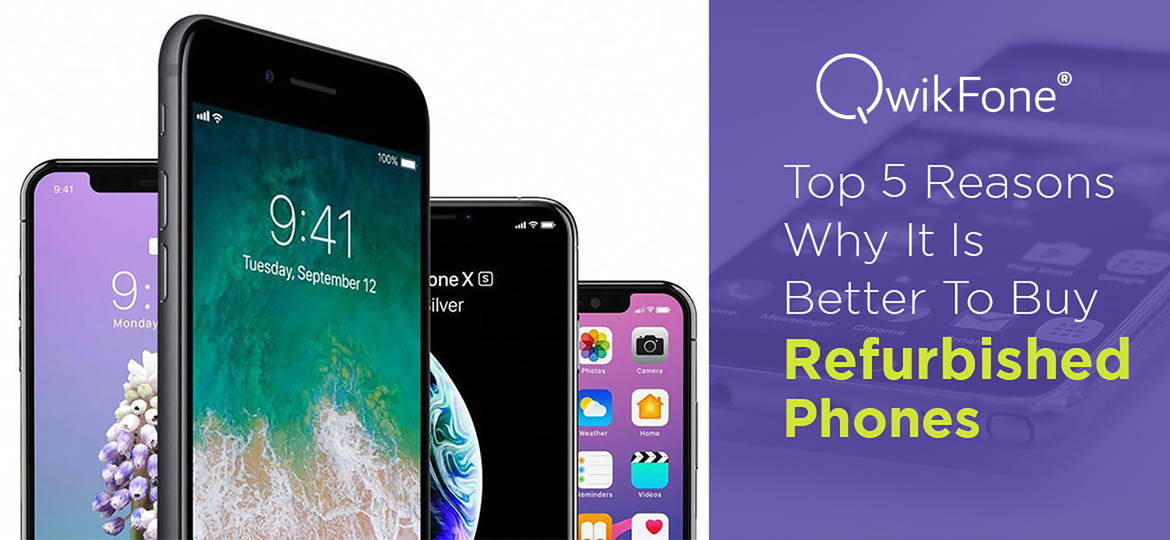 What does a refurbished phone mean?
While smartphones are popular and an essential part of everyone's daily lives, fewer people know what refurbished phones are and what does the word refurbished mean in the first place. The reason for this is that when it comes to electronics, in general, users prefer to buy brand-new devices to guarantee the performance and the lifetime. In other words, users want to ensure the value that they are getting in exchange for their money. This is why all other options for smartphones other than the brand-new ones are often dismissed by most buyers.
However, now more than ever, it has become important to consider budget-friendly options when it comes to buying a smartphone in 2020. So, lets explore what does a refurbished phone mean?
There are two cases where a smartphone is considered refurbished: first, there is the case of a brand-new device that has been purchased by a user and then returned to the seller for having an issue. After the manufacturer repairs that issue, the phone is then re-listed for sale as a refurbished phone.
The other case, is a pre-owned smartphone that has been kept in a perfect condition by the owner in order to be sold when it is time for the owner to upgrade to another phone. The phone is then obtained by professionals such as
QwikFone
to be refurbished.
In both cases, the refurbishment process includes a thorough test for all of the phone's parts and functionality to ensure that the phone is as good as new or pristine. Then, if any thing in the phone needs to be improved or repaired, the part is replaced with an OEM part which is made by the same manufacturer of the phone so that there will be no difference in the phone's performance after it is refurbished.
So, essentially, a refurbished phone means that the phone has been returned to its new condition and re-sold for less price.
So, should you buy a refurbished phone in 2020? Read on and find out!
Top 5 Reasons Why It Is Better To Buy Refurbished Phones (Updated 2020)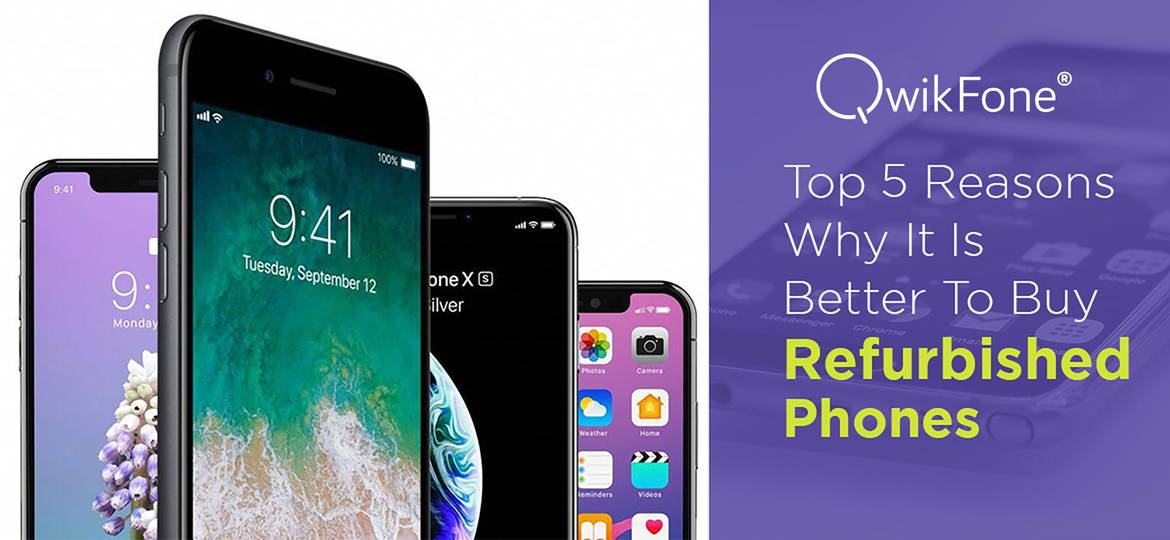 Refurbished phones are a wiser choice financially

First things first, let us start with the financial aspect of buying a new phone. Of course, every single user would want to buy the latest iPhone, or the most premium Android phone the day they come out. However, this is not an option for most users primarily for financial and budget considerations.

Flagship phones nowadays come with nearly £1000 price tags, and the iPhones have recently exceeded even that! At these prices, you need to cut a considerable amount of money off your budget if you wanted to keep up with the latest technologies, or just ignore those technologies and stay back.

Thankfully, these are not your only two options. With a refurbished phone, you can get a flagship phone with premium specs a few months after its release and at only a mid-range price, or even a budge-friendly price if you wait for the right time. So, you can save money by buying a refurbished phone without having to go with an old version of the phone you want.

Refurbished mobile phones offer better technical options

An important thing every smartphone enthusiast knows is that there is a good and a bad time to buy a smartphone. To determine the best time to buy your desired refurbished mobile phones, you need to keep track of your favorite company's releases.

Let's take Apple's iPhone and Samsung's Galaxy S as an example, each of those lines release two devices every year. Apple releases its iPhone in September of each year and then follows it up with its "S" version which is usually the biggest sized version with enhanced specs. This means that the best time to buy the refurbished iPhone is around July or August before the new launch.

Samsung, on the other hand, releases its Galaxy S in March or April and follows up with the S Plus version which, again, a bigger and enhanced version of the previous device.

So, essentially, the best time to buy your refurbished phone is one or two months before the release of the next device from the same company. This way, you would have the latest technology at the lowest price!
If you are patient enough to wait longer, however, waiting a year more means that you will be able to save even more money and get the same premium cutting-edge features. So, if you were thinking: "Should I buy a refurbished phone in 2020?", then the answer is yes. In 2020 more than any other time, refurbished phones are the perfect opportunity to get good features in your next smartphone while cutting expenses at the same time.

Another important advantage of buying refurbished mobile phones, that is often overlooked, is that it is easier to find an unlocked refurbished phone than when it is brand-new. QwikFone unlocked all of the refurbished devices to give the customers more freedom in picking their own carriers and switching SIM cards whenever they need to.

Buy refurbished mobile phones to save the planet

It may seem like an exaggeration initially, but after you learn that mobile phones are mostly made of plastic, you will understand why it is important for the planet to buy refurbished mobile phones rather than brand-new ones.
The reason mobile companies prefer to use plastic in their devices is the same reason users need to start buying refurbished mobile phones; plastic lasts a long time without dissolving or braking. This makes it the perfect material for durable mobile devices and Earth's worst nightmare that can last for hundreds of years without anywhere to go but to the sea where it piles up and kills sea creatures!
Since the only way to handle plastic pollution is through recycling,
refurbished phones are the best environmental option
as reusing already manufactured devices is the first form of recycling. So, essentially, buying an already existing phone is better than buying brand-new making companies manufacture more plastic for more phones.
Refurbished smartphones are much better than you think

There is a common misconception about refurbished phones; many people think that a refurbished phone must have been used to the point of being worn, dropped, broken, and had its most important parts, like the screen, replaced.

It is true that refurbished mobile phones have been preowned by another person, but this does not necessarily mean that the phone is worn. In fact, it does not mean that it has been used at all. In some cases, users will buy a brand-new smartphone, change their minds and then return the phone. Now, because the phone has been preowned, it has to be put on the market as refurbished when, essentially, it is brand-new.
Pristine devices are in most cases devices that have been returned for minor defects or by a customer who changed his or her mind. This means that a refurbished smartphone does not necessarily mean a worn or broken device.

Another misconception is about the quality of the refurbishment process itself. While many people think that there is no inspection of the refurbishing of a phone and that a brand-new phone is trusted to be 100% perfect all of the time, the opposite can be true!

A new device can be released without proper inspection as a mistake or a coincidence while a refurbished device must be tested for performance and aesthetically in order to be graded A, B, or C according to its condition.
You can get a refurbished phone with a warranty!

Used phones do not come with a warranty; refurbished phones, on the other hand, come with a warranty to give the user a chance to ensure that everything is fine with the device. The red flag about a refurbished phone comes when you check the warranty period; is it a month? is it 14 days? is it a week?

Those periods of time are suspicious because no person can truly test a device in such a short time. Return periods can be that short as they depend on whether the user will change his/her mind about the purchase. Warranties, on the other hand, are related to the condition of the device itself and how much the seller trusts the quality of the handset. So, a one week warranty is a huge red flag that you should not get this device.

Although having a warranty policy is not exactly one of the reasons to buy a refurbished phone like saving money is, but is is definitely one of the most important part of any refurbished phone trustworthy deals.QwikFone offers a one-year warranty on its pristine mobile phones is a huge indicator of the devices like-new condition and the company's high-quality services.

Buying a refurbished mobile phone in 2020 is better for many users than buying brand-new phones for obvious budget reasons. Trying to save money on your next smartphone by buying it refurbished does not mean that you have to compromise neither on the phone quality nor on your rights as a customer. With the great benefits of buying a refurbished smartphone, there are deals that also will include the accessories of the phone, a standard return policy with full refunds, and a lengthy warranty period. QwikFone is offering all of this and much more with its refurbished phone so that our users are able to save money and enjoy the best refurbished phone in the UK market. So, make your decision wisely and pick the smart choice of refurbished phones.