Upcoming 5G Phones In The Mobile Market In 2020

Top Upcoming 5G Phones In The Mobile Market In 2020

by Ishaan Seth December 10, 2019
5G phones are set to be the dominant trend in the smartphone phone market in 2020. The new technology is taking the mobile phone market by storm and any smartphone company should come up with its 5G devices or else it will be missing out on a huge part of next year's sales opportunities.

From the users' point of view, most of us just want to know the basics of 5G to be able to decide whether to get a 5G phone or not and if so, which phone of which brand should you get?

This article is answering all of your questions about 5G and its upcoming phones in 2020.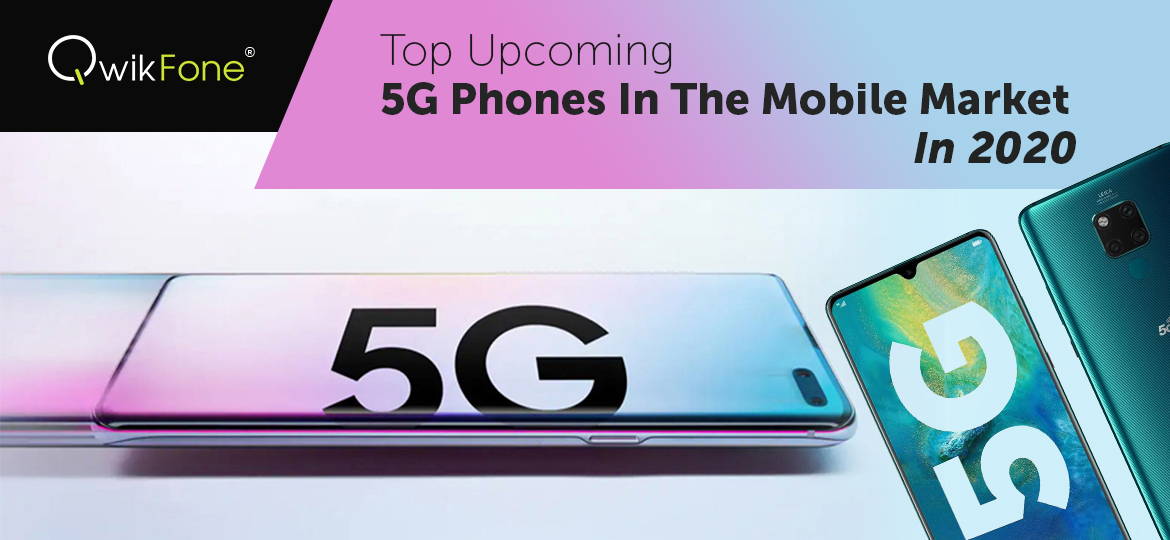 Should you get a 5G mobile phone?

For most smartphone users, the upgrade to the next generation of networks comes naturally along with buying new handsets as smartphone manufacturing companies include new technologies in the new devices. However, the timing of obtaining this new technology is what matters to make a wise decision of whether to buy the new expensive handset. In other words, should you spend a small fortune on a 5G smartphone as soon as it comes out, or would it be better to wait for 5G to become the mainstream network technology in smartphones to get it?

To answer this question, we need to take a look into the differences between 5G and the network generation that all smartphones currently support.

Main differences between 4G and 5G

While most comparisons between 4G and 5G focus on the mere numbers of the bandwidth and latency, the non-technical user wants a quick and to-the-point answer. Also, just saying that 5G is going to allow more bandwidth and speed and offer less latency won't be clear enough. This is why the best comparison has to relate to features users know and are familiar with in order for them to be able to make sense of it.

For example, saying that 5G is going to be 10 times faster than 4G internet won't be as clear as saying that 5G will have 4K resolution for video calls. It will also allow faster downloads with ultra-high quality and resolution. With such speed, live streaming over 5G networks will be better than a dream!

With 5G network abilities, users will finally be able to replace home broadband with a 5G router. This router will offer a better internet experience and will make life easier for renters who need legal contracts to have a home ADSL line.

Top Upcoming 5G Phones In The Mobile Market In 2020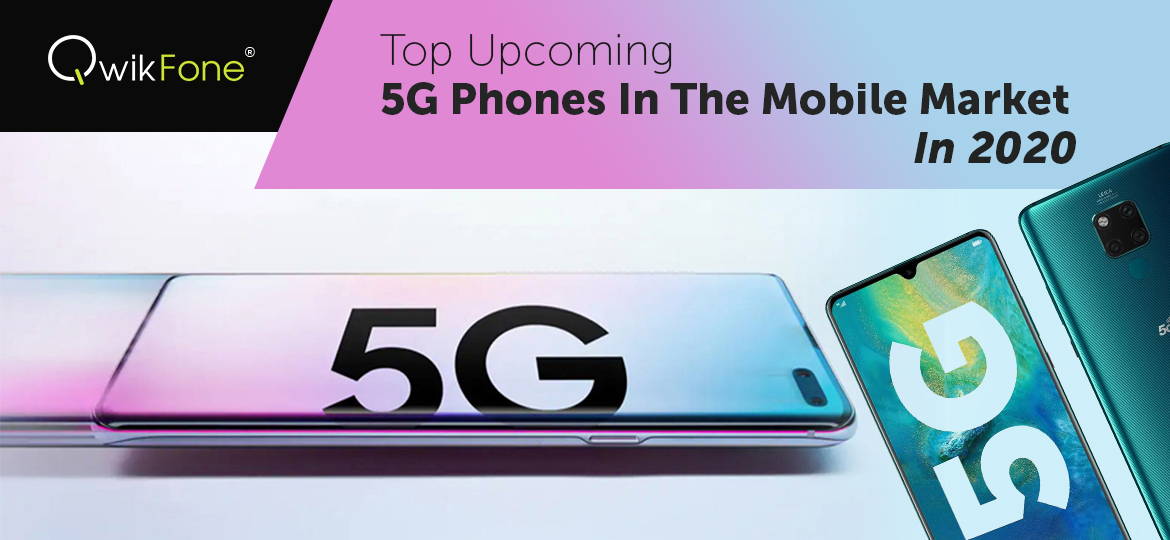 Top upcoming 5G phones coming in 2020

Now that you have a clear
idea of the 5G network potential
, it is time to check out the main players in the smartphone market that are going to be jumping to the 5G wagon soon. Some of these smartphones are already out, while others are expected to be released by the end of 2019 and early 2020.
Samsung is the biggest smartphone company joining the 5G game early with two devices. The first one is this Samsung Galaxy S10 5G which came early and prepared. This 5G phone is for users who care only about technology and don't mind the high price of £1099. The screen is amazing for watching those super-fast 4K live streams and the battery will support the long hours of gaming and watching videos. As for the rest of the specs, Samsung is not cutting any corners with this flagship. You will be getting a triple camera system with 4K video recording capabilities to support your own live streaming as well. With the Samsung Galaxy S10, stories have never looked better of felt more real.

As we're all used to from Samsung, with every S comes a Note. The Samsung Galaxy Note 10 Plus 5G supports the first 5G network. While it is normal for smartphone reviews to vary according to each individual's requirements in a phone, this phone's reviews are all agreeing on one thing; the Galaxy Note 10 Plus is the best Samsung phone to date. With its amazing color variation and supporting 5G, the Galaxy Note 10 Plus 5G is the real deal!

Ever since OnePlus started making smartphones a few years ago, their phones have been only high-end flagship level at a mid-range price. With the OnePlus 7 Pro, the price, admittedly, has gone to a higher level, but so has the features and the quality. The OnePlus Pro 7 5G is similar to the original version of the phone except that it supports 5G networks with all of the speed and accessibility that it provide.

While multiple 5G phones are available in the market right now, Oppo Reno 5G is one of the few unique phones that supports 5G. In addition to the advanced high-quality specs, the Oppo Reno 5G has an elegant design. The pop-up front camera is adding a futuristic feeling to the phone. However, the 5G aspect of the phone is seemingly affecting the phone's battery life and overall performance. So, keep your average usage battery needs in mind while taking the new 5G phone decision.

Coming to the more affordable options of smartphones that support 5G, Moto Z3 5G is the first powerful phone of this range. You won't find the impressive futuristic design or the advanced flagship specs with this device, but you can rest assured that you'll get the battery life and 5G support you're looking for.

The unique thing about the Moto Z3 is that 5G is optional for it! 5G support is not built-in the device but can be added to it using a module. When you think about it, it is an advantage of the Moto Z3 as it allows its users to choose whether or not to buy the module.
Huawei created the Mate 20 X 5G to be the perfect smartphone for the new network's generation speed. It has a premium design and a versatile 40MP camera. The 7.2" screen is big enough for a good watching experience without making the phone's size too big to hold and handle using one hand. With the 256GB internal storage, you won't need an SD card for additional memory space.

With all of these amazing flagship features, the Mate 20 X 5G has also nailed a battery big enough to sustain its power and power-consuming features. So, you won't be facing any hardships with this one!

The first attempt by LG to make a 5G phone is a successful one! the LG V50 ThinQ 5G packs a Snapdragon 855 chipset, 6GB of RAM, and runs Android 9.0 (Pie). The sleek design is able to contain 5 versatile cameras and a headphone jack. That's right! A headphone jack at last!

Since 5G is all about the internet speed and the display quality, it is important for 5G phones to have a good screen in order to be able to display 4K videos. The LG V50 ThinQ 5G has a great OLED display at the size of 6.4 inches and 1440 x 3120 pixels resolution. All of these specs support an amazing watching and gaming experience powered by a 4000mAh battery. So, overall, there are no worries with the LG version of 5G support.

Another super affordable option for 5G 2020 phones is the Xiaomi Mi Mix 3 5G. Of course, Xiaomi always offers the non-expensive option of any new technology and this time there is no difference. Some may have a problem with the not-so-cool design, but at the price point of £300 for 5G streaming on a 6.4" screen, the design priority can take a step back!

The Mi Mix 3 has two front-facing pop-up camera at 24MP which enables it to be a great vlogging phone that can film full HD videos and capture high-res photos. In other words, this budget 5G phone is perfect for all of your social media needs. True, the Mi Mix 3 doesn't have a 3.5mm jack for earphones, but most of the 2019 and 2020 flagships don't have that either and a pair of USB Type C earphones will solve this issue with ease.

What about iPhone? Is Apple going to give us a 5G phone soon?

5G was first introduced in the second half of 2019. By that time, Apple had already everything set for the iPhone 11. While iPhone 11 had some good news for Apple users regarding its price, the 2020 iPhone 12 is expected to have a high price tag once more due to its new features including the 5G capabilities.
Even for those who are ready to get the 5G iPhone 12, it won't be possible for another year. Unfortunately, Apple users will have to wait until September 2020 to get 5G on the iPhone 12. However, the good news is that it is coming eventually. Till then, refurbished iPhone 12 can be a good option. Buy it from
here
.
Of course, avid iPhone users will have no problem waiting for their cup of tea no matter how long it takes. At the end of the day, 4G is working fine so far over home broadband and even 4G networks for those who can afford the data packages.