Underwater Phone Photography | Best Waterproof Smartphones

Underwater Phone Photography | Compact Waterproof Smartphones

by Ishaan Seth April 30, 2021

Underwater photography is a unique genre in photography wherein the primary tool you need, regardless of the brand and type, is a waterproof camera.

You probably think you will need to use those fancy equipment like a GoPro or those waterproof cameras you see scuba divers use to take pictures of marine life. Believe it or not, you can take beautiful underwater pictures without using some special and expensive equipment. All you need is your trusty smartphone.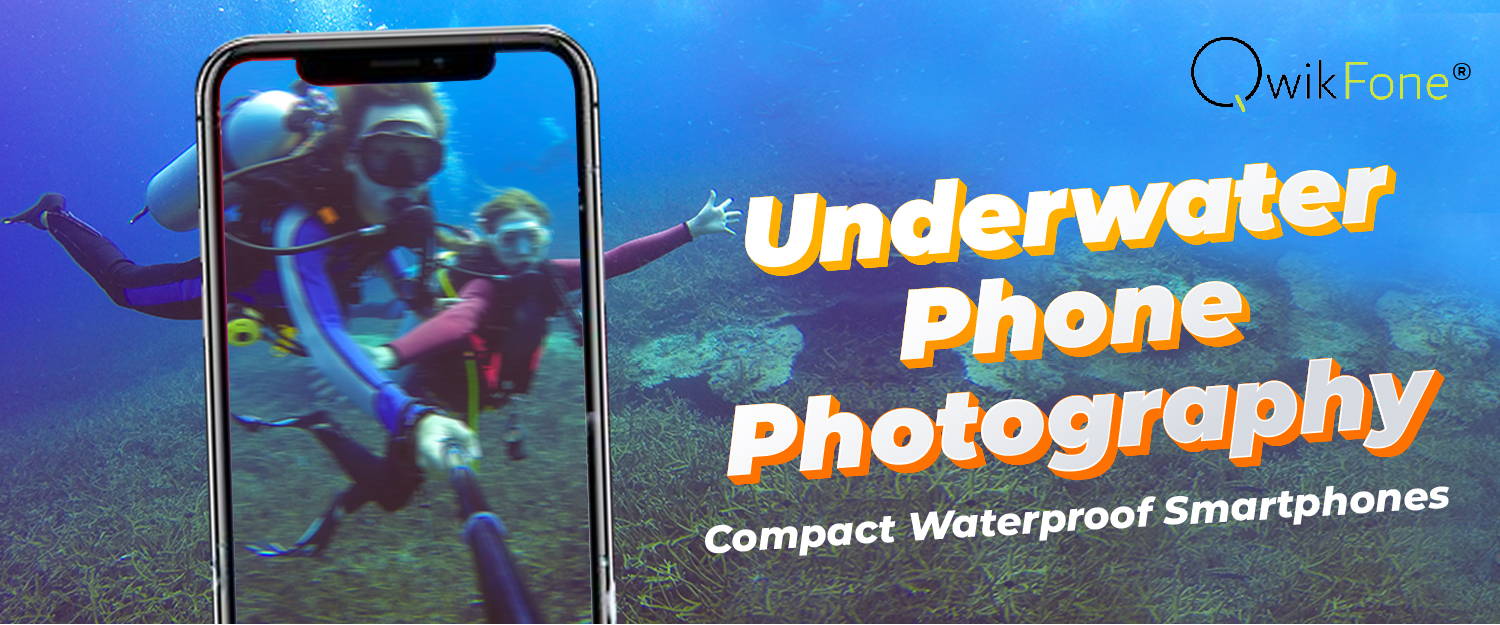 What are the best phones for underwater photography?

With the perfect smartphone at your disposal, the right protection, and a few adjustments to your photography technique, you can produce incredible underwater pictures.

The following are the five best compact waterproof smartphone you can use for underwater phone photography.

OnePlus 8 Pro. If you are looking for the best waterproof mobile phone and a wallet-friendly option, the OnePlus 8 Pro is the right one for you. This smartphone is rated IP68, which means it can be submerged in 5 feet or 1.5 meters of water for 30 minutes.
OnePlus 8 Pro has a 6.78-inch Quad HD screen with a refresh rate of 120 frames per second. This makes your underwater shooting experience smooth and enjoyable.
With its 48MP primary camera, 48MP wide-angle lens, and 8MP telephoto lens, you can take stunning images of the undersea creatures and environment. The OnePlus 8 Pro has 8GB of RAM and a powerful Snapdragon 865 processor. This will make it very easy for you to use third-party camera apps and editing software.
The OnePlus 8 Pro also has a 4,510 mAh battery that can last a very long time and is quikly recharged.
iPhone 12 Pro Max. Apple has boosted the water resistance of this smartphone, allowing the iPhone 12 Pro Max to withstand six meters of water for up to 30 minutes. The iPhone 12 Pro Max has the Ceramic Shield display that proveds four times the drop resistance of previous iPhone screens.
Apart from the improved durability, this iPhone device got the best camera and it lasts the longest on a charge. The iPhone 12 Pro Max also delivers top-notch performance due to its A14 Bionic chipset. The phone works with 5G networks too.
The iPhone 12 Pro Max offers the best cameras. It has a larger main sensor than the iPhone 12 Pro, which is designed to deliver an 87 percent improvement in low light conditions. The main lens on this device features a fast f/1.6 aperture and a LiDAR sensor for faster auto focus.
You can also get a 2.5x optical zoom from the iPhone 12 Pro Max's 12MP telephoto lens.
iPhone 11. Another device you can use for underwater phone photography. The iPhone 11 is rated IP68 and can withstand 6.5 feet or two meters of water for 30 minutes. This phone delivers atop-grade overall performance due to its speedy A13 Bionic processor.
The iPhone 11 has a 6.1-inch LCD screen which is bright and colorful, and dual cameras. This phone has an ultra-wide camera that gives you more shooting flexibility and the app gives you a preview if you want to pop into that mode. Apple designed iPhone 11's cameras to offer extended dynamic range. This is to deliver better highlight details and smoother motion via cinematic stabilization. Know the solution for iPhone 11 water damage problem.

Samsung Galaxy S21 Ultra. Tagged as the best waterproof phone for Android fans. This smartphone features IP68 water resistance. This indicates that you can drop this phone in up to five feet of water without worrying about the water damaging your Galaxy S21 Ultra.
This phone supports Samsung's S Pen. You will find two telephoto lenses on the back of the device. This is to help you capture more detail when you zoom in on a shot.
The Galaxy S21 Ultra comes with a 6.8-inch AMOLED screen which offers a dynamic refresh rate that adjusts depending on what you're doing. This device can last up to 11.5 hours.
Samsung Galaxy S20 Series. Samsung smartphones under the Galaxy S20 Series sport IP68 water resistance at the 5-foot or 1.5-meter level. Not only that, the Galaxy S20 range has a number of noteworthy features including a great battery life, 5G connectivity, dazzling ang big 120Hz screen, and powerful triple camera system.
Refurbished phones. If you want a smartphone you can use for underwater phone photography but you lack the funds to buy a brand new iPhone 12 Pro Max, Samsung Galaxy S21 Ultra or OnePlus 8 Pro, another option for you is to buy UK refurbished phones at QwikFone.
All QwikFone refurbished phones, be it Apple iPhones, Samsung, OnePlus or Google Pixel device, are in pristine and unlocked condition and come with a 12-month warranty and a 30-day return policy with full refunds guarantee. You can order a refurbished phone and get all of its accessories brand new and free.

However, you should take note that the refurbishment process removes the water resistance of the phone. This means you should not submerge your refurbished device in water. Despite that, you can still make your refurbished phone waterproof.

Underwater Phone Photography | Compact Waterproof Smartphones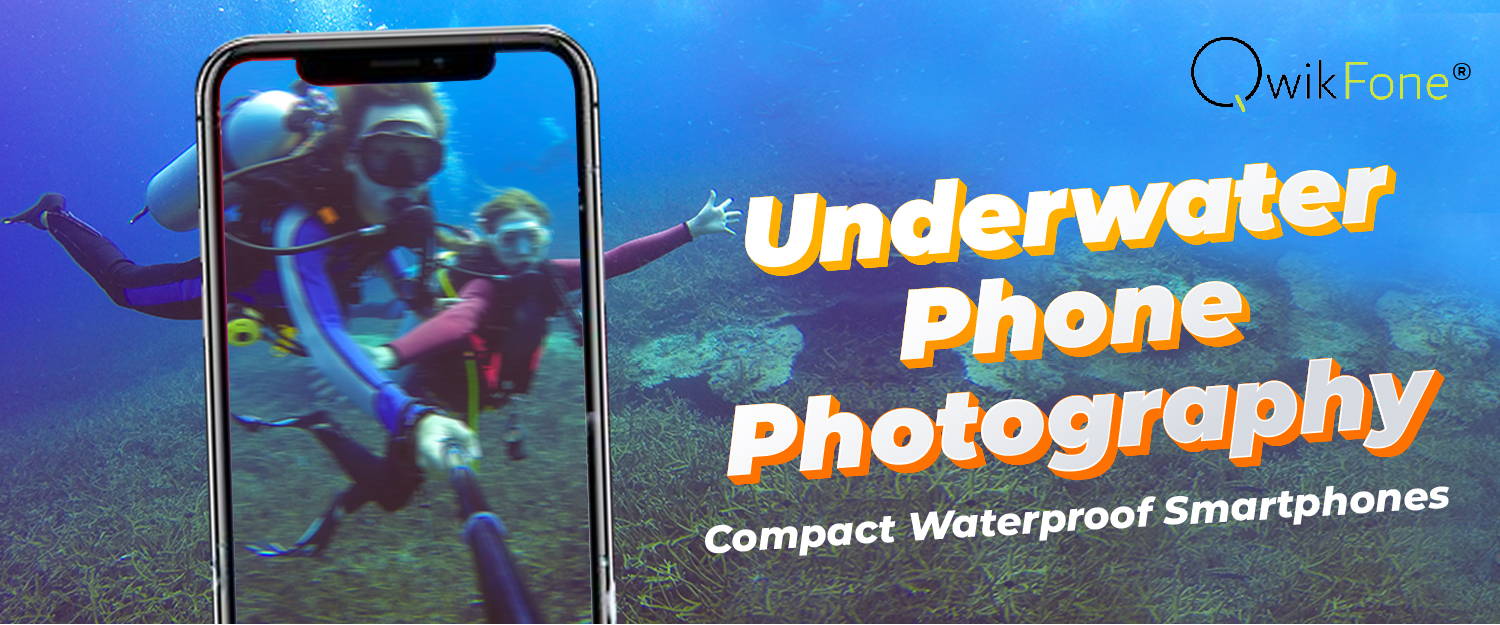 How to make your refurbished phone waterproof?

As previously stated, the iPhone or Android device, like the iPhone 12, Samsung S20 models, and OnePlus 8 Pro, is no longer water resistant after it has been refurbished. This doesn't mean you can't use them to take photos underwater.

Here are some ways you can make your refurbished phone waterproof.

Use a waterproof phone case. A waterproof case is a protective, watertight container for your smartphone. Waterproof cases have two types: the hard cases and the soft cases or better known as the waterproof pouches or dry bags.
While the hard cases and soft cases work the same, in that you put your phone inside and seal it close, these two still have their differences. The hard cases can allow full access to buttons, controls, and ports. These cases offer protection against snow, rain, dirt, sand, and being dropped.
The soft cases, waterproof pouches or dry bags offer the same waterproofness as the hard cases, but they are not as durable and usually make it more difficult to use or access your phone. However, if you want something that can give your phone protection against water, snow, dust, sand, and dirt at an affordable price, the soft cases are perfect for you.
Take note that waterproof cases wear out over time, can be used beyond their limits, and can crack. The lanyard on waterproof cases can also break.
Use DIY Nano Coating. A nano coating is a hydrophobic liquid that is impervious to water. This is often used to waterproof some electronics.
The nano coating can be sprayed or rubbed onto your phone. This leaves a thin, transparent coating that when cured allows water and other liquids to roll right off. You can apply the nano coating by yourself using a kit.
The nano coating doesn't affect screen sensitivity and does not hinder access to the phone in any way. However, it is not recommended for submersion, it has no shock protection, and can affect screen brightness.
Use a waterproof phone skin. A waterproof skin is a thin film adhesive that is applied directly to your phone. It is a cost effective way to waterproof your phone without adding any bulk. However, you should take note that waterproof skin is a temporary solution that will last for only a couple of uses. The waterproof skin covers all ports so you have to make sure that your phone is completely charged before using it.
If you want a smartphone you can use for underwater phone photography but you lack the funds to buy a brand new iPhone 12 Pro Max, Samsung Galaxy S21 Ultra or OnePlus 8 Pro, another option for you is to buy UK refurbished phones at here.
What you should do before taking underwater photos with your phone

Here are the things you need to do first before you head to the beach and take photos underwater with your phone.

First, you have to test your smartphone and waterproof case. Before you take your phone underwater and start taking pictures, you should conduct a test drive first. You can use a tub or a basin of water. Take note whether or not the case is sealed well and effectively keeps the water from getting inside.
If the case is defective, you should get a replacement or an entirely different waterproof case.
Next, you should study your equipment and experiment with underwater shots. Before you take your waterproof phone on the beach or sea and get photographs of marine life, go to an outdoor pool and try taking underwater pictures. Why? This is to see which phone and camera settings would work best for your underwater photos.
This is also for you to know which angles are comfortable for you while you swim and hold your phone as well as acquaint yourself with your phone's limitations underwater.
Check if your phone is fully charged before you shoot. Before you jump into the water, make sure that your phone is fully charged. It will be a shame if your phone dies in the middle of you taking pictures of the magnificent underwater creatures.
Clean the front of your phone's camera. Before you put your mobile phone inside the case or pouch, wipe the camera first. This would ensure that the images you take will be clearer and brighter.
Observe your surroundings. Will it be nice and sunny outside? Or is it going to rain? Check your local weather forecasts to make sure that the weather will be fine while you go on your underwater adventure. It is to ensure that you will be safe and that no strong waves will cause you harm.
What are the tips for underwater photography?

There are certain factors that can affect the quality of your underwater photos. Yes, you have the best waterproof mobile phone on hand but this does not mean that the images you'll get will be perfect. The following are some tips on how to take good underwater photos with your phone.

You should schedule your underwater activity for mid-morning to mid-afternoon. Mid-morning to mid-afternoon is when the sun is bright and you will have absolute underwater visibility. You will also be able to optimize natural light coming into the water.
Open the camera before you go underwater. Your touchscreen functions will be useless the moment your phone goes underwater. That's why you should make sure that your camera app is open before taking a dive. Use the volume buttons on the side as shutter release.
Pay attention to your distance from your subject. You should try shooting your subject from different distances underwater. Make sure you work with shooting up close, a little farther away, and then even farther away. By experimenting, you will be able to find the best spots and what types of looks you prefer.
Take plenty of pictures. It can sometimes be difficult to line up the perfect shot with underwater photography. You want to make sure that you get at least some good photos so you should shoot more than you normally would. This way, you will get a handful of great photos instead of shooting just a few and winding up with none. You can also do rapid shots, which can be great when you're taking action shots.
Set your focus to the center spot. Focusing underwater is not that simple. That's why it is recommended that you set your focus to the center spot and try to focus on high-contrast edges. It is ideal that you focus on your subject's eyes.
Take advantage of air bubbles. If you want to add motion to your photo, air bubbles can be a very useful creative element. However, take note that air bubbles can also be quite an obstacle since they can often get in the way of your subject's face, or confuse the auto-focus.
Creative editing. Your underwater photoshoot is over and now you have some great under the sea shots, don't forget to add the final touches to your images. Use your favorite photo editing app to make beautiful shots even more stunning.