What Makes Android Phones Better than iPhone?

What Makes Android Phones Better than iPhone?
by Ishaan Seth December 14, 2020

Shopping for a smartphone will always boil down to two things: iPhone or Android. Both options have their strong points. The iPhone with its unique user interface that syncs all of your tech needs, from health and wellness, to your cashless payments for added convenience. Then there is the android smartphone which boasts of customizable applications not to mention more options available regardless what your budget is.

There are those who love the iPhone interface and these are the one who will mostly stick with the brand over the years. But for Android users, there are simply too many choices that will match everyone's needs, budget, and expectations. For those who are still undecided on which one to get, you might be wondering what can Android do that iPhone can't? Let's find out.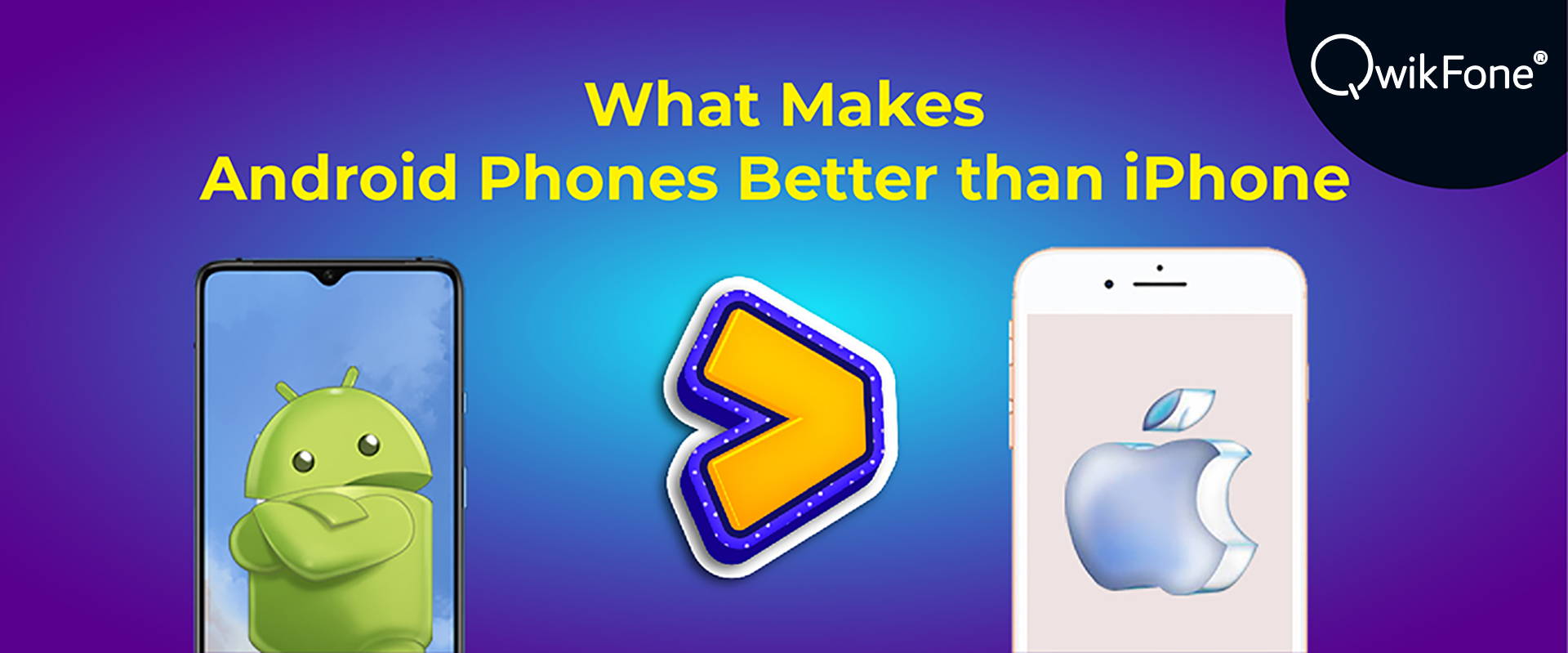 There are several areas where Android devices do stand out. So for those who are asking what can Android do that iPhone can't, here they are:

Customize Default Applications

Years ago, Apple didn't allow non-native applications to be downloaded and installed on their iPhones, but this has changed recently. This means that you can install Chrome as the browser of your choice on your iPhone. The problem, however, is that when you open a link, you will still be redirected to Safari which is its default browser. Annoying yes,but that's Apple for you.

In the case of Android devices, you can choose which browser to use, what program to use when opening your photos, play your music, and so on. This is a point in favor of the Android which many do enjoy even now.

If you are a tech savvy individual, or are a programmer yourself, the Android software is more convenient to utilize compared to the iOS. This is because the Android program is open source which means that you can tweak it to your heart's content. Big brands like Samsung and Huawei have taken the Android program and added their own unique twist to it. If you are a programmer or adept at tinkering with your smartphone, you can customize your device by installing an Android launcher. From there, you can start customizing and personalizing your gadget. The downside of this customizable software, however, is being vulnerable to hacks and other viruses. Fortunately, installing an antivirus program may give you some protection.

What Makes Android Phones Better than iPhone?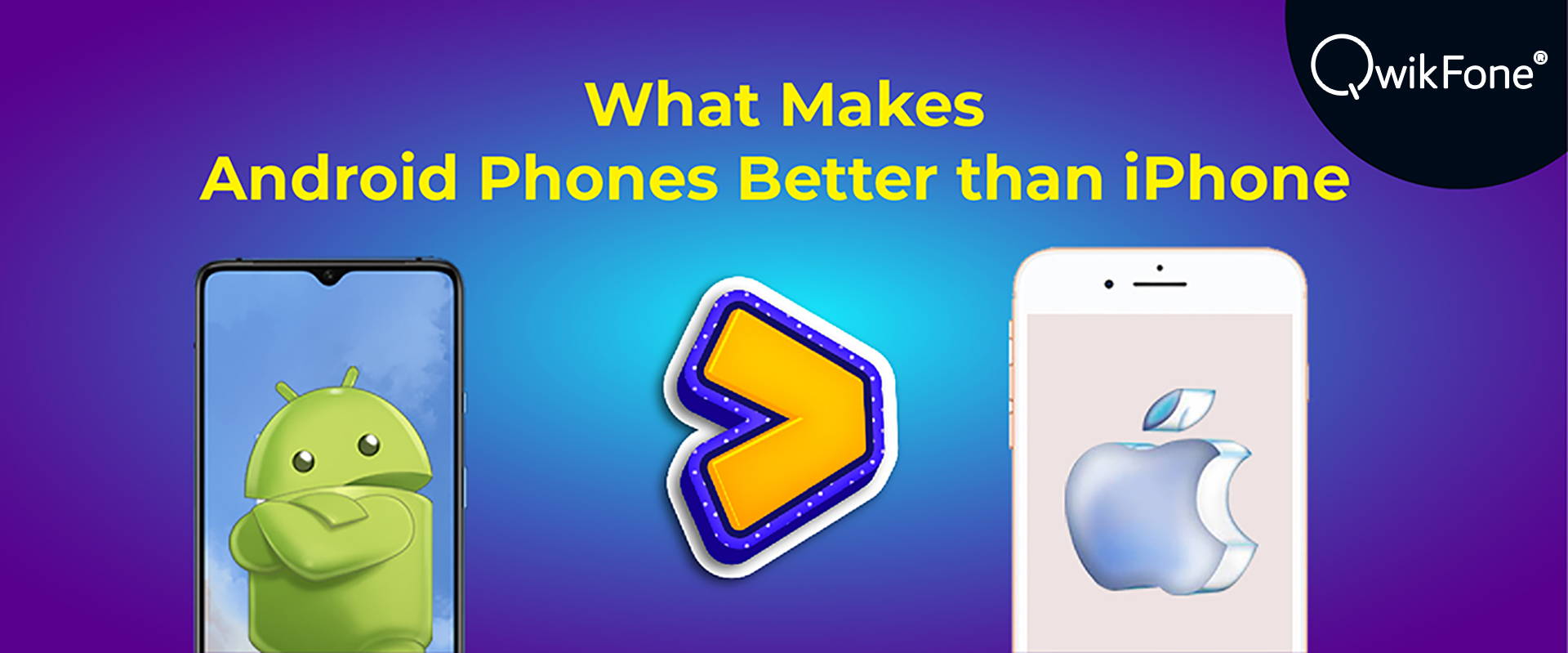 We all know that Apple is keen on making everything exclusive to them which includes the chargers. Right now they are only offering Lightning to USB-C charger, as well as wireless chargers, but that's just it. You will have to purchase directly from them. Aside from that, their batteries may be optimized to give you more battery life, but we have yet to see an iPhone that is sporting up to 5,000mAh battery.

Now in the case of the Android device, here's what you will get:

Universal charger compatibility
Affordable chargers
Bigger and better battery.
Removable batteries
Going back to the question, What can Android do that iPhone can't? Well, you can charge it with any available charger as long as it is compatible with its charging port. No need to bring several chargers with you since you can easily borrow from a friend if your Android device is running out of juice.
There is no denying that Google is everywhere and that it has become the default program that we are using for our emails, surfing the web, watching videos, and others. And because Android came from this company too, these programs simply gel with one another. Although Apple is allowing Google to be installed, the seamless transition from one program to the next in Android devices cannot be beaten.

Multi-Tasking/Multiple Users

What other area does the Android mobile device beat Apple's collection of smartphones? Well, it seems that Android devices have gotten multitasking as well as the use of multiple accounts down pat. You might have come across Android premium mobile devices that let you utilize a split screen feature that lets you do two tasks at the same time. This is a feature that is yet to be seen in the iPhone so Android seems to be in the lead here.
As for multiple users, Android users can actually have multiple accounts running on a single smartphone. For example, if you have two email accounts (for work and for personal use), you will be able to switch anytime you want. This is quite convenient for many hence using Android is a good choice for those who tend to multitask. On the other hand Its easy to
transfer contacts and data from iPhone to android
or even from other phones.
Notifications and Settings

Both the iOS as well as the Android program have shortcuts to access common settings like WiFi, Bluetooth, Airplane mode, and so on. In Apple products, to access these settings, you will have to start from the top right of the screen then swipe down to reveal these selections. However, what you will not find here is the icon to go to the device's settings. Basically, you need to search for the icon for Settings in order to connect your mobile phone to another device and so on. This won't be a problem with Android where the Settings gear is already visible. No need to go through numerous steps or swiping on the screen just to access it.

Do Android Phones Last Longer than iPhones?

Both Android as well as iPhones are durable and although many would say that the iPhone is made of more premium materials, they will still deteriorate over time. Normally, the average lifespan of a handheld device is around two to three years, but there are several factors that may affect this such as:

Battery. All smartphones are powered by battery, and its health can contribute to the longevity of the device. Heavy users will notice that the lifespan of their phone's battery deteriorates faster compared to light users which means that once the battery is already depleted or no longer works well, your device dies too, unless you buy a new battery. However, iPhone batteries aren't exactly cheap so this is something to consider too.
OS Issues. Another factor that may affect the longevity of a device is the operating system. If it frequently crashes or that there are more unprompted actions then you will need to replace your device. Although it is still possible that the software can be repaired, the hassle may not be up to everyone's taste.
Broken Screen. A damaged screen can affect your Android or your iPhone's performance, but the good news is that it is replaceable. However, if the screen plus the internal components have been damaged easily, you are better off buying a new or refurbished device instead since you will be saving more this way.
Now that you have an idea on what makes Android smartphones considerably better than an iPhone, and are searching for one, going for refurbished models may be a good place to start, especially when you are aiming to save more. If you are looking for refurbished Samsung phones, or let's say OnePlus, both of which are good brands in the Android market, then you will not be disappointed since there are third-party retailers that do sell these models. The trick here is finding the right seller though which means that you will have to do more digging.

But why go for a refurbished Android smartphone when you can buy brand-new?

This boils down to the following benefits;

Cheaper price
Pristine condition or works like new
One year warranty in place
Installment plans
Unlocked meaning that it is not limited to a single carrier
Return policy
Fast shipping
These are just a few of the perks that you can also get from retailers of refurbished devices depending on where you will be buying it from. For example, if you are getting from
this website
, not only will you get pristine and unlocked Android smartphones at the best prices, you will also have the option to pay in installment.
Amazon and eBay are two more sites where refurbished, preloved, and even unboxed smartphones can be found, but you still have to be thorough with your shopping and comparing to get the best deal for your smartphone.
There is no doubt that the Android and iPhone are strong smartphones that cater to our different needs. But when it comes to which one is best, Android mobile phones offer more customization features compared to Apple's devices. For those who prefer more freedom to customize their device, do multitasking, and even have multiple accounts logged into it, then your best bet is to go with an Android device.

The best part? Android smartphones range from cheap to the more premium, and pricey models, but there is always a phone that will meet everyone's expectations and budget too. All that you have to do is weigh your options, your budget, and the device's pros and cons to determine if it will be a good buy for you or not. No matter what brand you get for an Android phone, you'll definitely go home happy with your choice.