OnePlus 8 and 8 Pro Android Smartphones: Full Review

OnePlus 8 and 8 Pro Android Smartphones: Everything You Need to Know!
by Ishaan Seth April 24, 2020

OnePlus has managed to stay in the game by constantly releasing stunning Android devices each year. What makes this brand stand out is the fact that it is offering mobile phones that have the same specifications as flagship phones but at a cheaper rate. However, with the rising cost of the latest releases, the company had to take steps to further improve and refine their own selection to still be among the more prominent names in the mobile phone industry.

This year, OnePlus has released their latest handsets in the United States namely the OnePlus 8 as well as the OnePlus 8 Pro. Basically, the OnePlus 8 contains minor updates from last year's 7T. On the other hand, the 8 Pro is where all the best features are put into, making it one of the most promising smartphones in stores today. Let's find out more about these latest offerings from OnePlus.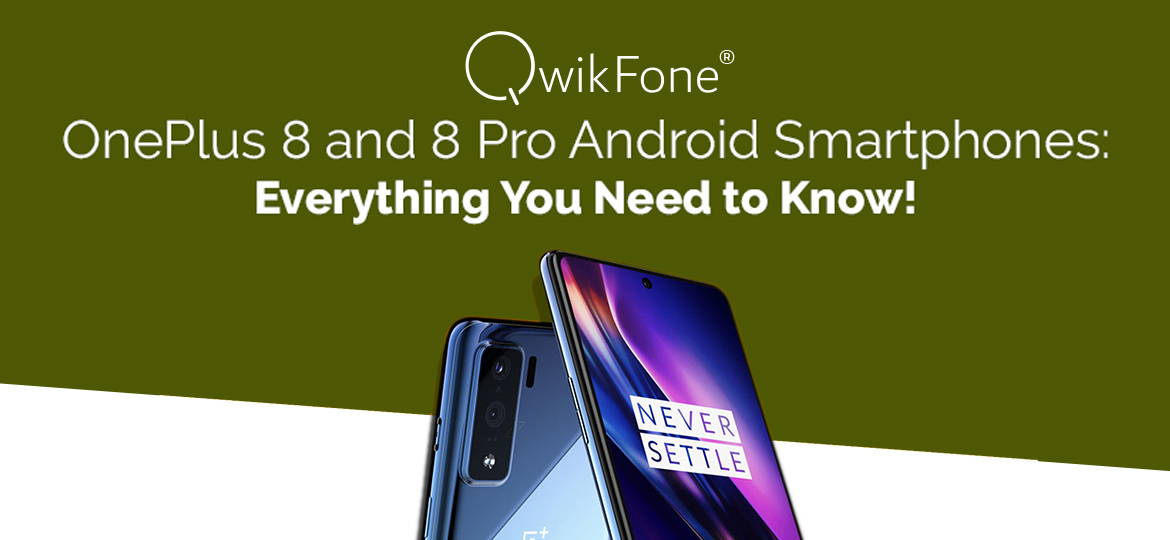 In terms of phone specs, the OnePlus 8 device is quite solid. Among the features that are worth mentioning here are having a processor made of Snapdragon 865, an AMOLED display at 90Hz, with at least 12GB worth of RAM. What's more, it packs quite a punch at 4,300mAh. It is using the latest operating system called OxygenOS which is similar to that of Android 10.

What else is there to like about OnePlus 8? It comes with a 6.55-inch display with 1080 x 2400 HD resolution which means that you will not be disappointed when viewing videos and photos in this mobile device. It is also equipped with Gorilla Glass as an extra layer of protection for its screen which covers the entire front portion of the phone. Another thing worth noting here is that it doesn't have that notch which is located at the top of the screen, but rather the company switched to using a tiny punch hole to place its front camera.

With regards to its selfie camera, OnePlus is using the IMX471 sensor which was made by Sony. On the other hand, the camera at the rear of the device contains three lenses. The main sensor is at 48MP, while the ultra-wide lens is at 16MP. As for the macro lens, it makes use of a 2MP sensor. Other notable features are GPS, Bluetooth, and NFC, plus it can also support a 5G network too.

You can get this latest mobile phone in various colors such as Onyx Black for those who are aiming for a classic look, or if you want a mesmerizing casing, the Interstellar Glow is a good choice. The Glacial Green keeps things cool which is another option to consider.

OnePlus 8 is a decent enough phone to have this year, but there is not much difference to it when compared to the company's 7T series. Currently, this mobile phone is being sold at $699 whereas the 7T is pegged at $500. This can be the selling point for customers who are looking for an affordable mobile device that will give them the best value for their money.

OnePlus 8 and 8 Pro Android Smartphones: Everything You Need to Know!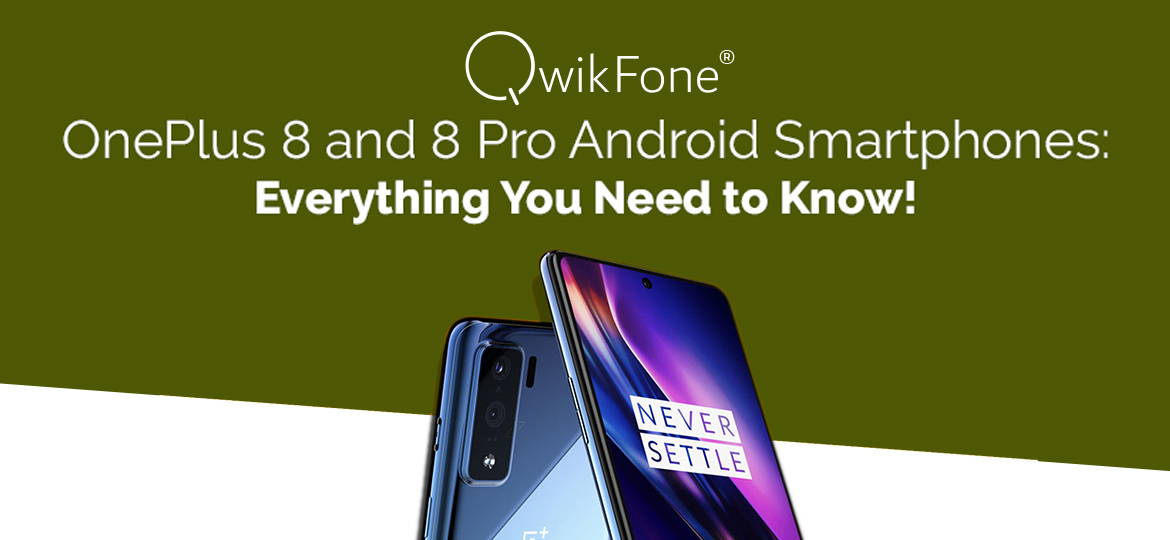 How Does the OnePlus 8 Pro Compare?

Like it was mentioned before, OnePlus has put a lot of thought on what will go into their 8 Pro. Since it will be competing against other companies of flagship devices, this version will definitely pack a punch in terms of specs and price.
For starters, the OnePlus 8 Pro is a bit heavier compared to its sibling which is not surprising given that its display is at a whopping 6.79 inches with a 3168 x 1440 HD resolution. In order to support the awesome display, OnePlus is using a 4,510 mAh battery for this device.

With regards to CPU installed, it is the same as that of the OnePlus 8 with the option of choosing from 8GB to 12GB RAM. Its rear camera is at 48MP which makes use of Sony's IMX689 sensor. Another impressive feature worth noting here is that its ultra-wide lens has been given an upgrade to 48MP which is far better compared to its sibling.

It comes in the same colors as that of OnePlus 8, but it's definitely pricier since this model is sold at $999. This isn't bad considering the upgraded features that it comes with.

If there is one downside to OnePlus is that their camera may not be enough to push major brands down on the list of best phones. Both the 8 and 8 Pro are equipped with a 48MP main camera just like the 7 series which is quite good already. This latest upgrade lets you take images at sharper detail which is decent already. With these devices, you'll get better colors, higher HDR processing, and can work even in a low light setting. However, when compared with the camera found in Pixel 4 or even iPhone's 11 Pro, you can see that the former's camera has miles to go before it can catch up in terms of quality.

This year, OnePlus is introducing wireless charging for its OnePlus 8 Pro where you can get 30W wireless charging included in the box. With this method of charging, you can speed up the charging process where you can get your battery up to 50% in just half an hour provided that you are using the proprietary wireless charger of OnePlus. This is quite impressive already for such a device from OnePlus. If you are not that bothered with charging speed, you can still charge the latest devices by OnePlus with any Qi chargers that you have.

Current Price in the Market

OnePlus has always been known to offer decently priced handheld devices in the Android market, and although their latest offerings are still cheaper compared to other brands, their price gap is not the way it used to be.
Let's start with the OnePlus 8, the 8GB RAM and 128GB internal storage device can be bought for $699 and can go higher at $799 if you want 256GB worth of internal storage. The base price of the 8 Pro, on the other hand will start at $899 which can reach up to $999 if you prefer a phone with more storage capacity. These prices are quite high at this point, since the 7 Pro was sold at $699 when it was first released.
There are those who are saying that you are already getting a great deal with the latest OnePlus 8 Pro given that the Samsung's Galaxy S20 Ultra is priced at $1,440 and for refurbished its priced less than this, find it right
here
. However, for regular customers of OnePlus, their latest prices may take a while for them to get used to since the company is known for their affordable Android phones.
For those who are wondering whether they should get OnePlus' latest mobile devices, if you are looking for good value for your money without sacrificing efficiency and aesthetics, then yes, they are worth investing on, especially the 8 Pro. The OnePlus 8 Pro has much to offer compared to its smaller sibling, and with its specifications mentioned above, you know you will get good value for your money at this point. Of course, weighing your options should be considered especially in terms of camera quality. If you will be using your handheld device for work in the visual industry, you may try flagship phones that are known for their superior camera quality. On the other hand, if it is just for daily usage, these two new phones from OnePlus should be looked into. Have a look at
Oneplus 8 pro vs iPhone 11 pro max specs and price comparison.