Samsung Galaxy Buds Pro Review by QwikFone

Samsung Galaxy Buds Pro Review by QwikFone

by Ishaan Seth March 12, 2021
Samsung smartphones are among the top mobile phone brands today and to make the user experience more immersive, the Korea-based tech company has recently released their latest earbuds, which is the Galaxy Buds Pro.

The simplest explanation on what the Buds Pro are is that it is the equivalent of the Airpods Pro by Apple which are made for their latest smartphone. In Samsung's case, their Buds Pro are designed to provide a whole new level of impressive audio experience that you can also use as a mic when recording using your mobile device.

The only problem is that, just like in the case of Apple's earbuds, the Buds Pro do not pair well with other Android or even Apple gadgets. So is this the right accessory to get for your Samsung smartphone? Find out all there is to know in this Samsung Galaxy Buds Pro Review.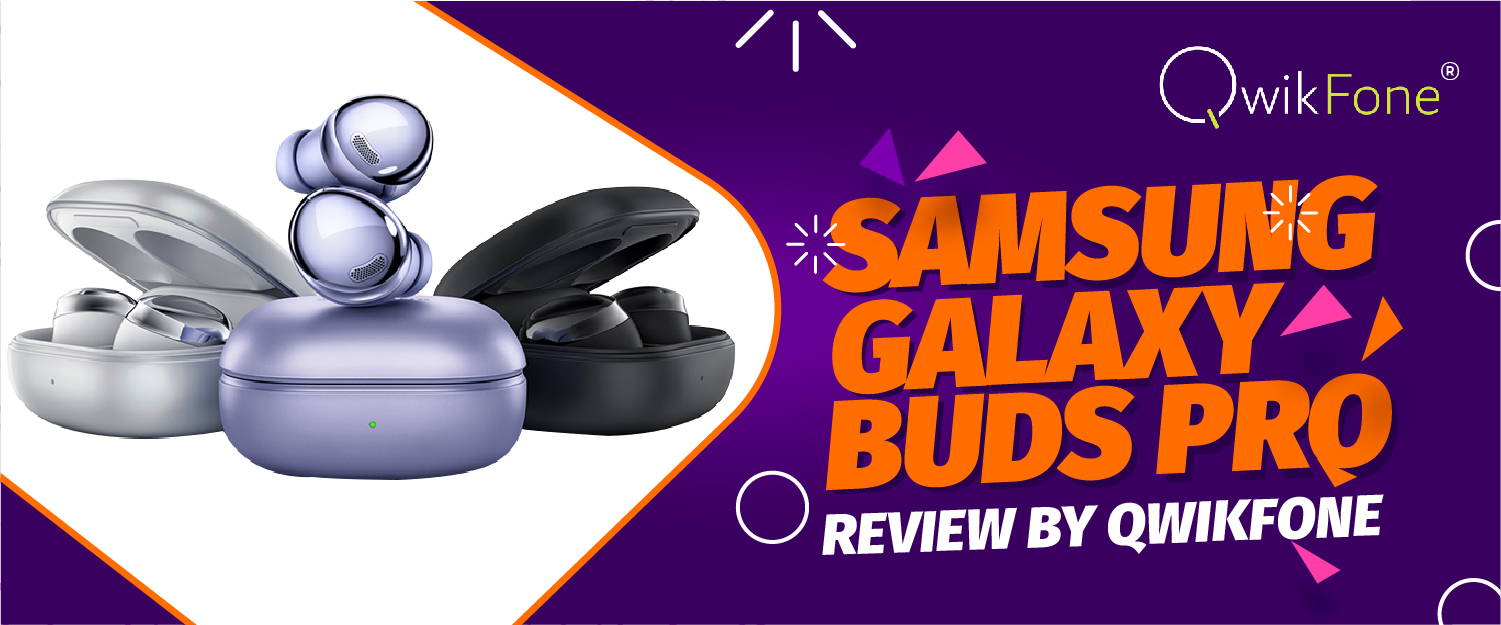 Availability and Retail Price
The Samsung Galaxy Buds Pro is already available in the market as it was launched together with the new Galaxy S21 last January 14, 2021. With regards to the Samsung Galaxy Buds Pro price, it will cost you £219 which is a bit pricey. However, there is a good reason why it is priced so since these earbuds have been upgraded to provide better user experience. The timing, however, is a bit odd since the Buds Live was just released like five months ago which begs the question, is the new set of earbuds worth buying?


Design
There are three color options to choose from with the Buds Pro and these are Phantom Silver, Phantom Black, and Phantom Violet. The colors are made so as to match the S21's charging case which does add to the overall charm. The case looks like a tiny treasure chest that can easily slip into your pocket. The LED lights inside and outside of the case tells you how much battery is left in your Buds Pro so you will know when to charge them.

Samsung went back to the funnel shaped design for its Buds Pro and with good reason. Since there will be additional components to these tiny accessories, they will need more surface to attach them to. The problem, however, is that the design isn't all that comfortable, but it is easy enough to get the hang of using the controls.

Here are the basics of using this accessory:


Single Touch.

Play or pause the music.
Double Touch.

The next song is played. It is used to receive a call or end one.
Triple Touch.

Go back to the previous song.
Single Touch and Hold.

This will activate the features that are already preset for the Buds Pro.
Although Samsung has made their latest earbuds more comfortable to wear even after several hours, the overall look does make it appear bulky. Still, it is not a bad deal given that it can easily cancel out ambient sounds while delivering better audio quality.


Specs

So, what are the Galaxy Buds Pro specs? There are two that stood out for this accessory and these are:


IPX7 Waterproofing.
Samsung's previous earbuds only have up to IPX4 water resistance capabilities which means that they are not ideal for active individuals as their sweat can damage them. The Buds Pro, on the other hand, has received an IPX7 waterproofing certificate which means that you can immerse this device in water up to half an hour without worrying about damaging them. These buds can withstand being immersed in water for up to 1 meter too. Truth be told, this is by far the best waterproofing that you will find in today's wearables.


Noise Cancellation
The noise cancellation feature is good, but not exactly spectacular as we had hoped. Yes, there are three microphones included in the design to help reduce the amount of noise being heard, but they do not completely cancel out any outside noise.

On a good note, these buds do have an audio amplification feature wherein any outside noise can be directed into your ears. This is quite handy especially when you are in the crowded airport and you want to hear any announcements.

There are other notable specs for this unit which are:
Hands-free Bixby Feature

Find My Earbuds

Auto Switch for those who have multiple Samsung devices


The Auto Switch is certainly a helpful feature especially when you have a tablet and a smartphone. The Buds Pro can automatically switch from one device to the next depending on your need. For example, someone called from your smartphone while you are listening to a podcast on your tablet. The Buds Pro will switch to the phone then switch back once the call is finished.

Audio
Another thing that must be talked about in this Samsung Galaxy Buds Pro Review is the quality of the audio. Yes, we all want to be hands-free and wire-free when it comes to our gadgets, but the quality of the audio should be taken into account.

With the Galaxy Buds Pro, the audio isn't made exclusively by the Korea-based tech company, but rather by the company, AKG. How did the audio quality fare in this newest earbuds?
The sound quality has a semblance of balance to it which means that both the treble and bass are heard well.

There is not enough clarity when it comes to the mids as well as the highs thus giving the impression of left to right type of directionality.

You can use the wearable application of Samsung to adjust the EQ of the ear buds until you find the right blend of sounds for your ears.

Samsung is set to release a 360 Audio support within the year which is slated to give the listener the multichannel sound quality.

The audio quality when placing a call is clear enough but it is not as good as the built-in microphone in smartphones.

This is a common issue with earbuds, but this should be taken into consideration if you are planning on purchasing one for the sole purpose of using it for taking calls hands-free.


Battery Performance
What about the Galaxy Buds Pro battery life? Well, the number of hours is already good for an accessory that is offering noise-cancelling features. However, you'll be a bit disappointed that it cannot give you the same 11 hours worth of playback when charged fully. This is to be expected since the addition of Bixby and active noise cancelling make your device lose its charge faster.

Here's what you can expect with the Buds Pro battery:
Five hours worth of listening experience with just one cycle of charging.

The charging case will give up to 13 hours of charging time when the active noise cancelling feature is activated.

Buds Pro can give you around 8 hours of playback if the ANC is deactivated.

Can do fast charging which a few minutes of charging can give you up to an hour of playback.


Overall, these earbuds can last up to three days even with constant use which is good enough for this type of accessory. You can even prolong its life until the next charge if your daily usage is around three hours or even less.


In terms of competitiveness, Samsung knows what it was doing when it released the latest earbuds in the market. As a matter of fact, when compared to Sony's own buds, the race is quite tight.
Samsung Galaxy Buds Pro Review by QwikFone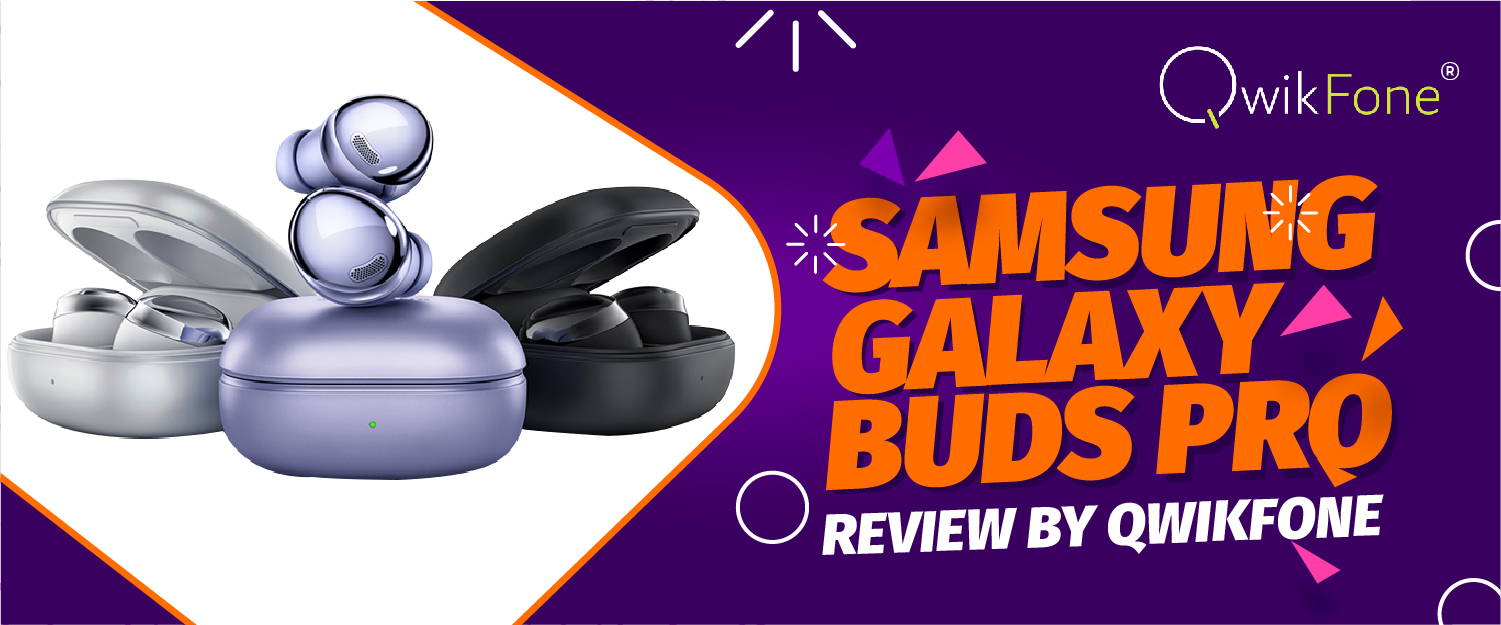 Are They Worth Investing On?

Now that you have an idea on the Galaxy Buds Pro specs, you're probably thinking whether they are worth getting. Let's talk about the pros and cons of this smartphone accessory.

Pros

Samsung fans will not go wrong in investing in this device as it has all the latest features which include Bixby as well as active noise-cancelling.

IPX7rating means that these earbuds won't get damaged even when you immerse them in water for up to a meter in depth. This lets you clean the BudsPro under running water without damaging them.

They are ideal for active users since sweat and rain will not affect their performance.

It comes with a Smart Things Find program wherein you can search for your earbuds if you misplace them.


Cons
The active noise cancellation feature doesn't completely banish ambient sounds. If you are looking for total silence, you will need to search for a different type of earbud instead.

Sound quality is not as smooth as people expect from a Samsung device. This is because the earbuds weren't made exclusively by the brand.

If you are fond of using Siri or other Google Assistant programs, you will be disappointed that these buds only have Bixby at the moment.

The

Galaxy Buds Pro

price is a bit expensive compared to others in the market.

It doesn't work well with other Android and even Apple products.


Samsung did put a lot of thought in creating the Buds Pro earbuds, but with Buds Live released just a few months prior, many are torn between getting this model or not. If you are torn between the previous model and the Buds Pro, review the pros and cons to see whether they are appropriate for you or not.
Should You Spend Money on a Brand-New Samsung Device?

The biggest question that many are wondering is whether they should buy the latest Galaxy S21. If you have the means to do so, then why not? After all, the S21 series is one of the most powerful and camera sensor rich mobile devices in the market that will give you a better and richer user experience. However, you will need to be ready to pay as much as £1,000 for one.
Additionally, the Samsung Galaxy Buds Pro will not come with the package which means that you will have to dish out an extra £200 pounds for one. So, are you willing to spend that much for a mobile device and its accessory these days?
If you are on a budget, there is a cheaper alternative for you to consider and that is going for a refurbished mobile device instead. Where can you buy cheap Samsung Galaxy phones, you ask? If you are in the UK, then your best bet is to approach
QwikFone
which is both a repair service and a retailer of professionally refurbished mobile devices. This company has quite a selection of refurbished mobile phones by Samsung that are in pristine and unlocked condition so you are guaranteed to find the best deals available. You only need to browse through their collection to see which ones will suit your finances and your current needs.
In this Samsung Galaxy Buds Pro review, you have learned about its price, availability, battery life, and its specs. You have always weighed the pros and cons of this accessory as well. If the steep price of the Buds Pro is putting you off, you can try out the Buds Live which is also a recently released model. The difference? The latter can work well even with your refurbished Samsung device better than the Buds Pro so this is something worth considering.
The Buds Pro's most prominent feature is its IPX7 rating which cannot be found in other earbuds in the market.
Samsung has certainly beat the rest of the brands
with this waterproofing rating making it a good choice for those who are living an active lifestyle. If you prefer an accessory that can match that of your constant movement without breaking down easily, then paying more than £200 for the Buds Pro is a great idea.
In the end, your choice of earbuds and your willingness to spend that much for a hands-free experience will tell you whether the Galaxy Buds Pro is the appropriate companion for your Samsung smartphone. Just make sure that you compare its features with the rest of the earbuds up for sale to see which one will give you the best value for your money.